Secret Reporters
The primary responsibility for ensuring that the public has an accessible and reliable water supply rests with the state government. However, Enugu State's government is questionably using the Ministry of Water Resources as a conduit for money laundering, leaving more than half of its residents without access to basic water services, according to a study by WaterAid. In the study cited by dataphyte on March 22, 2022, lack of access to Water, Sanitation and Hygiene (WASH) worsens health and poverty, with nearly one in ten children under the age of five in the State being stunted.
The data mined from the Enugu e-Procurement portal by SecretReporters showed that the ministry of Water Resources awarded a contract for the supply and installation of a solar light system in Nsukka worth N6,471,500 (six million four hundred and seventy-one thousand five hundred Naira) to a company known as FREEZA TECHNOLOGY LTD, allegedly located at Suite 4 World Wide Plaza, 193-195 Ago Palace Way Okota, Ikeja, Lagos, without due diligence.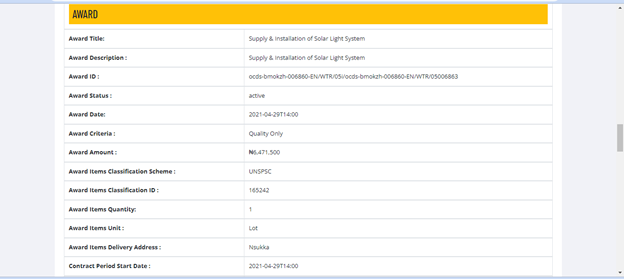 This fictitious payment and contract to an unverified company breached Section 113 (I) of the Financial Regulations 2009 and the Public Procurement Act, 2007, which state that requirements for government contract bidding include prompt payment of workers' pensions, company registration, and remittance of federal taxes, among others. Additionally, it violated the state's 2021 procurement law, which mandates that the following guidelines must be followed for all purchases made by any procuring entity: –
(a) open competitive bidding using clearly defined criteria, and offering to every interested bidder equal information and opportunities to offer the works, goods, and services needed;
(b) promotion of competition, economy, efficiency, and equal opportunities to all parties who are eligible and qualified to participate in public contracts.
SecretReporters inquiry revealed that FREEZA TECHNOLOGY LTD, does not have a website or an online presence, nor can its registration on the CAC portal be confirmed.

Further information on the state procurement portal showed that the original budget for the 42-day Supply & Installation of Solar Light System contract was 7,000,000 (Seven Million Naira). Frederick Ezeaku with phone number 08033069842 is listed as the Contractor/Supplier in the contract that was awarded on 2021-04-29T14:00.
These findings by SecretReporters have further strengthened allegations of financial theft in the coal city under the administration of Lawrence Ifeanyi Ugwuanyi.