A four-month investigation by Elfredah Kevin-Alerechi who travelled to the Southwest and Southeast of Nigeria revealed that the importation of second-hand clothing in Nigeria is among the prohibited things listed by the Nigerian customs, yet every nook and cranny of the Nigerian markets are filled with dozens of traders selling these clothes, with security officer given blind eyes.
Esther Ogbonna, bought a London bale of underwear for both male and female use, such as pants and bra, hoping to make a profit with the belief that London second-hand clothing is always of good and high quality. Surprisingly, most of the goods are useless and will be thrown and burnt at the dump site.
"All these bras you see here are not good, at the end of the day, I will throw them on the floor here," said Ogbonna, a trader at the Aswani market in Lagos.
Findings revealed that the majority of Nigeria's populace prefer buying second-hand clothes (popularly called 'Okrika') because of their affordability, and durability, and make users have a westernized sharp fashion of class. Second-hand clothing, which includes undies, comes from Europe, and the United States of America and importers prefer clothes from the United Kingdom preferably London because they believe London bales contain a top class of good clothes. However, recently, the reverse is the case, according to several traders who deal in UK imported second-hand clothing.
Ms. Ogbona has been doing the second-hand clothing business for more than 13years, and the profit from the sales is what she used to care for her family. She revealed that sometimes the bale is arranged in grades; grade A (high quality), Grade B (follows after A quality), and so on till it gets to Grade C and D (very low quality). But she was deceived to believe the current bale she bought is grade A, only to open and see it is not even the grade C as written on the bale.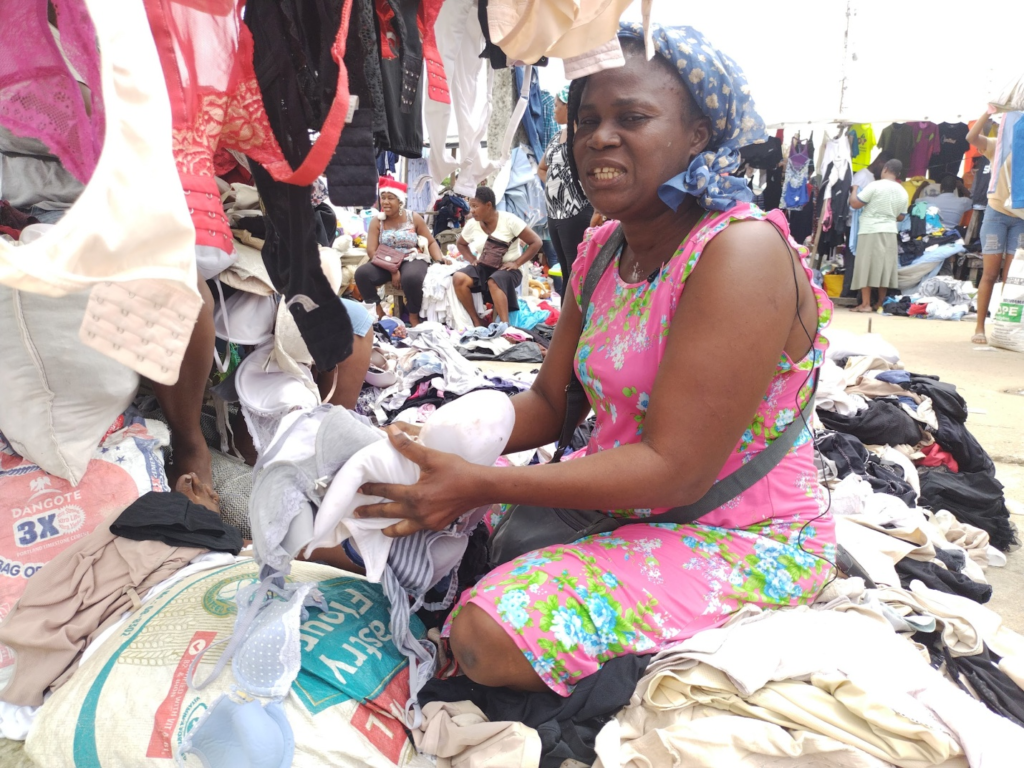 "We don't know what is inside, and I bought this London bale for N160,000 ($250) but the first grade (grade A) inside the bale is not much.
"If there is first grade, as I am selling, I will be happy, and at the end, you get your gain but these ones here, I will throw them at the backyard", she added.
"I am not happy because the situation is tiring. Before, I usually enjoyed it but now; I will suffer to see capital before the gain. At times when you open the bale, the amount used to purchase the bale won't be recovered. And anyone (bra) here will be thrown away.
Aswani Market in Isolo Lagos and Ayawowuru(New market) in Aba of Abia State are among the big markets where Nigerians get their second-hand clothes. Dozens of traders from these markets have similar complaints about deteriorating clothes despite the huge amount paid to exporters in the UK. Aswani market is one of the biggest markets in Lagos where second-hand clothes are sold. Traders in this market solely survive with their sales from the clothes business.
Nigeria is estimated to have over 200 million people with Lagos being the largest city that has over 17 million people. Although there is no exact figure spent on imported second-hand clothes, following the high demand for second-hand clothes, importers might be spending more than $1 million yearly, importing clothes from Europe, while the Nigerian government will be on the losing side as taxes will be avoided.
Due to the deteriorated and low quality of bale clothes, the majority of the imported second-hand clothes, rejected by buyers end up on the dumpsite, sometimes burnt by market cleaners, consequently causing environmental pollution.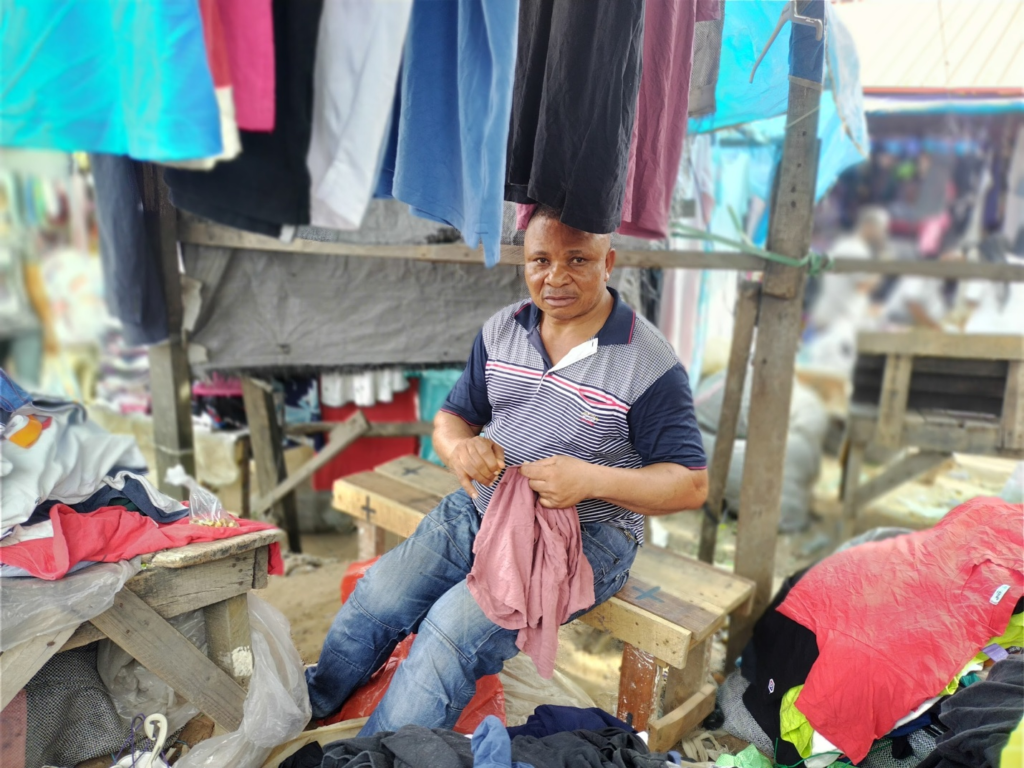 Ebere Princewill, is a trader at the Aswani market in Lagos. He has been selling second-hand clothes in the market for more than ten years. He recalls years back, clothes bought from the UK are good. "There was a time when you come to the places where they are selling Okrika (second-hand clothes), you will feel it (quality of clothes) but these days, things have changed," he lamented.
Princewill said all his clothes are bought from UK importers like the Scots, Hottest, and jmpWilcox but worried that the names on the bales are not as good as they were known in the past.
Although, the names of UK companies mentioned by Princewill could not be verified as exporters of second-hand clothes to Nigeria as we could not independently verify the information, except Wilcox whose bale was seen by the reporter. Email sent to JmpWilcox for comments was responded to as of the time of filing this report.
"But these clothes I bought from the UK bale, are not good. It doesn't have the quality we know as the UK," Princewill said.
His words, "As you can see, I am separating them (clothes), and some persons (clearance zone) will pack the low quality for N50 (less than half a dollar) and when they get to the clearance zone, they may sell it or abandon it in the market.
"At the end of the day, the cleaners will burn it there," he said, pointing towards one of the dump sites in the market, where hundreds of traders and buyers are picking clothes on the dumpsite.
Clearance zones are a section in the Aswani market where traders who look for deteriorated or low-quality clothes, sample their clothes. They buy in low amounts and sell at giveaway to users or palm oil companies that use it as rag.
Princewill had to mix the China clothes with that of the UK bale to make sales and gain from the losses as a result of the deteriorated clothes from the UK.
Princewill added, "I have to mix it (low quality clothes) with China clothes because Chinese products sometimes are sharp and shine but they are not as good as the UK.
"And not only that, the prices have changed (gone high).
"Some of us borrowed money from microfinance, and some ran away because of the losses, if they cannot meet up to pay their loan.
Before, when I buy this T-Shirt bale for N50,000($60), these places will be filled with customers because they are getting what they want but now, no one is here, he recounts.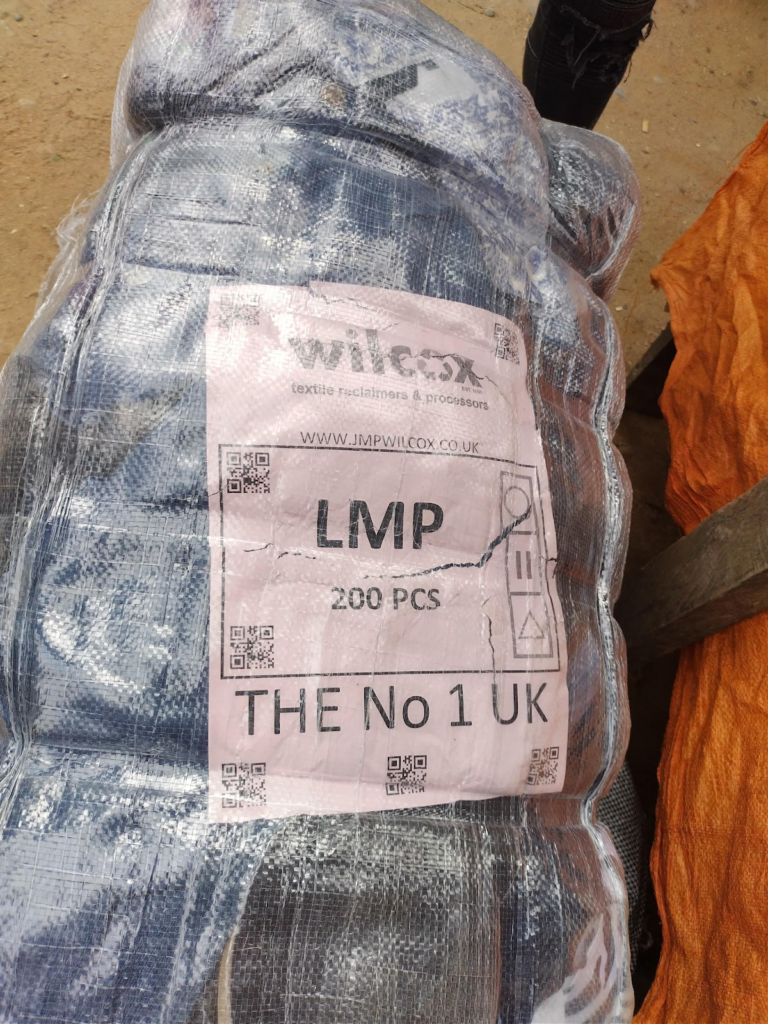 The case of Emmanuel, another trader at the Aswani market, is no different from other second-hand clothes dealers in Nigeria. He has been doing the business for more than four years at the Aswani market but constantly experienced lost due to deteriotated clothes imported from the Uk.
He says although he sometimes buy China, Korea but mainly buy most of his goods from UK, precisely, Wilcox. Emmanuel was met at the Aswani market while trying to open his newly purchased bale full of female jean trousers from Wilcox, one of UK exporters of second-hand clothing importers.
"I have been doing this business for over four years now.
'Sometimes, you will buy a bale and will not be able to see the money you use to buy it, and sometimes, you make gain, he said while trying to grade (select) good jeans trousers for his customers who will pick only what the considers as good and high-quality jeans and leave the reaming for him.
After the select, the remaining clothes, we will sell it at a cheaper rate, and the remaining that is left after we sell at the cheaper rate, will be sold for auction price, Emmanuel said.
"No one will be thrown here, and we can't throw them away," He added, emphasizing that there are times he had bought a bale at the cost price of one hundred and fifty thousand, and only sold a total of one hundred of twenty thousand.
"You won't see the money complete because of shortage,' he added.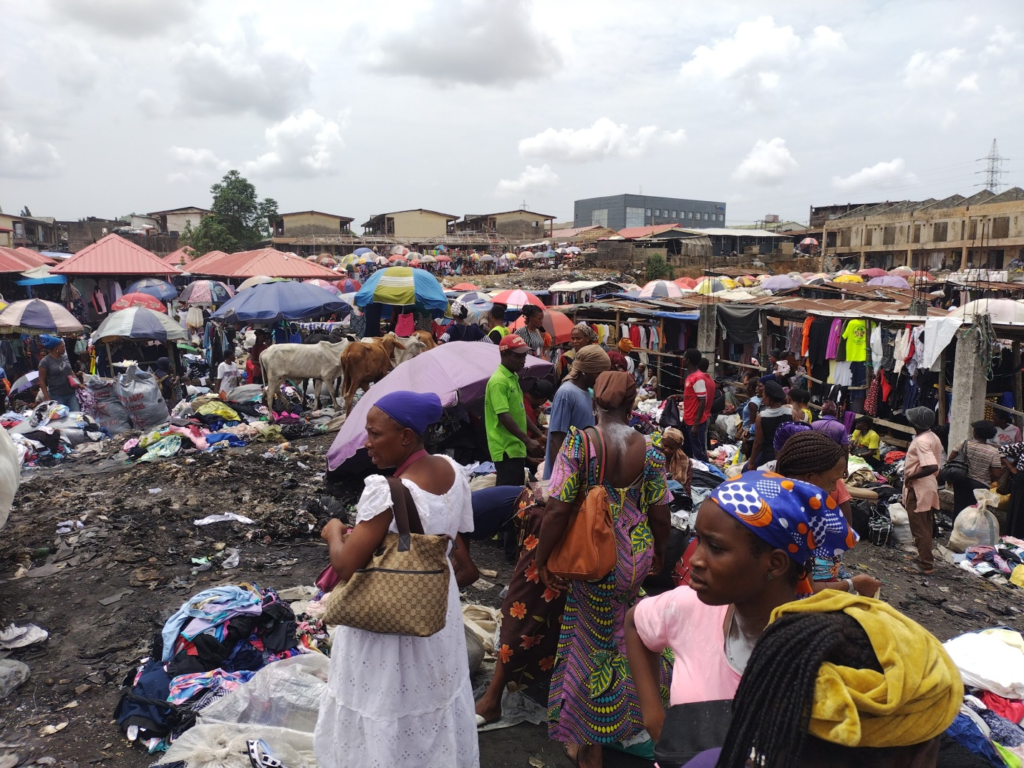 Kalu Jonah has been in the business with his parents for more than 20 years. He said although there are times when he loses money, profits are still made.
He recalled a certain bale (trousers) that was distributed to the family was damaged when opened "We bought it for up to $800 but they end up selling the clothes for less than $25 dollars.
Ifeoma Igwubueze in Abia State, has been in the business for more than 20 years. She said her recent challenge has been the high cost of bales from the UK, and the deteriorated state of most of the clothes contained in the bale.
Igwubueze who deals in ladies wool pants trousers said, "the bales I bought now are not as good as before. " Before, I would see quality joggers, jeans and wool pants trousers but now, the quality is not as good as before, and the prices have gone high," said Igwubueze.
Section 14 (A and B) of the Lagos State's environmental sanitation law states that "No person shall burn or cause to be burnt, waste of any description on a tenement, or dump waste at any place other than a waste disposal site, but some traders said most of the deteriorated clothes are sometime burnt by cleaners at the Swani market.
Aswani market official response
Secretary to the Swani market,Alhaji Yusuf Awodele, confirmed that most times unsold second-hand clothes are littered in the markets but cleaners never burnt them in the market because of the laws in Lagos that prohibit burning of refuse.
He said the market executives hire the services of refuse disposers to pick the littering unsold second-hand clothes to where they store refuse inside the market.
"We don't burn them but we dump them at the place where the Lagos contractors in charge of refuse collection will evacuate the refuse.", Mr Owodele said.
Swani market is regarded as the market for the "less privilege" because of its affordability of goods. "Things are cheap here, and the market has an international benefit that attracts people from overseas and within Nigeria to patronize local clothes sold made by Nigerian," said Awodele.
Ayawowuru Market
Ayawowuru market is one of the biggest markets in South East Nigeria, where second-hand goods imported from Europe are sold, such as clothes, bags, shoes and many others. Most residents in Southern Nigeria, especially people from its neighboring state, Rivers State, considered the market as the best place to buy second hand clothes in bulk.
Due to the fact that second-hand clothes have been out rightly banned by the Nigeria custom, many traders from the neighbouring state while returning from the market hide the bale in the car while crossing the border. However, Police officers usually hunt for suspected vehicles but only end up taking bribes from either the trader or the driver.
Several second-hands clothe traders refuse to grant interviews including the chairman of the second-hand clothes traders at the Ayawowuru market, who declined to disclose his name and also refuse to be interviewed on the ground that his business would be affected.
His words, "madam, you know this our business is contraband, and you want me to talk? " I can not answer your question because my business will be affected."
Loveth is a trader at the Ayawowuru market, selling second-hand children's clothes. Loveth has been doing the business for more than 7 years. According to her, in past years, sales from her second-hand clothes were booming until in the last three years when the bale clothes were no longer giving her profit as usual.
She said, "three years ago, when you open a bale, you will see what you want and people (customers) will like to buy it.
"But now, when you open the bale, they(customer) will see it and pick one or two, and say there is nothing good in the bale, and it is tiring because you will look for your money yet no gain," Loveth said
Loveth added that she owed several debts due to the deteriorated second-hand clothes because, "I haven't finished selling the bad clothes I bought, I will buy another bale, yet it will still be the same poor clothes.
In the market, at No.110 Ndoki, is among the areas where most traders in Aba market buy their second-hand clothes from importers. Majority of the importers the reporter reached out to for comment, declined with the reason that second-hand clothes are contraband except for a fair in complexion importer who spoke on anonymity. According to him, clothes are imported from the UK and United States. He claimed to have been defrauded by one of the distributors on facebook.
"After payment of $100,000 the clothes were not distributed as agreed but what was sent was poor and low quality clothes(rags) not worthy even of $10,000 from the sales made," he said.
"I feel sad each time my customers complain that the bale they open has bad clothes. It's a loss for them because I wont change it and the people I bought won't also change, the processes if possible are much.
The importers also claimed that all his clothes came into Nigeria through customs where customs bills were paid despite the fact that second-hand clothes are contraband. "And the customs officers know what is inside and we pay for the clothes," the importer said.
Following the low quality and deteriorating state of second-hand clothes imported from the United Kingdom, some wholesale traders in Nigeria have settled for retailing to reduce their losses .
Oluebube Uche told the reporter that since the last time she lost from a bale full of torn and worn-out clothes, she resorts to picking her clothes from her friend who buys directly from the importers rather than buying in bulk.
Mrs Uche said, "The clothes were full of " agenda" (torn and dirty clothes) and when I complained, importers would say they are not the people that packaged it.
"So, what I do now is signing with traders who opened the bale. I will be the first to pick clothes for ages 1-10 before others. That's how I got these good London clothes," Uche added.
In the same way that global warming hits those most vulnerable and least responsible for the crisis the hardest, the hazardous waste shipped from wealthier countries and dumped illegally on the African continent is damaging the health of some of the poorest people on Earth, especially in the third world sub- Sahara African countries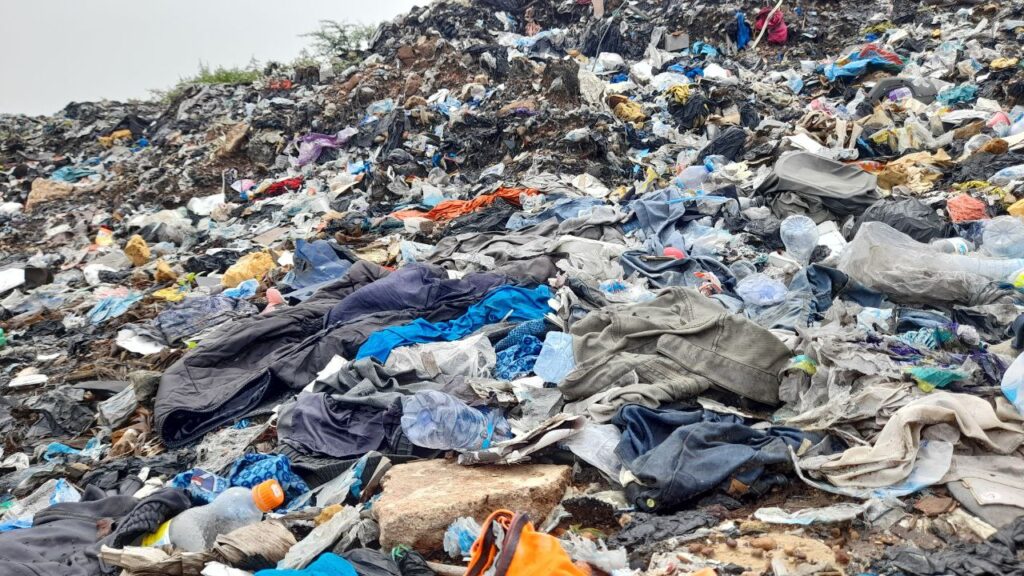 More issue for Ghana
Africa is among the continents affected by illegal dumping as many foreign countries and companies target the easiest and cheapest ways to dispose of their waste.
Trade data as at 2020 has shown that Ghana has become the biggest dumping ground of used clothing in the last decade. The value of worn clothing shipped into the country has more than tripled during the last decade from $65m in 2010 to over $180m in 2020.
Kantamanto – is regarded as the largest second-hand clothing market in West Africa, located in the business district of Accra and has over the decades become a morgue for UK's used clothing performing the final run-of-the-mill retail rites before 40 percent (6million) of the 15 million secondhand garments it receives weekly is sent to the graveyard.
"Ghana has a population of 31 million people, so thinking about the ratio between the people living in the country and the quantity of clothing that is coming in every week (15million), it shows there is a great disconnect," says Samuel Oteng, a researcher with The OR Foundation.
Are UK exporters a problem to Africa?
Despite the ban of second-hand clothes into Nigeria, exporters in the United Kingdom continued to export second-hand clothes in the country. According to COMTRADE in 2020, the UK reported exporting approximately $35,000,000 worth of second hand clothing to Nigeria (22,990,778 KG) while Nigeria reported only $241,000 worth of second hand clothing (74,000 KG).
Charity shops are the UK's main collector of second-hand clothing. According to the Textile Recycling Association, the UK has one of the highest collection rates of used clothing in the world per head of the population. Around 650,000 tonnes of unwanted clothing is collected annually from charity shop donations, door-to-door charity collections, car park clothing banks, school collections, high-street back schemes and kerbside collections.
The UK is exporting over $390m of second-hand clothes abroad a year, making it the second biggest exporter of used textiles world-wide. This includes a combined 845kg to Nigeria and Ghana, where market-sellers complain that clothing is of such poor quality they need to dispose of it via burning or landfills. This has led some sellers having to get into debt, as well as raised concerns from campaigners and city administrators about the effect of pollution on the local populations and environment.
Only a small amount of used clothes are actually resold in the country where they are collected. In the UK this is approximately 10-30 percent. While encouraging households to reuse or recycle clothing instead of disposing of them is now seen as a key pillar of the "circular economy", and is the subject of various initiatives at both the local and national level, reports suggest the reality is that a worrying proportion what is donated to clothing banks, charities and left at curbside pick-ups is unbearable. This is potentially allowing clothes exporters to circumvent regulations governing waste disposal.
For the many UK nationals who donate their clothing to charities, there isn't much awareness of how charities like Oxfam sell donated clothes to merchants in places like Ghana and Nigeria, many of which end up in drains, the ocean and landfills.
In 2019, a UK House of Commons audit report on fast fashion found that fast fashion and consumption in the UK leaves developing countries, "with the bulk of the environmental and social costs."
Boohoo, one of the leading fast fashion companies in the United Kingdom criticized for its business model in a statement via email insisted that "10 percent" of its cotton use is sourced from "Better Cotton farmers who produce cotton in a way that respects people and the environment and improves livelihoods."
Frank Egleton, Corporate Affairs Manager of Boohoo also disclosed that Boohoo has introduced a "test and repeat approach" that allows the company to "only order more of the products" their customers like." This means that we don't "over order or hold excess stock which helps to reduce waste" he argued.
Boohoo, and some other UK fashion companies are currently under investigation by the UK competition watchdog, the Competition and Markets Authority for potential "greenwashing", following concerns about the way the company's products are being marketed as eco-friendly and sustainable when this is not the case.
Globally, the fashion industry is responsible for around 10 percent of all greenhouse gas emissions, according to the United Nations, and consumes more energy than the international aviation and shipping industries combined.
Despite the environmental catastrophe facing many societies as a result of fast fashion, the British government following the release of the audit report on "Fixing Fashion," rejected recommendations made by a cross-political party committee to regulate the supply chain.
The report called on the British government to increase pressure on brands and retailers to take more responsibility for the global epidemic of throwaway clothes including a tax on fashion producers and mandatory environmental targets for high-earning fashion retailers.
Boohoo, made an average profit of over 60 million pounds in the last five years but has no legally binding responsibility for the environmental costs associated with the final destination of its products.
A fellow British designer and activist, Katharine Hamnett, called the government response "tragic," adding that, in her view, the report "hadn't been hard-hitting enough anyway."
Health implications of burning clothes in populated areas
It is widely known that burning clothes releases carbon dioxide and other greenhouse gases into the atmosphere, which exacerbates global warming.
Burning of unused clothes multiplies the climate impact of the product by generating further emissions and air pollutants that can harm human health, according to the UK parliamentary committee report on sustainability and the fashion industry.
Nigerian public health physician, Dr. Maduka Omosivie described the practice as "terrible" that promotes "air pollution."
Dr Omosivie said, "when you burn in populated places, people are first exposed to harm, and it causes damage to the lungs and respiratory illness."
Omosivie who doubles as the President of Nigerian Medical Women Association, Rivers State branch, noted that pregnant women and children under five are most affected because of their immune system.
She said, "their peculiarity and their immune system is not as active as it should be but ultimately, it will affect market women, houses around.
"And the particles as a result of burning when landed on the skin can cause skin reaction," she added, cautioning that "open burning in highly populated areas is not the right way to go."
Additional reporting by Gideon Sarpong.
This investigation was developed with the support of Journalismfund.eu