Fejiro Oliver
The Delta State Traffic Management Authority (DESTMA) has hit their first big catch traffic offender in the State, this medium can report authoritatively.
On the last day of August, we gathered that Mrs Chinedu Achi who is the mother of Hilary Ibegbulem, the Principal Secretary to Delta State Governor, Ifeanyi Okowa and her driver broke two of the DESTMA law of driving without a driver's license which attracts a fine of N5000 and driving in a direction prohibited by the road traffic law which leads to a penalty of N25,000.
Mrs Achi committed the offence by Akpu Junction, Okpanam road while driving a black Toyota matrix by 1:00pm. As soon as the officers caught up with her, she quickly placed a call to her son, who is mostly believed to be the most powerful political appointee in the State to save her from the embarrassment.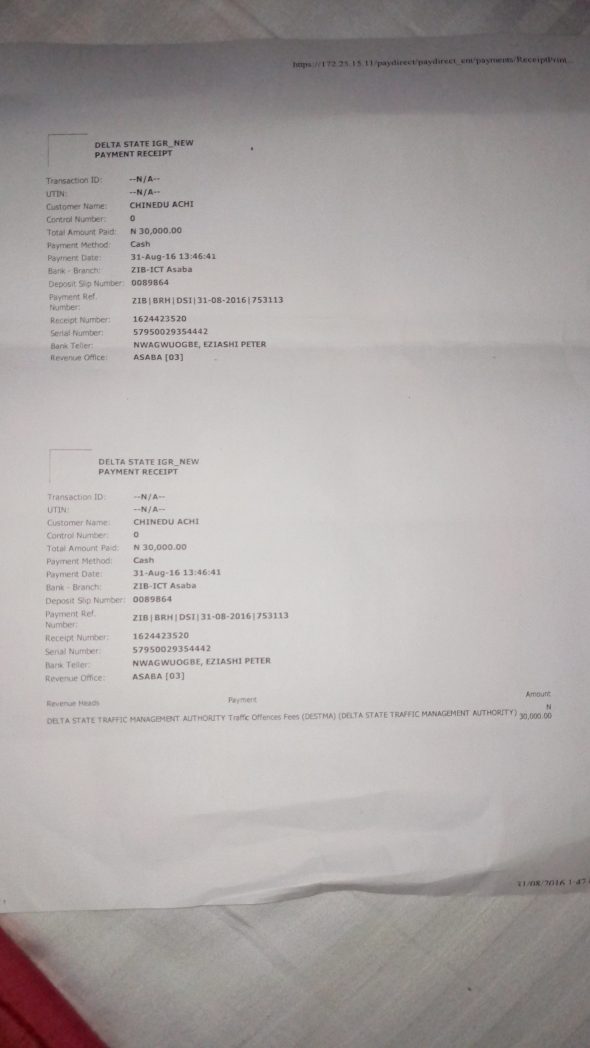 Our source revealed that Hilary jumped into his unmarked vehicle and left Government House to the scene with security agents. On getting to the scene, it was already filled up with people who waited to see how he will descend on the traffic officials for stopping his mother's vehicle.
On getting down from the vehicle, he was told by the DESTMA men what the mother did. Surprisingly, he chastised the mother for breaking the law and calling him to intervene. He turned to the officials, apologized to them and he was told the mother have to pay the sum of N30,000 as the fines for the offences she committed.
Hilary according to our source went to the nearby Zenith Bank, ICT Branch and paid the money. He brought back the receipt with deposit slip number 0089864 for proof and the mother was booked as a traffic offender.
He left the scene immediately back to government house to the shock of bystanders