Secret Reporters
With the continued acts of impunity and fraudulent activities of politicians especially in the Executive arm of government, dogged journalists through the instrumentality of the thriving social media space have become a formidable force in exposing and combating the shady activities of the government.
However, as with the inborn nature of corruption, these corrupt politicians fight back using every resource at their disposal including violating the rights of these dogged journalists by harassing, hunting, issuing illegal arrest warrants and even resorting to influencing the police to declare them wanted over fabricated heinous allegations of cyber offences.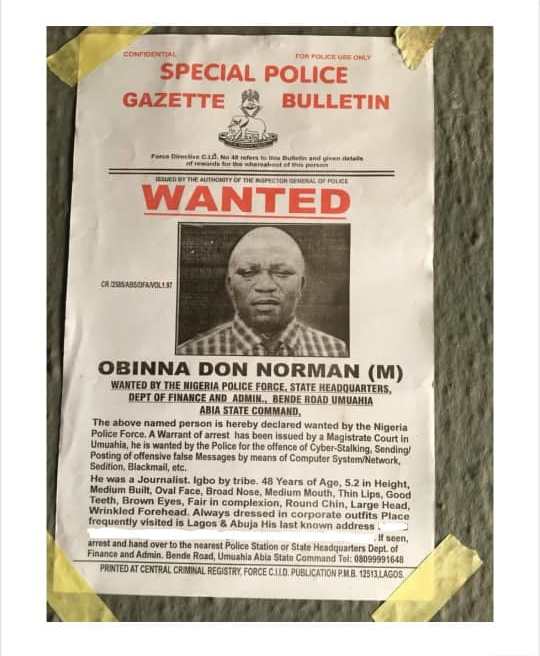 Amongst these breed of unrepentant rogues is the governor of Abia State Okezie Ikpeazu, who instead of turning a new leaf following the recent exposure of his illegal activities, has resorted into abusing his office by influencing the police to declare wanted the former media aide to TA Orji in the Senate before he resigned, Mr Don Norman Obinna, who is also a well-known Lagos based journalist over heinous allegations of cyber-stalking amongst others.
Information made available to SecretReporters reveals that Mr Obinna who is the Editor-in-Chief of The Realm News exposes the illegal and fraudulent activities of the duo in the state, which besides putting a question mark on their integrity also threatens their re-election bid in 2019.
It was also gathered that the Mr Obinna published a book exposing the fraudulent activities of Sen. T.A Orji`s eight years tenure while serving as the governor of Abia State. This action we learnt led the duo to begin massively hunting down the journalist whom they consider a common enemy and a threat to their re-election.
In what appears to be a deliberate move to make journalists who expose the government`s fraudulent activities to become extinct, it will be recalled Deji Adeyanju a journalist and an activist has been in and out of police custody over cooked up allegations of cyber-stalking amongst others in order to silence him and his kind.