Secret Reporters
The Edo State Judiciary has again been nabbed in the mud, as the arm of government saddled with the responsibility of interpreting the law, has been found wanting of breaking the law.
Investigations carried out on the Edo State Public Procurement Portal by SecretReporters revealed how the highest office in Edo state Judiciary was involved in violation of the Code of Conduct for public office holders in the country.
The Code of Conduct for Public Officers states that "except where he is not employed on a full‐time basis, engage or participate in the management or running of any private business, profession or trade; but nothing in this paragraph shall prevent a public officer from engaging in farming or participating in the management or running of any farm".
Data gathered by SecretReporters on the Portal revealed that the state government awarded a contract to the sum of N16, 928,032.51 to Jdd-Hyth International Limited for the construction of, 1) perimeter fence with security post, 2) generator house with generating set and, 3) reactivation of borehole at skill acquisition center, Oluku, Ovia North East L.G.A, on the 4th of July 2020.
The contract was completed on 29th September 2020.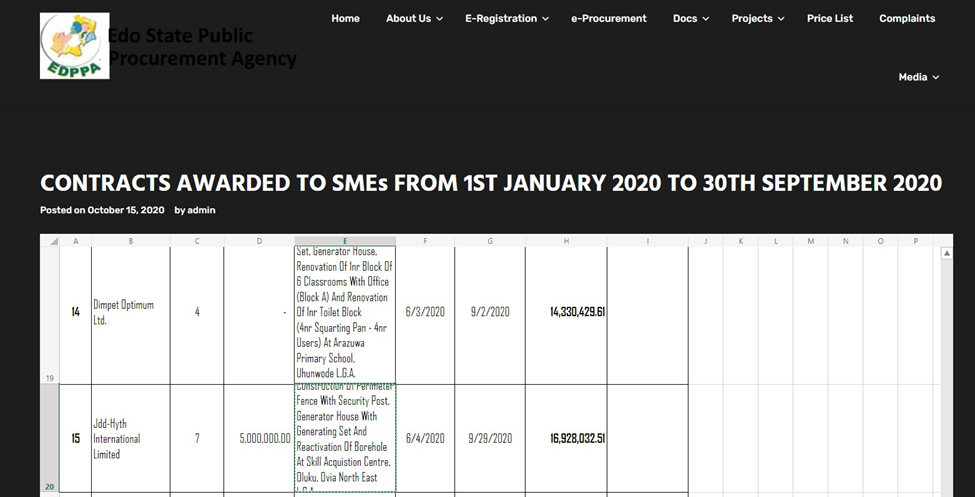 Further investigation showed that among the key management personnel of Jdd-Hyth International Limited is one Mr. Orobosa Okunbor, Chief State Counsel at the Office of the Attorney–General, Edo state. Orobosa Okunbor, is a serving deponent of the company and also a government staff with the Edo state government.
More so, the company is not on the list of registered contractors with the state government. Jdd-Hyth International Limited, registered with Corporate Affairs Commission (CAC), has not been filing its financial report as the company's status on CAC is currently inactive.

The state government throwing caution to the wind, and awarding a contract to a company whose deponent is a staff of the Edo state government under the Judicial arm of government dragged the Judiciary into the mud and violated Section 9 of the code of conduct for public officers involved with procurement which states that; "A Public Officer shall decline in serving in a procurement process if any of the Bidders or Service Providers engaged in the procurement proceedings is related to him by blood, marriage or grant relationship or where the success of a particular Bidder or Service Provider in the proceedings will confer a pecuniary or other advantages on him".