Secret Reporters
As Justus Iroro, a recent migrant to Lagos, embarked on the search for new accommodation, he was met with a daunting task. Despite having a budget of N300,000 to N350,000, he quickly realized that navigating the housing market in a bustling city like Lagos was not a walk in the park.
Initially, Iroro had assumed that securing a rented apartment would be a straightforward process. However, his hopes were soon dashed as he came face to face with the reality of dealing with the infamous Lagos house agents. To his dismay, these agents demanded an 'inspection fee' before taking him to any prospective accommodations. Iroro recounted how he was charged varying amounts, ranging from N5,000 to N3,000, by these agents.
After several inspections, Iroro finally found a property that he loved in a specific area of Ikorodu. However, his joy was short-lived when the agent dropped a bombshell on him. In addition to the N300,000 house rent fee, he was expected to cough up an additional N150,000 for Agent fees, Commission fees, and Legal fees. Iroro was understandably flabbergasted and demanded an explanation for these charges.
The Standard Agency Fee
A delve into the world of property rentals in Nigeria by SecretReporters revealed an emerging troubling trend. Despite a standard agency fee of 10% for property rentals as stipulated by law, it appears that some house agents in certain parts of the country, particularly in Lagos, have decided to ignore this practice. Instead, they charge exorbitant fees, effectively taking advantage of unsuspecting Nigerians who are simply trying to find a place to call home.
It is important to note that the standard agency fee is calculated and collected using the annual price of the property, even if the tenant and landlord agree to a month-to-month rental agreement. This implies that if the monthly price of a property is N25,000, which makes it N300,000 per year, the tenant by law will end up paying N30,000 to the agent for his work.
What Has Become The Norm In Lagos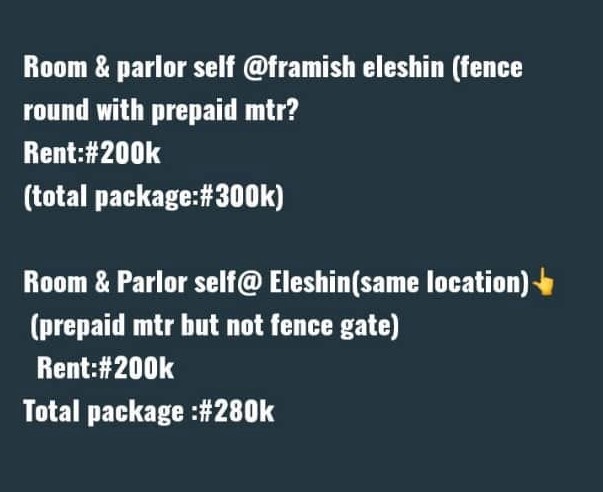 As SecretReporters examine the house vacancies posted by a certain Lagos-based agent, it becomes apparent that there are additional charges imposed on the tenants in the form of 'agent fees'. It is concerning that the first house carries an extra N100,000 charge, while the second house charges N80,000 in agent fees.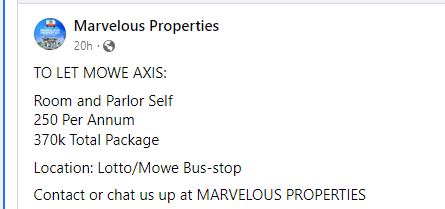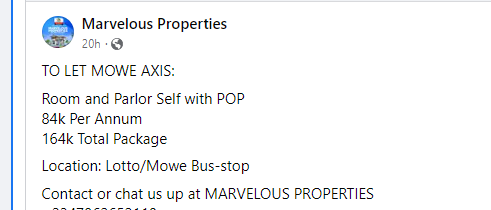 Moving on to Marvelous Properties, another Lagos-based agent, it is evident that the commission fee is not fixed, as demonstrated by the varying rates charged in the two vacancies advertised. In the first instance, there is an agent fee of N120,000, while in the second, the agent fee amounts to nearly 100% of the house rent.
YOU MAY ALSO LIKE: EXCLUSIVE: Tinubu may reverse 'controversial' sale of Polaris Bank as crisis lingers
These practices raise numerous issues and red flags for Nigerians seeking accommodation in Lagos. The treatment of tenants by agents in this area is alarming, as clients have reported being unable to recover fees paid for deals that failed to materialize. It is vital to note that the agent fee is separate from the non-refundable 'inspection fee', making this a complex and potentially exploitative situation for prospective tenants.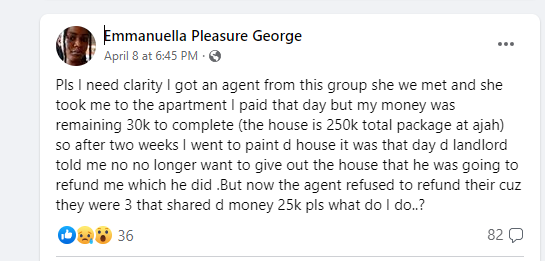 Position of Regulators
The Nigerian real estate sector has been plagued by rampant unprofessional conduct and nefarious practices of estate agents. Investigations have revealed that despite the efforts of regulatory bodies such as the Nigerian Institution of Estate Surveyors and Valuers (NIESV) and the Estate Surveyors and Valuers Registration Board of Nigeria (ESVARBON), illegal charges and extortions by estate agents continue to pose a major challenge to accommodation seekers.
In its statement, the Nigerian Institution of Estate Surveyors and Valuers (NIESV), under whose supervision the Association of Estate Agents in Nigeria (AEAN) was created to regulate the professional conduct of estate agents, had reiterated that to practice as an estate agent, an individual must register with the Estate Surveyors and Valuers Registration Board of Nigeria (ESVARBON), failing which such a practitioner is portrayed as a quack. However, this has not deterred unscrupulous elements in the profession from trading their accreditation and goodwill for monetary gains.
SecretReporter uncovered that one of the major challenges faced by accommodation seekers is the need to pass through a network of agents, with every agent wanting to cash out in every deal. This has resulted in increased costs for accommodation seekers.
Despite the government being aware of these challenges, little has been done to address them. In 2019, the Lagos State House of Assembly introduced a bill to create a regulatory authority to oversee and manage property transactions in the state. However, the bill has been met with discontent and has failed to address the challenges facing the real estate sector.
In most parts of Lagos, it is almost impossible for prospective tenants to rent a house or shop without going through an agent, which has resulted in a sharp rise in cases of people being duped and extorted by agents.
As Iroro continues his search for a new home, it remains to be seen if he will be able to navigate these murky waters and find suitable accommodation within his budget as It is imperative that the government and relevant regulators take proactive measures to address this issue and protect the rights of accommodation seekers by checkmating these illegal charges and extortions by estate agents.