Secret Reporters
Borno State Governor, Babagana Umara Zulum and his predecessor, Kashim Shettima's symbiotic relationship has continued to draw applauses from political pundits, while some see it as a source of inspiration to many. However, what many people don't know is that State's funds, in clear show of impunity are indirectly being used to grease this entanglement.
Data obtained by SecretReporters from Borno State Bureau on Public Procurement have shown that in 2020, the State's Ministry of Water Resources awarded a multimillion naira contract to Zenigid Nigeria Limited, a company owned by the three children of Kashim Shettima.
According to the data, the ministry, headed by Tijani Alkali Goni awarded the N119, 196,000.00 contract to the company to do 'Ago to Maiduguri Water Treatment Plant, Alua Raw Water, Pumping Station and Boreholes within MMC and Jere'.

About The Company and its Owners
ZENIGID NIG LTD was incorporated in MAIDUGURI, Nigeria with Registration Number 854003. It was registered on 10 Nov 2009 and its current status is unknown. The company's registered office address is NO.4, DAMBOAROAD, OPPNNPCDEPORT, MAIDUGURI, and BORNO.
On the company's board of directors are Umar Ali, Hamir Shettima, Fatima Shettima, and Hajara Shettima, the last three being the children of Kashim Shettima.

About Shettima and his relationship with Zulum
Kashim Shettima Mustapha, who was born 2 September 1966, is a Senator currently representing Borno Central since 2019. He previously served as the Governor of Borno State from 2011 to 2019. He is a member of the ruling All Progressives Congress, and he is the party's vice presidential candidate for the 2023 Presidential Election.
That Shettima's children are reaping off the State government under Zulum is no surprise to many due to their long time symbiotic relationship. In a recent statement, Shettima harped on how he single-handedly brought Zulum to limelight. "I first appointed Zulum as rector and after his tenure, he had no house of his own and no car of his own. Then, I challenged him by appointing him the pioneer commissioner for Reconstruction, Rehabilitation and Resettlement and he did wonderfully well," the APC vice Presidential candidate said.
In 2018, among 21 governorship candidates, Shettima anointed Zulum to be his successor. On Sunday 30th September, 2018, Shettima, while clarifying why he anointed Zulum, in a statement said: "In the politics of Borno State, at least since 1999, we have had and maintained a tradition in which major stakeholders of a ruling party, expect from an outgoing Governor, a sense of political direction in the choice of a successor. Some people may see this tradition as a form of dictatorship but to many others, politicians with varied experiences, such an honor provides the critical step needed by our party in its transition processes.
"In the last couple of days, I have come under intense pressure from many stakeholders insisting that I should anoint a successor".
The above revelations, best explains why the Zulum administration in defiant to the position of the law has continued to indirectly grease the palms of his predecessor.
What is the Status of the company on CAC?
A check on the portal of the Corporate Affairs Commission shows that the company is not active.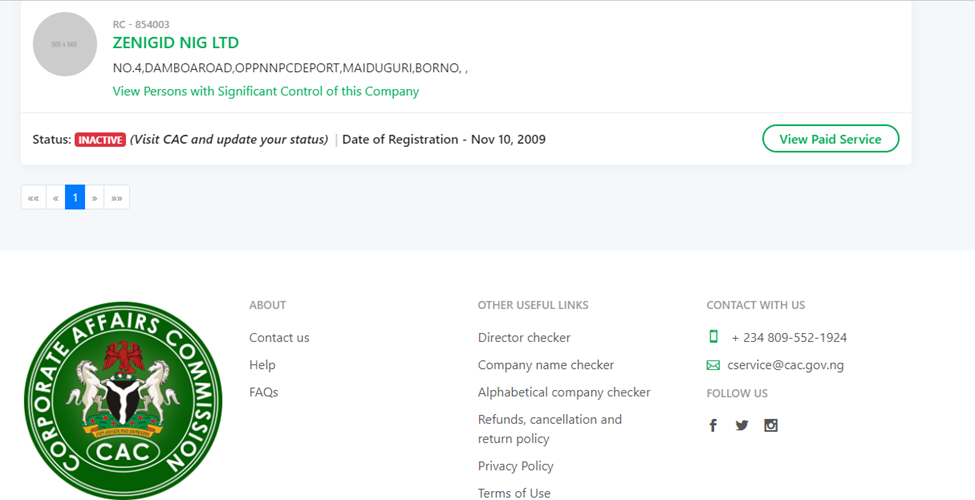 According to CAC, "A company that has not been filing its financial returns within a specified time is classified as inactive."  With such status, the company is ineligible for a contract.