Secret Reporters
There is a secret scandal currently brewing in Imo State, according to a blogger, Precious Eze.
The Chief of Staff to the Governor of Imo State, Uche Nwosu, who also doubles as Son-Inlaw to the Governor, Rochas Okorocha and also serves as Chairman of the Imo State Land Bureau, has a second wife in the person of "Chidinma Ajoku" the daughter of Mazi Anthony Ajoku from Nekede, Owerri West LGA, in Imo State.
Chidinma was until she got pregnant for Uche Nwosu a staff of the State Ministry for Lands, when he was Commissioner there and one-thing led to another and a love affair ensued between them, leading to her being pregnant and as we all know, Imo girls are not known to commit abortions, especially when the man in question is well to do and therefore, Uche had to marry her as his second wife.
During the traditional marriage which was conducted in the Ajoku family house, Uche Nwosu was said to have been represented to cover the shame of impregnating his staff, and traditionally, the bride price of Chidinma Ajoku was paid.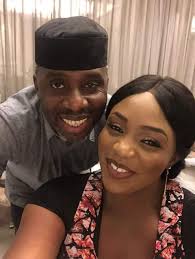 As we push this, Chidinma Uche Nwosu and her son, whom she bore for Uche Nwosu now lives in Edinburgh, Scotland.
For the purpose of truth here, in Igbo land, Traditional Marriages and payment of bride prices are the most legal means of marriage that is recognized today and this being done by Uche, means that Chidinma has every right and privilege in Uche Nwosu's dynasty.
The father of Chidinma, Mazi Anthony Ajou till today still does jobs for Uche Nwosu as one of the men who sell lands for him in and around Owerri, the state capital.
uche Nwosu is currently scheming to take over the helm of affairs from his father in-law, with Rochas vowing to install him as his successor.