Secret Reporters
Corruption thrives in a society where strong institutions or watchdogs are not in place and this further deteriorates when the corruption begins to appear as a norm and the very foundation upon which such systems are built.
This is the exact picture of most systems in Nigeria, one of which is the Corporate Affairs Commission (CAC) which has no doubt proven over time to be built on the foundations of corporate fraud especially under the leadership of Azinge Azuka popularly called Lady Azuka, the Ag. Registrar of the Commission.
Information obtained by SecretReporters reveals that Lady Azuka and the Minister of Industry, Trade and Investment Okey Enalamah may have allegedly masterminded the sudden bankruptcy and ultimate liquidation of Skye bank over their inability to increase its share capital. The duo who perhaps should be termed the Bonnie and Clyde of Nigeria's Financial System were able to achieve this despite existing protocols used to checkmate such by using their personal email addresses.
In a reply to an email sent from Lady Azuka on 23rd September 2018 at about 17:41 concerning a discussion on granting waiver for increase in share capital to Polaris Bank in which she suggested to the minister that the approval should be sent by email to enable a smooth handling of the increase to avoid audit query and prying eyes of financial watchdogs, Mr Enelamah without any hesitation in less than 6 hours approved the waiver from his personal iPad.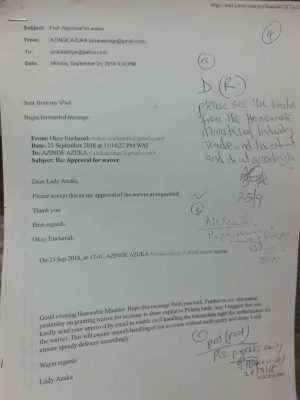 The waiver granted to Polaris Bank we learnt was up to the tune of N186 million Naira and was just one among many waivers running into billions of Naira that were granted without following due process by just a mere communication using unsecured emails between Lady Azuka and Okey Enelamah.
Furthermore it was revealed that in what was clearly a thought out scheme, the liquidation of Skye Bank and its speedy acquisition by Polaris Bank which surprisingly was registered on 14th September 2018 may not be far connected from the truth that some corrupt, dubious elements may have stroke a deal and diverted millions into their personal pockets to the detriment of a once thriving financial institution in Nigeria who had the Skye as their limit.