Secrets Reporters
SecretsReporters' investigative team has unearthed a deeply troubling case of procurement irregularity within the Nigerian Bureau of Public Procurement, an institution meant to uphold the principles of competition, transparency, and efficiency. Our investigation has unveiled an alarming case where the National Productivity Centre (NPC) awarded a substantial contract for the purchase of software to a foreign company known for heavy machines leasing only.
Our examination of data on the Nigeria Open Contracting Portal (NOCOPO) brought to light a contract bearing the code "OCDS-GYL66F-227004001-000024," which was awarded to M&E LTD, a Caterpillar leasing company located outside Nigeria. M&E LTD is recognized as the sole authorized Caterpillar Dealership in the Bahamas, Turks & Caicos, and the Cayman Islands, with core business activities centered on the sale, rental, and servicing of construction and earth-moving equipment, diesel engines, and electrical power generation.

What raises immediate concerns is that this contract, awarded on 1st November 2019, does not align with the purported goals of the NBPP. The contract, valued at N9,050,000.00, was executed using the National Competitive Bidding method, ostensibly chosen for its openness and fairness. However, the selection process and the reasons behind awarding the contract to M&E LTD remain shrouded in obscurity.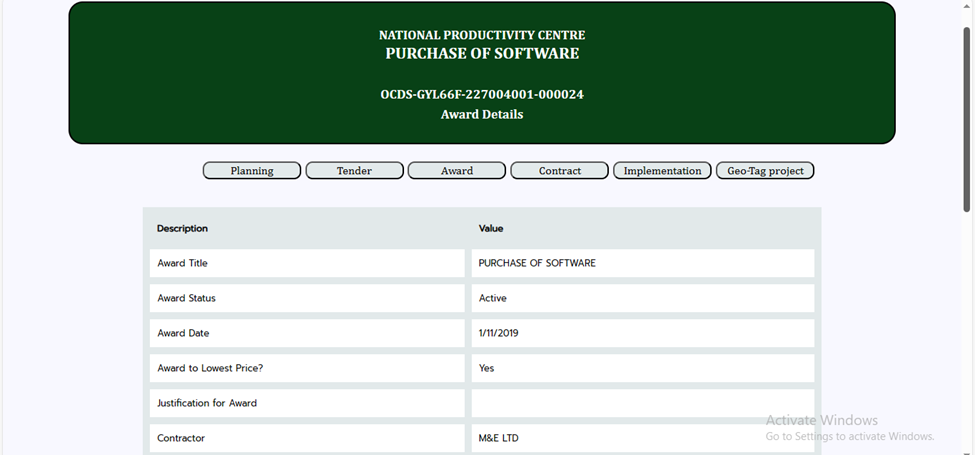 In particular, the NPC failed to disclose the names of the other three contractors who participated in the bidding process, leaving room for speculation regarding the transparency of the selection procedure. Furthermore, the nature and specific purpose of the software acquired through this contract have not been adequately explained by the NPC, raising serious doubts about the legitimacy of the procurement.
Dr. Kashim Akor, who served as the Director General of the NPC during the period in question, held this position for a remarkable eight years, starting from 2015 and continuing until May 19, 2022. His tenure witnessed this questionable contract award, further underscoring the need for a thorough investigation into the matter.
YOU MAY ALSO LIKE: Caught Pants Down: Following SecretReporters Various Expose, Lagos State Government Shuts Down Open Contracting Portal, Hides Contracts Details; Admin Blames Network
The NPC, established by ACT CAP 70 LFN 2004, was designed to promote productivity awareness, monitor productivity trends, and lead Nigeria's productivity drive. In light of these vital responsibilities, the NPC's involvement in such a murky procurement raises serious ethical and procedural concerns and questions the supervisory role of the Federal Ministry of Labour and Employment to the NPC.