Secrets Reporters
By the Nigerian Civil Service regulation, section 6 (b) of the Code of Conduct Bureau and Tribunal Act states that except where a civil servant is not employed on a full-time basis, he shall not engage or participate in the management or running of any private business, profession or trade; but nothing in this paragraph shall prevent a public officer from engaging in farming or participating in the management or running of any farm.
But in sharp violation of this act, it has been discovered that a civil servant, Dr. Francisca Egube, secured a total of 13 contracts from various government departments.
The contracts, worth N623,715,561.23, were awarded to Quevedo International Limited, a private organization owned and run by Egube, a doctor at the Lagos University Teaching Hospital.
According to public procurement records obtained by SecretReporters, Egube managed to secure these contracts by allegedly bypassing established procedures and manipulating the system.
The contracts cover various projects, including medical equipment, renovation of schools, construction projects, and transportation-related services.
The first contract listed in the documents is titled "Provision of Lane Markings across the State LOT5" and was awarded by the Ministry of Transport. With a cost of ₦160,058,701.36, the project was assigned to Quevedo International Limited, the same company that secured the subsequent contracts investigated.
The Ministry of Health also awarded multiple contracts to Quevedo International Limited for supplying and installing medical equipment in various hospitals across Lagos State. These contracts include procuring hemodialysis equipment, oxygen concentrators, endoscopy machines, monophasic defibrillators, phototherapy machines, and radiology equipment, with a combined value of over ₦46 million.
Furthermore, the State Universal Education Board entrusted Quevedo International Limited, once again facilitated by Egube, with a contract for the construction of a fence, gate, and gatehouse at Community Primary School in Ikotun, Alimosho LGEA, amounting to ₦15,826,121.15. Another contract involved the emergency renovation of Ewuntuntun Junior Grammar School in Mafoluku, Oshodi, costing ₦31,613,510.30.
READ ALSO : Gudikat Ejiro: Nigeria's Leading Ponzi Promoter, Profiting Millions of Naira While Victims Lament
Additionally, two contracts for the renovation of Apapa Senior High School and Araromi Junior Secondary School Apapa were awarded by the Special Committee on Rehabilitation of Public Schools, with a total worth of ₦99,896,137.86. The Office of Drainage Services & Water Resources assigned Quevedo International Limited to construct outfall channels along Ijede Road, amounting to ₦209,121,090.56.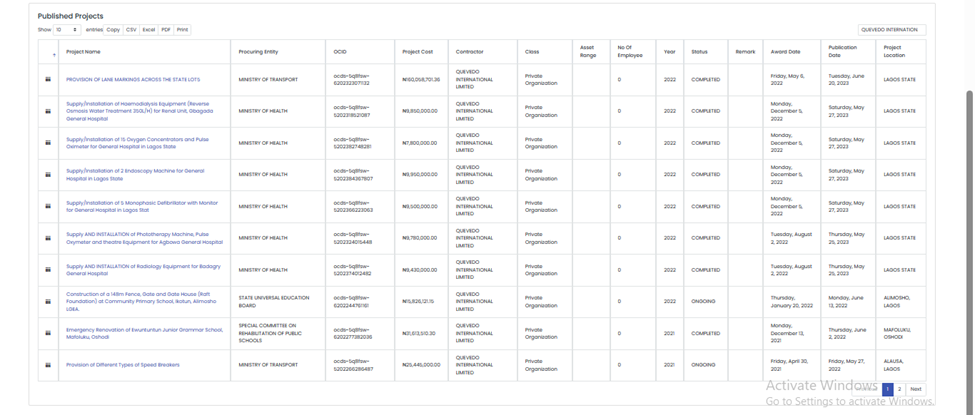 While it is not uncommon for private organizations to win government contracts, the involvement of a civil servant in securing multiple contracts for the same company raises serious questions about the integrity of the procurement process. Civil service regulations are designed to ensure transparency, fairness, and competition in government contracts, and prevent conflicts of interest.