Secret Reporters
In November 2022, Michael Oladele, the Director of the Bank Examination Department at the Nigeria Deposit Insurance Company (NDIC), disclosed a staggering loss of N911.45 billion to various Ponzi schemes and related frauds across the country over the past 23 years.
During a workshop for financial correspondents and business editors, Oladele also traced the history of Ponzi schemes in Nigeria back to the 1980s and early 1990s when the well-known Umana-Umana investment platform and Planwell took the market by surprise.
Although acknowledging the lack of precise data on the trends, he stated that in 2016, approximately N700 billion was reportedly trapped in private placements in Nigeria, while Mavrodial Mondial Movement (MMM) swindled investors of N18 billion. Additionally, MBA Forex defrauded investors of N171 billion, and Nospecto caused a loss of N22.45 billion. Numerous other Ponzi schemes, such as Ultimate cycler, Zar fund, Givers forum, ICharity, Crowd rising, Get help worldwide, Kash Doubler, Apex Forum, Reget Cash, Donorbiz, Ogafunds, GMG, and many more, have also existed or still exist in Nigeria.
Operating without the license and authorization of the Central Bank of Nigeria (CBN), Ponzi schemes are deemed illegal under the combined effect of sections 58(1) and 59 of the Banks and Other Financial Institutions Act (BOFIA), 2004.
Participating in Ponzi schemes in Nigeria carries a punishment of 5 years imprisonment or a fine of N1 million (one million Naira) or both, as specified in section 59 (6) (b) of BOFIA.
In January 2022, the House of Representatives passed a bill prescribing a jail term of not less than 10 years for promoters of Ponzi/pyramid schemes and other illegal investment schemes. The bill also entails asset forfeiture and a fine of 10-20% of the amount of money collected from victims.
Under the proposed law, 'A bill to repeal the Investment and Securities Act 2007 and to enact the Investments and Securities Act, 2021' Section 195 (1) of the Bill empowers SEC thus: "The Commission shall have the power to enter and seal up all prohibited schemes and shall obtain an Order of court to freeze and forfeit all assets of such schemes to the Federal Government of Nigeria.
"(2)The cost and expenses incurred under subsection (1) above shall be a first charge from the funds and properties of the illegal scheme including assets of its owners, promoters and or managers, whether acquired legitimately or otherwise. "(3) For the purposes of this Bill, "prohibited scheme" including those commonly known as a "Ponzi or Pyramid scheme" means: (a) Any investment scheme that pays existing contributors with funds collected from new contributors to the scheme promising high returns with little or no risk: i) Whether or not the scheme limits the number of persons who may participate therein, either expressly or by the application of conditions affecting the eligibility of a person to enter into, or receive compensation under the scheme; or ii) Whether the scheme is operated at a physical address or through the internet or other electronic means. (b) Any scheme where participants attempt to make money by recruiting new participants usually where: (i) the promoter promises a high return in a short period of time, and (ii) no genuine product or service is actually sold; or(iii) the primary emphasis is on recruiting new participants
"(4)The promoter(s) and operator(s) of any entity engaged in a prohibited scheme commits an offence and is liable upon conviction to imprisonment for a term of ten (10) years or a fine of N5,000,000 or both".
In all of these, Goodness Kattey Ejiro, also known as Gudikat, proudly considers herself one of the top earners from Ponzi schemes like Primeshares and Monetaflex, causing distress among Nigerians.
Browsing through her Facebook wall, it's evident that Gudikat, who claims to be a Blogger, Brand influencer, Content creator, Scriptwriter, Movie producer, and Digital 'ajo' collector, has become a major advocate for Ponzi schemes. She continuously promotes various Ponzi platforms on social media, enticing her unsuspecting followers with persuasive write-ups.
The tipping point came when a victim, Ruth Tene, invested her money expecting to withdraw her earnings but was left disappointed. Exhausting all efforts to recover her money, Ruth took to her Facebook handle to share how she was lured into the scheme.
Ruth's trust in Gudikat led her to pick interest in the "business" where all participants are assembled in a WhatsApp group called "Primeshare By Gudikat," where they were being guided on how to make money. She soon discovered that she needed referrals to earn, and despite opting for an alternative method of sharing trends, she and others have not received their earnings even after reaching the withdrawal threshold.
Several months have passed, but Ruth and others who chose to follow trends and share have yet to receive credit for their earnings, despite reaching the required withdrawal threshold. Even though some were able to initiate the withdrawal process on the platform, which the organizers claimed could only be done between midnight and 2 AM, they still haven't received their earnings.
Other victims were seen lamenting in the group as Gudikat kept emphasizing that she does not want anyone to complain. People who complained were being removed without the hope of getting their money back.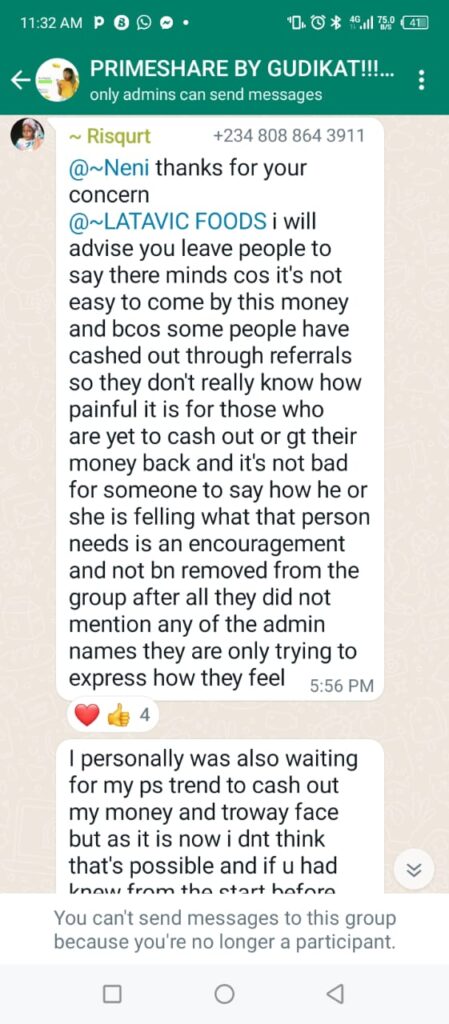 (Screenshot of the WhatsApp group with a victim lamenting)
The hopeless victims are being asked to wait for another withdrawal period and repeat the stressful process.
Secretsreporters reached out to Gudikat, and she explained that the organizers said the volume of withdrawals placed was too huge for the platform to pay everyone at once. On whether she is part of the organizers or knows them, she said she is not part of them and does not know them. When she was asked whether the "business" is registered with the Corporate Affairs Commission (CAC), she said she did not know, claiming that the platform is into sales of soft skills and that she did not force anybody to join the platform. Contrary to her claim of always explaining everything to people to people before registering them, she posted in the WhatsApp group that people would not have joined the platform if they did not convince them with non-referral earnings.
Secretsreporters tried to reach out to a phone number provided on the site bearing the name Gabriel Iboroma, but it remains unreachable. Aside from the phone number, no office address or further contact information is provided on the site, which means, the organizers are trying to be anonymous.
It was also discovered that Primeshare is not incorporated with the CAC or licensed by any regulatory body, which makes it illegal for the platform to handle financial matters.
Gudikat, on one of her Facebook posts, boasted of how Primeshare made her a millionaire in two months, as she frequently invites her followers to join with steady emphasis on having their registration money "handy."
Even though Gudikat was hinted by Secretsreporters on Wednesday, July 19, 2023, that Primeshare is a Ponzi scheme and promoting it is a crime, it was noticed that she also promoted Monetaflex, another Ponzi scheme with the same activities, along with website design in connection with Primeshare.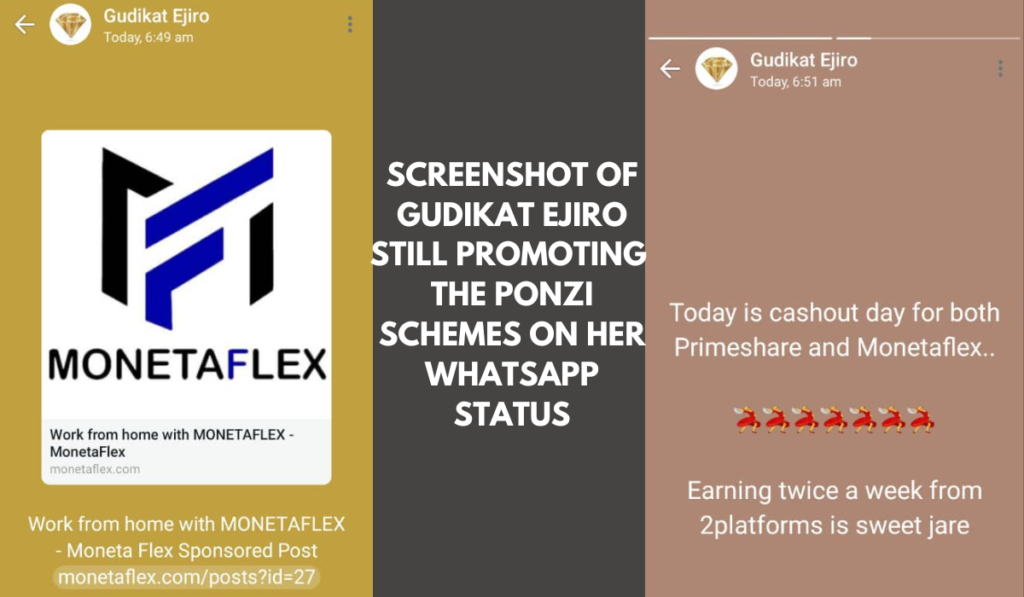 Upon receiving the notice, SecretReporters visited the site. They discovered that the features are the same as Primeshare's, leading to suspicions that the same people are behind both platforms.
YOU MAY ALSO LIKE: Political Connections, Breach of Regulations Taint Recruitment of Bursar, Registrar at Delta State Polytechnic
When the official coupon vendor on the site was contacted via WhatsApp, he told Secretsreporters that the platform was legitimate. The reporters, who disguised themselves as someone wanting to buy a coupon, asked for CAC registration, but the vendor aggressively replied that the reporter could quit if they did not want to buy.
The vendor provides account details carrying Palmpay with the name Aneke Zimuzo. Palmpay transactions are not easily traceable to the owners, which is why most online scammers have used it recently.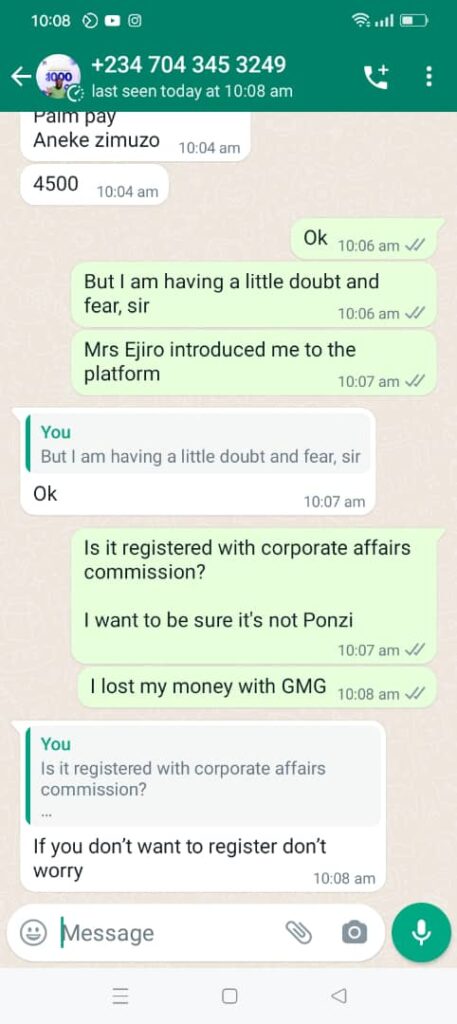 (Screenshot of the vendor's response to the reporter)
Meanwhile, Gudikat's husband, Ejiro, who seemed unaware that promoting Ponzi schemes is a crime, spoke with the reporter, claiming that Primeshare should be held responsible for everything, not his wife. He added that his wife did not force anyone to join the platform.