Secret Reporters
The Covid-19 pandemic came with a huge shock to the world, and it was saddled with various lifestyle changes and hardships, around the world. A global pandemic that affected the way people and governments of several Nations interacted with one other. In Nigeria, the covid-19 outbreak was first recorded in February 2020 in Lagos state Nigeria, from which it spread across to other parts of the state.
Responding to the outbreak, just as various governments of the world, the Nigerian government announced a total lockdown, this implied restricted movements, a limited number of people gathering, and a shutdown of public events. State governments had no choice but to implement these restrictions in their states.
Most state governments budgeted funds to mitigate the harsh effect of the lockdown, as they prevented Nigerians to earn income for survival, most especially low-income earners.
Findings by SecretReporters revealed that the Katsina state government in response to the pandemic spent the sum of N5,258,876,658.99 for the Covid-19 pandemic in five months in 2020. The amount no doubt had no effect as the looting of government warehouses and hoarding of palliatives can authoritatively assert these claims to be true.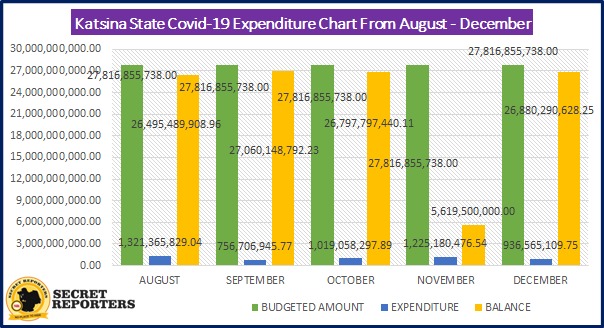 Corruption was the order of the day, for the period the pandemic lasted, as Nigerian wallow in hunger and lack of finance, despite government spending of over N5 billion. This amount would have done more than mitigate the effect of the Covid-19 Lockdown on Katsina residents if used judiciously. Below is a breakdown of the monthly expenditure by the katsina state government during the pandemic in the year 2020.
| | | |
| --- | --- | --- |
| Month | Budget | Expenditure |
| August | 27,816,855,738.00 | 1,321,365,829.04 |
| September | 27,855,310,738.00 | 756,706,945.77 |
| October | 27,855,355,738.00 | 1,019,058,297.89 |
| November | 27,855,355,738.00 | 1,225,180,476.54 |
| December | 27,855,355,738.00 | 936,565,109.75 |
| Total Expenditure | | N5,258,876,658.99 |
Table showing five months Covid-19 spending by Katsina State in 2020