Secret Reporters
Data have revealed that between August to December 2020, three States in the North-East zone of Nigeria spent a fictitious total of N10,738,165,713.73 to combat COVID-19. That was the period the number of Covid-19 incidents had decreased with normalcy returning to the country.
It could be recalled that on the 27th of February 2020, Nigeria confirmed its first case of COVID-19, barely a month after its outbreak in China, in January 2020.
Between March and June 2020, the virus raged across Nigeria, with billions of Naira released at the Federal and State level to curb the pandemic. By August of the same year, the pandemic reduced drastically, with normalcy returning to most parts of the country where mandatory restriction of movement was imposed. Despite lifting the lockdowns, with people returning to their offices and businesses, pilfering of taxpayers' funds under the guise of combating the virus was the order of the day across the country, especially among state governments in the North-East region of Nigeria.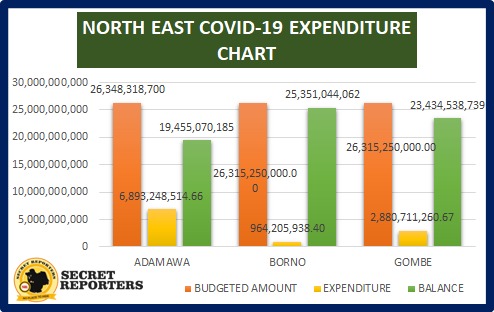 According to data obtained from the Open Treasury Portal by SecretReporters, Governor Ahmadu Umaru Fintiri's Adamawa State spent a whopping N6,893,248,514.66 on COVID-19 within five months, making it the highest spender amongst the three States in the region.
While Governor Muhammad Inuwa Yahaya's Gombe State tagged along as the second highest spender in the zone with a total of N2,880,711,260.67 with its data for November 2020 unavailable, further findings showed that the ravaged Borno State under the leadership of Babagana Umara Zulum spent a total of N964,205,938.4 to allegedly combat the pandemic with the data for October conspicuously missing just like his counterpart.
These findings, especially the omission of data for some of the months, have raised eyebrows among Nigerians who question if these were deliberate attempts to conceal irregularities in Nigeria's stealing havens as they call on relevant authorities to investigate and bring those accountable for the mismanagement of the funds to book.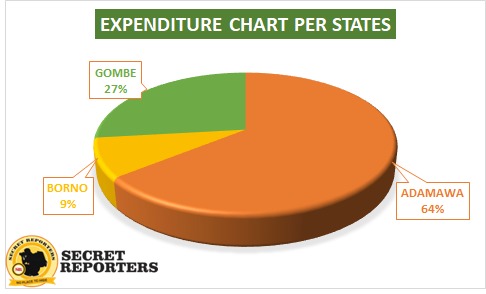 Below is a breakdown of the expenditure by the three States on COVID-19 between August to December, 2020.
Adamawa
| | | |
| --- | --- | --- |
| Month | Budget | Expenditure |
| August | 26,248,318,700.00 | 4,377,060,000.00 |
| September | 26,248,318,700.00 | 189,904,071.18 |
| October | 26,348,318,700.00 | 331,942,210.48 |
| November | 26,348,318,700 | 1,315,386,025.00 |
| December | 26,348,318,700 | 678,956,208.00 |
| TOTAL | | 6,893,248,514.66 |
Table showing Adamawa State Covid19 Budget and Expenditure from August to December 2022
Borno
| | | |
| --- | --- | --- |
| Month | Budget | Expenditure |
| August | 21,680,000,000.00 | 99,597,947.20 |
| September | 26,315,250,000.00 | 407,588,861.20 |
| November | 26,315,250,000.00 | 238,391,530.00 |
| December | 26,315,250,000.00 | 218,627,600.00 |
| TOTAL | | 964,205,938.4 |
Table showing Borno State Covid19 Budget and Expenditure from August to December 2022
Gombe
| | | |
| --- | --- | --- |
| Month | Budget | Expenditure |
| August | 16,432,000,000.00, | 707,628,804.38 |
| September | 16,595,500,000.00 | 1,498,314,556.09 |
| October | 3,942,000,000.00 | 456,140,300.20 |
| December | 26,315,250,000.00 | 218,627,600.00 |
| TOTAL | | 2,880,711,260.67 |
Table showing Gombe State Covid19 Budget and Expenditure from August to December 2022