Secret Reporters
Many call him the Onwanetiliora of Alor (the moon), the Okaaome of Ituku and Okaaome of Okpanam (Talk and Do), but if you call him a 'smooth criminal', you might also be right. This is because over the years, the one time Governor of Anambra State now a member of the Federal Executive Council (FEC) who also served as a Senator representing Anambra Central Senatorial District has managed to evade the radar of anti-graft agencies in Nigeria despite his alleged dubious financial history.
Dr Chris Nwabueze Ngige, the current Minister of Labour who in 2003 was elected Governor of Anambra State in controversial circumstances, but had to vacate the seat after an election tribunal led by Justice Nabaruma in August 2005 nullified his victory despite his appeal to the Federal Court of Appeal which on March 15 2006 in a landmark judgment upheld the annulment and awarded victory to Peter Obi of the All Progressives Grand Alliance (APGA) successfully used the little time he was in power to amass enormous wealth.
Documents in the possession of SecretReporters authoritatively revealed that with just three years as Governor, Ngige in 2008 was able to purchase a property located at 13910 Crest Hill Lane, Silver Spring, Montgomery County, Maryland, USA for a jaw-dropping sum of $922,600 equivalent to Three Hundred and Thirty Four Million, Six hundred and Eighty Thousand Naira (N334,680,000).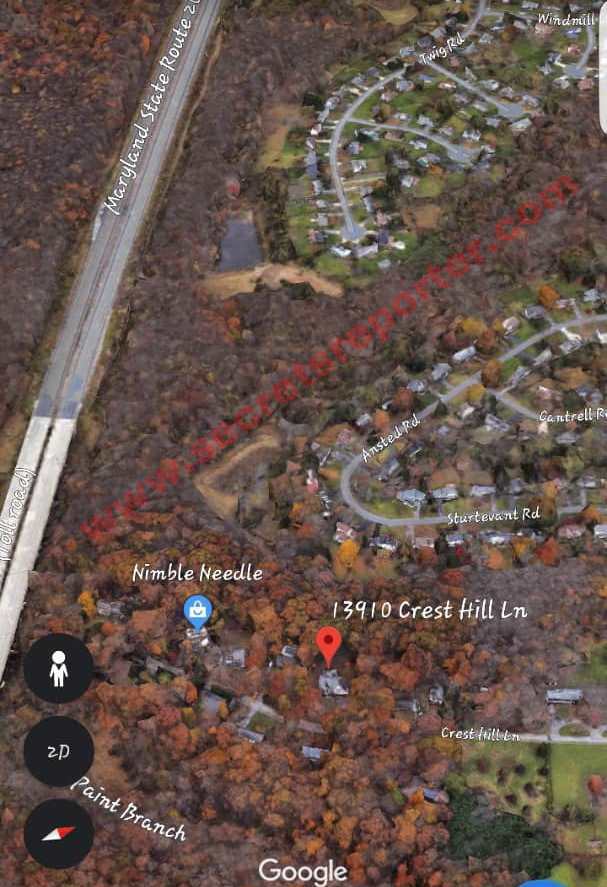 The property which is a two-story building with a framed interior and a basement located in a sparsely populated neighbourhood close to the Intercounty connector on Maryland State route 200 according to our investigation has 5 full baths (a toilet, sink, bathtub, and shower), a half bath and approximately 4,448 sqft of floor space. It also has a lot size of 1.29 acres with 2 garages.
In a joint investigation carried out by SecretReporters and Leading Reporters, a check on the property from the Department of Assessments and Taxation in the State of Maryland further showed that it was developed in 2008 and purchased same year on June 6 by Chris Ngige with Deed number 35727/00006 through Longview VII LLC from its original managers six years after the land was acquired in a non-arm's-length transaction with Deed number 20215/00364 on January 2 2002.
However, information available to SecretReporters on good authority revealed that the dogged Minister, alleged to be an ace in the game of racketeering, who also seem to be enjoying some sort of presidential immunity intentionally omitted declaring the aforementioned property in his Code of Conduct Bureau (CCB) form as a Senator and a cabinet member of the Federal Executive Council. His CCB form sighted by our sources within the bureau confirms that he didn't list the properties in any of his declaration forms since his days as a Senator.
Regrettably, information at our disposal revealed that despite several petitions against Chris Ngige especially to the Independent Corrupt Practices Commission, the former HOD Investigations in the commission who was his 'hitman' and partner-in-crime has always compromised the case for cash as the Investigation Department of the commission was already turned into a black-alley for corrupt looters under his command.
Who was Ngige?
Until former Gov. Chinwoke Mbadinuju fell out of favor with Olusegun Obasanjo, the President at that time, Ngige was an unknown fellow and very poor that he was unable to obtain the Peoples Democratic Party (PDP) governorship form, but sponsored fully by Chris Uba, who was his political godfather. His poverty level led him to sign an agreement with his godfather to allow him chose the Commissioners for Works and Finances with five other juicy commissions as well as decide the contractors for major jobs in the State. With his desperation to be Governor, he swore before the dreaded Okija Shrine to pledge his loyalty. However, as soon as he became governor with immunity and saw the money available to him from the state coffers, he reneged on his agreement, leading to the years of terror in the state and his subsequent removal by the court.
The Nigeria Labour Congress had warned President Muhammadu Buhari not to return him as the Minister of Labour and Productivity as it will create an industrial crisis in the country stating that Ngige lacked the approach to lead workers.
With his confirmation by the Nigerian Senate, it will mean they failed in their duty by not going through his CCB forms properly, just as the security agency charged with investigating government nominees before appointment didn't take notice of his foreign asset.
It is not clear what Mr Muhammadu Buhari, who presides over Nigeria will do when this goes public as Ngige holds one of the juiciest offices with huge budgetary allocation to his ministry.
When contacted for his reaction, Mr Chris Ngige did not answer his calls nor did he reply to the message sent to his known phone number. Four days after, he was yet to return our calls or reply to our SMS as at the time of going to press.
This investigation was carried out in conjunction with www.leadingreporters.com