The right to education is a fundamental human right, no wonder our federal government and various states has opened and provided facilities whereby anyone who wishes to get educated can do so with little or no pay. But what now becomes the fate of the masses when our so called universities which are supposed to be affordable now charge record breaking fees like the football industry just for one to get educated. Many Nigerians are asking the question: Are the poor no longer entitled to education or is our right to education gradually being taken from us and made solely for the rich?
Secret Reporters recently gathered information about a state owned university "THE TECHNICAL UNIVERSITY, IBADAN" accredited by NUC, which charges its students outrageous fees of over N983,500 (nine hundred and eighty three thousand, five hundred naira) for an academic year. A document gotten from the school's official website, which is assumed to be a breakdown of various stipulated fees for students indicates that upon admission a student is mandated to pay an Acceptance fee of N50,000 Entrepreneurship and Language Studies N50000, Lab Coat for N25000, Caution Fee for N25000, and Cufflinks for N5000. The list also indicates that for a student to register his courses he or she must pay a sum of N10000 and another N10000 to enable him check his results when they are out.
Also in a recent publication on the school's website, the vice chancellor of the institution, Professor Ayobami Salami announced that admissions are currently on going for the 2017/2018 session. It is assumed that many Nigerian students who may have been denied admission to most of our Federal universities are likely to resort to this type of intuition with their parents coughing out about One Million Naira just for a year in school.
And now we ask, "Are our state universities a new money well for our so called leaders or a way of extorting and exacting from the poor masses who cannot afford the exorbitant fees for a private university (which is for the rich and our leaders children) education and in the process run to their State owned universities, yet are still pushed back with an outrageous, excessive, dubious, excessive, appalling, heinous, and atrocious fee. WHERE IS OUR EDUCATION SYSTEM HEADING WITH THIS REPUGNANT ACT?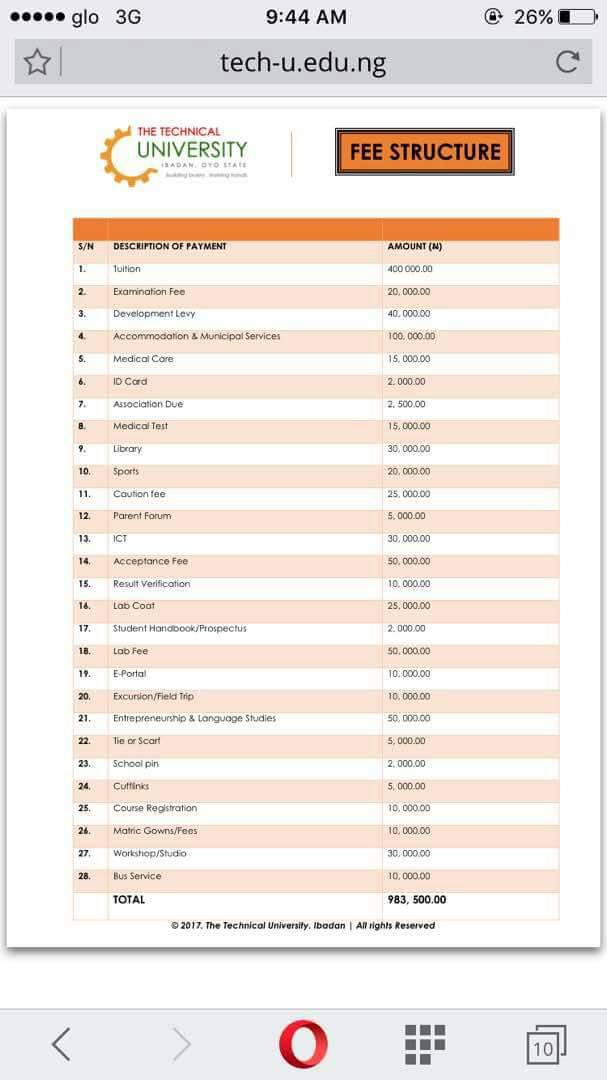 T