Secret Reporters
In a significant development following an investigative report by SecretsReporters titled "Crime Conspirators: Nigeria Open Contracting Portal Removes Contractors' Details, Shields Contract Racketeers," the Nigeria Open Contracting Portal (NOCOPO) has restored the section containing contractor details to its website. The move comes after concerns were raised about the lack of transparency and accountability in the country's procurement processes.
The SecretsReporters investigation revealed that the NOCOPO portal, initially established to enhance transparency and citizen participation in procurement processes, had removed the names of contractors associated with government projects. This omission made it increasingly difficult for citizens to identify the companies responsible for undertaking public contracts, raising suspicions about potential corruption and favoritism.
On June 19, 2023, checks on the NOCOPO website confirmed that citizens and the general public can once again access information regarding awarded contracts and associated contractors. This restoration is a positive step towards fostering transparency and accountability in Nigeria's procurement practices.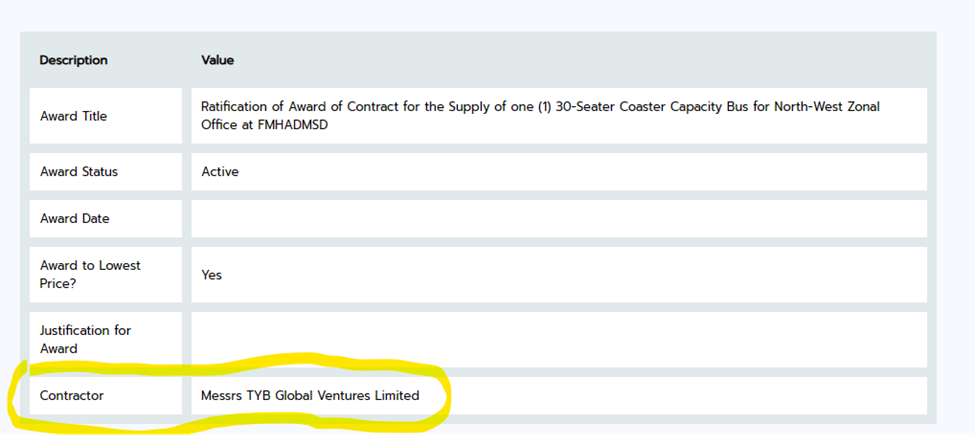 Previously, the absence of contractor identities on the NOCOPO website raised concerns about the involvement of politicians and civil servants in awarding contracts to companies they may own, potentially bypassing due processes and prioritizing personal interests over the public good.
Moreover, besides removing contractor details, SecretsReporters discovered a noticeable transformation in the website's design. While the new design has an updated aesthetic, it raised questions about the portal's commitment to transparency and accountability.
Established in 2017 through collaboration between Nigeria's Bureau of Public Procurement and civil society organizations, NOCOPO aimed to prevent corruption, increase transparency, and facilitate citizen participation in procurement processes. The portal was a significant step toward streamlining procurement practices and providing accessible information to the public.