Secret Reporters
The use of fake or forged documents by Nigerian politicians in the pursuit of political positions is a common practice. Despite the outcry against this corrupt practice, it appears to be undeterred by the political parties and the Independent National Electoral Commission (INEC), as they fail to enforce necessary sanctions or screen out politicians found guilty of this practice. This investigative report exposes how Peter Ndubuisi Mbah, the governor-elect of Enugu state, has been found culpable of this practice.
Peter Ndubuisi Mbah, born on March 17, 1972, is a native of Owo in Nkanu East Local Government Area (LGA) of Enugu state, Nigeria. He was appointed as the Chief of Staff and later the Commissioner of Finance and Economic Development by the then Governor of Enugu state, Chimaroke Nnamani in 2003. Mbah emerged as the official governorship candidate for the Peoples Democratic Party (PDP) in Enugu state ahead of the 2023 general elections after winning the primary election held at the Nnamdi Azikiwe Stadium in Enugu.
Subsequently, he was declared the winner of the contentious governorship election held on March 18, 2023, where he polled 160,895 votes to defeat his closest challenger, the Labour Party (LP) candidate, Chijioke Edeoga, who scored 157,552.
According to documents obtained by SecretReporters, it has been revealed that Peter Mbah submitted a forged National Youth Service Corps (NYSC) certificate to the Independent National Electoral Commission (INEC) as part of his qualifications for the Enugu State governorship election. The NYSC certificate, which is mandatory for all Nigerian graduates below the age of 30, bears the number A808297.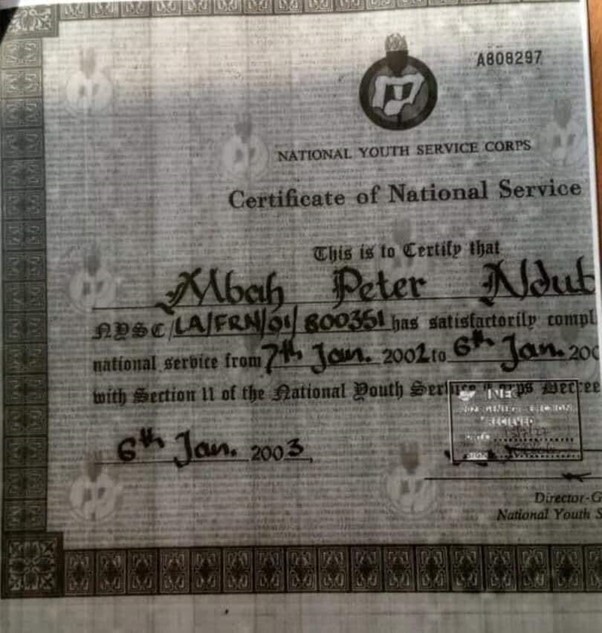 In the letter dated February 1, 2023, and signed by the Director Corps Certification, Ibrahim A. Myhammad, the National Youth Service Corps (NYSC) has denied issuing a certificate of National Service to Peter Ndubuisi Mbah. The letter was in response to an inquiry made by one Mary Nneoma Elijah to verify Mbah's NYSC status and certificate.
The letter reads in part: "We are pleased to inform you that the certificate of National Service belonging to Mbah Peter Ndubuisi with Certificate Number: A808297 forwarded for verification was not issued by the NYSC."
With a myriad of petitions before the Enugu State Governorship Election Petition Tribunal, Mbah's forged NYSC certificate not only raises questions about the trustworthiness and honesty of Nigerian politicians vying for public office but also sheds light on the inadequacies of the Independent National Electoral Commission (INEC) in verifying candidate documents and penalizing those who engage in corrupt practices as this discovery underscores the need for INEC to increase transparency, accountability, and adherence to legal requirements in the electoral process, as urged by stakeholders in the Nigerian electoral system.