Zidora Aid foundation (ZAF) has taken its charity works to a higher level with the recent empowerment programme organized for widows and orphans in Ukpor, Anambra State.
Worried by the hardship faced by widows and orphans in the society, Zidora Aid Foundation (ZAF) has empowered widows and orphans in some inner-city communities in Lagos with free medical treatment and foodstuff for thousands of widows and orphans. The founder, Zidora Aid Foundation, Dr Arinze Madueke who turned 34 years old a couple of days ago, noted that the foundation was set out to empower women, especially widows in Nigeria.
The visibly excited medical doctor cum philanthropist explained that apart from empowering the widows and orphans with foodstuff and free medical care, there is also skill acquisition programme designed teach the women how to fish and be independent on their own. "We are working on a training programme on how to teach them how to make liquid soap, how to design clothes, how to make small chops and many other things.
Beyond skill acquisition, money and food items that the foundation gave to the widows, the founder said the foundation also ensured that nurses and doctors are available to treat any who are sick. "It may be challenging for them to have access to medical care due to financial constraints, hence the reason we have decided to bring along the medical doctors and nurses who will help to diagnose them and give medications as required. As for critical cases, a referral letter would be given to such patients to the nearest government health facilities where they would be treated." Madueke added.
On the agenda of the Zidora Aid Foundation, Dr Madueke disclosed that ZAF is a Non-Governmental Organization that has an agenda geared towards women empowerment, the less privileged children in our society in the form of skills acquisition, and financial assistance; health intervention; basic education for kids of the underprivileged in the society and nutrition. He said, "We go round Nigeria to help the underprivileged widow in the society and this we have been doing over the years in Lagos.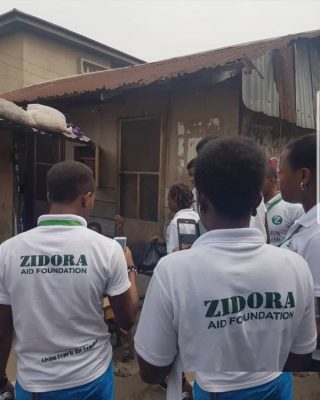 Unlike other NGO's who solicit help and support from the government, foreign donors and corporate organizations, Zidora aid foundation is funded solely from proceeds of the Zidora Group of Companies.
The charming and handsome philanthropist further said, "To change our society and make this world a better place we MUST love, we MUST give and we MUST share no matter how small"
In a bid to impacting more people and give back to the society, the founder, Zidora Aid Foundation, Dr Madueke has hinted on opening a branch of the foundation in his hometown, Ukpor in Anambra State. The move which he said is in line with the popular saying "Charity begins at home".
The Anambra branch will be responsible for charity works in the eastern part of Nigeria and the middle belt region of the country.