Onoja Johnson Baba
In layman's terms, it's unusual for a wealthy man to be the one borrowing to survive while the less fortunate continue to thrive. In terms of debt accumulation, Nigerian states have reached this point. Most Nigerians are beginning to wonder why the wealthy states with the highest allocations continue to lead in terms of debts, both domestic and external.
In the States and Federal Capital Territory Domestic Debt Stock as of September 30, 2022, as published by the Debt Management Office (DMO) on December 9, 2022, Nigeria's states and FCT owe a staggering N5,363,848,402,749.44 in domestic debt. More troubling is why Lagos, Rivers, Akwa Ibom, Delta, and Cross Rivers states continue to lead in debt profile despite receiving the highest revenue from the Federation Accounts Allocation Committee (FAAC) and Lagos having the highest Internally Generated Revenue (IGR) in the country.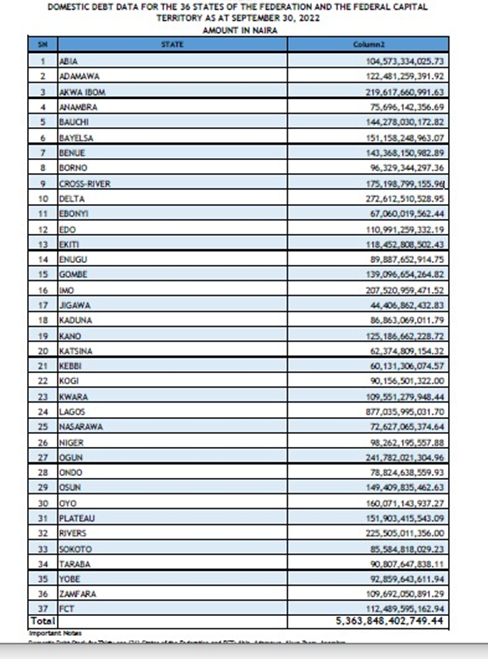 According to the DMO's most recent domestic debt profile, AKWA IBOM owes N219,617,660,991.63, DELTA owes N272,612,510,528.95, RIVERS owes N225,505,011,356.00, CROSS-RIVER owes N175,198,799,155.96, and LAGOS owes N877,035,995,031.70.
Statista has reported that "between January and June 2022, Delta registered Nigeria's highest Federation Accounts Allocation Committee (FAAC) allocations. The state received nearly 123 billion Nigerian Naira (NGN) (284 million U.S. dollars) in FAAC revenue in that period. Akwa Ibom and Rives followed with around 104 billion NGN and 101 billion NGN (241 million and 234 million U.S. dollars), respectively. According to the source, four of the leading states listed here are oil-producing states receiving a 13 percent derivation fund besides their FAAC allocations." Yet, they are heavily indebted, why?
The outlook for domestic debt in many of the 36 states is becoming increasingly bleak. Their collective debt profile, with that of the FCT, has risen from N3.03 trillion in 2015 to N5.28 trillion in the second quarter of 2022, as stated by the DMO.
Despite the misery on their doorstep, many states continue on spending sprees. A state governor's travel budget is typically greater than their state's education budget, even when the schools within their jurisdictions operate under trees or are at best rag-tag enclosures with squalid infrastructure.
Numerous state governments have dozens of commissions and bodies that do nothing to improve governance. A lot of money is spent on aides each year, with Rivers and Cross Rivers State retaining thousands of unnecessary aides.
Once more, government organizations and public officials continue to fleece the states through contract fraud, especially when contracts are awarded to businesses they own or ones that don't exist.
However, why the richest States in Nigeria are also the most indebted is a subject that still begs for a solution.