Secret Reporters
Still on the game of hide and seek being played by Uzoma Dozie led Diamond Bank as regards their refusal to pay their 393 sacked workers their redundancy benefits after they alleged they resigned voluntarily, fresh reports reaching SecretReporters has it that the aggrieved petitioners are now at the mercy of the House committee after the Apex bank in its response stated clearly that due to constraints the cannot interfere with the case before the House committee which has had several unproductive hearings.
According to our source, Diamond bank on the 7th of May, 2018 replied to the letter received from the Central Bank of Nigeria alleging the misrepresentation of the facts denying the agreement they made in redundancy exercise of paying the 393 sacked workers their entitlements, stating that the exit of the sacked workers was in accordance with the law and their contracts of employment. They also claimed to have paid all the petitioners their terminal benefits as agreed under their contracts of the agreement.
It was also revealed that Diamond bank further denied the allegation against them by the petitioners stating that out of 370 persons who left its employment, 274 of them voluntarily resigned their appointments as most of them demanded and were given favorable references.
It should be recalled that in a previous report published by this online news medium, the 393 sacked workers who petitioned the House committee reiterated that they were deceived into withdrawing the case that they initially filed against Diamond bank from NIC (National Industrial Court). Diamond bank in a counter to that report refuted the claim that the earlier suit on the matter was withdrawn by the petitioners when it became obvious to them that the case had no basis and that it was bound to fail.
In addition to this, the Bank stated that its legal advisors informed the House committee that it lacked jurisdiction to grant the reliefs being sought by the petitioners and that by virtue of section 25(c) of the 1999 constitution as amended, that it was only the National Industrial Court (NIC) that had the jurisdiction to adjudicate over the issue.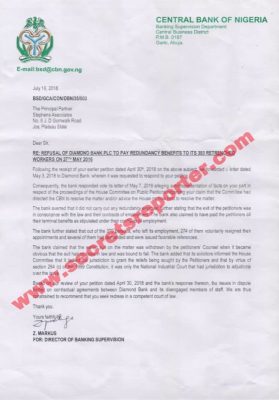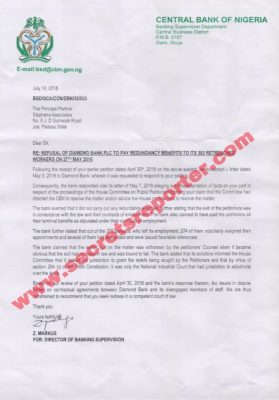 Following the reply by Diamond bank to the Central Bank of Nigeria, the Apex Bank wrote to the sacked petitioners on July 16th through their counsel with regards to the review of their petition dated April 30th, 2018. In CBN's response, the aggrieved petitioners were advised after a review of their petition and Diamond Bank's response to seek redress in a competent court of law (National Industrial Court) as the Apex Bank was constrained thus cannot interfere in the dispute and contractual agreements between both parties.
SecretReporters will publish the names of the entire sacked workers and other insider crime by the bank's management in subsequent series.