Secrets Reporters
A director of the Lagos State Ministry of Justice's Office of Environmental Services, Olubunmi Obadan, has been busted for engaging in practices that were both against the Financial Regulation Act and Nigeria's Code of Conduct for Public Office Holders.
An investigation by SecretsReporters has revealed that Obadan-owned FJS Engineering Global Limited has been taking state government contracts in violation of civil service laws. Her company also fails to pay taxes, which is another illegal act that is frowned upon by the law.
The director who says she is in charge of advising the Lagos state government on best practices as regards issues concerning environmental matters, and litigation and helps in resolving cases against the state government through mediation, according to her LinkedIn profile, has secured four contracts using her company, FJS Engineering Global Limited, from the state's Special Committee On Rehabilitation Of Public Schools, between Friday, May 7th, 2021 and Thursday, June 30th, 2022.
FJS Engineering Global Limited which was incorporated on 3rd July, 2019 with registration number 1597415 has its office situated at Plot 167 Federal Housing Estate AK Street Sabo, Lagos. The company has Godwin Ajayi Obadan, Olufunmilayo Olubunmi Obadan and Israel Olukayode Diyan as members of the board of directors.
The contracts taken by the director so far are worth N296, 218,500. The contracts include the Renovation of 3nos Blocks of Classroom and 20Nos Cubicle Toilets at Gbenopo Nur/Pry School, Ajara, Badagry which cost ₦163,831,686.90, the Procurement Of Water Supply, Borehole And External Works At Modupe Primary School, Fola Agoro which cost ₦4,662,597.50, Emergency Rehabilitation of 350M Fence with Construction of Gate House at Local Authority Nursery and Primary School, Badagry (Education District V) which cost ₦20,706,351.80 and the Renovation of (i) Ajara Junior High School, Badagry (ii) Ajara Senior High School, Badagry (Education District V) which cost ₦107,017,864.00.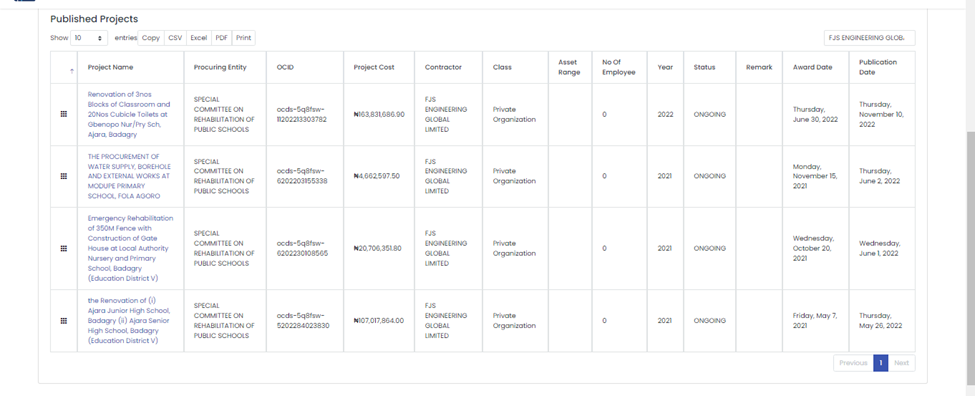 Public servants using their private companies to acquire government contracts violates the Code of Conduct for Public Officers which states that "except where he is not employed on a full‐time basis, engage or participate in the management or running of any private business, profession or trade; but nothing in this paragraph shall prevent a public officer from engaging in farming or participating in the management or running of any farm".
In addition to the issue of conflict of interest, Obadan's FJS Engineering Global Limited engages in tax evasion as shown by her annual return status on the portal of the Corporate Affairs Commission.
In addition to having your certificate of incorporation with the CAC as evidence that you are a legal entity under section 25 of the law establishing the Lagos State public procurement agency and for related purposes, a company must also provide CAC Form 7/7A (Particulars of first Director/Notice of change of Directors), For Business Name, (Particulars of Proprietors), and Evidence of Filing Annual Returns and Notice of Assessment of Tax, to be eligible for a contract with the state government. These are obligatory requirements, particularly in light of the seriousness of tax evasion in Nigeria.
The crime committed by the Lagos state government legal adviser as a director in the Ministry of Justice is a pointer to the many cases of those in charge of maintaining the laws breaking them without remorse.