Secret Reporters
Bayelsa State House of Assembly former Speaker and current member of the House representing Southern Ijaw Constituency 2, Monday Bubou Edwin Obolo, has been found complicit in contract racketeering.
According to data on the Bayelsa State Open Procurement Portal, the State government, under the leadership of Governor Douye Diri, awarded a contract to Bowin Concept Ltd for the "Building of community Town Hall, Ludon Town, Sliga, Bayelsa State".
The contract, pegged at a hundred million naira (N100, 000,000.00) was awarded in 2021 and has been completed, according to the details on the portal. However, the duration of the project was not stated.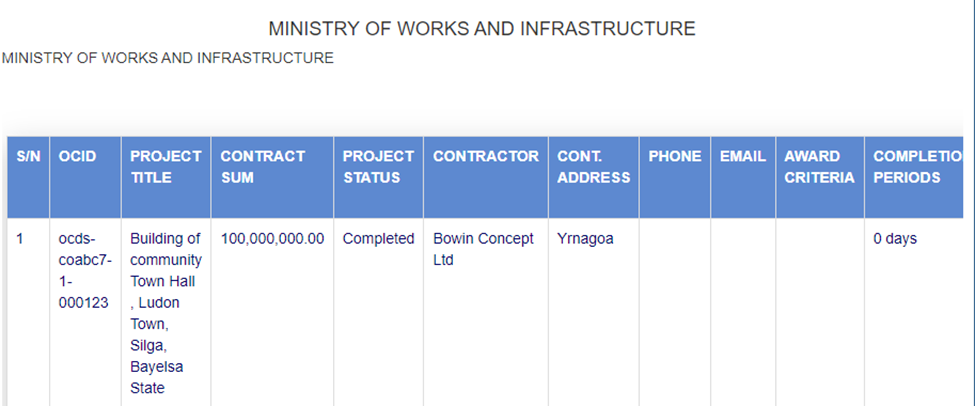 An investigation by this online media revealed that Bowin Concept Ltd is owned by Monday Bubou Edwin Obolo.
Meanwhile, public servants using their private companies to acquire government contracts violates the Code of Conduct for Public Officers which states that "except where he is not employed on a full‐time basis, engage or participate in the management or running of any private business, profession or trade; but nothing in this paragraph shall prevent a public officer from engaging in farming or participating in the management or running of any farm".
In 2011, Obolo was elected member of the Bayelsa State House of Assembly to represent Southern Ijaw Constituency 2, where he is functioning to date as he was re-elected thrice.
From 2004-2006, he was elected Vice Chairman of the Southern Ijaw Local government area. Again, between 2006 –2007, he served as the Executive Chairman of the Southern Ijaw Local Government Area. Obolo's political career kicked off in 1997-1998 when he was elected Councilor
to represent Sothern Ijaw Ward 1, under the United Nigerian Congress Party where he first-hand served his people personally to discuss any matter concerning them and bringing up such issues during legislative sessions.
Bowin Concept Ltd was incorporated in Yenagoa, Nigeria with Registration Number 637065. It was registered on 14 Oct 2005 and its current status is unknown. The company's office address is No 48, Ebi's Guest House Road, Biogbolo Yenagoa, Bayelsa State. A check on the status of the company on the Corporate Affairs Commission shows that it is not active.