Secret Reporters
The Governor of Katsina State Rt. Hon. Aminu Bello Masari has scored a goal by being the first elected officer to give out appointment letter that is yet to be understood by the public.
In the letter with reference number SGKT/ADM/256/T/283 dated 3rd October 2019 and signed by the Secretary to the Government of the State, Mustapha Muhammed Inuwa, it was gathered that the Governor who earlier appointed thirteen (13) Special Assistants to occupy various portfolios, also appointed Ukashatu Suleiman as Special Assistant, Modern Singer.
An excerpt from the letter reads "I have the pleasure to convey the approval of His Excellency, the Governor of Katsina State, Rt Hon. Aminu Bello Masari, CFR for your appointment as Special Assistant, Modern Singers".
The announcement of the appointment which raised a lot of dust as it has neither been existent in the State and Nigeria nor does it have any significance to the supposed transformation agenda of the government was allegedly created by the Governor and given to Ukashatu Suleiman as compensation for yet to be identified reason.
It was also gathered that during the first tenure of the Governor, Ukashatu Suleiman popularly called 'Ajuba' and his associates created an association called 'Masari Modern Singers Association' with the sole aim of promoting the Governor and his policies.
According to reports, the group was at the centre of the campaign team of the Governor's re-election as they were always seen with the campaign train in all 34 local government areas they visited.
Consequently, desperate to compensate his political praise singer but seeing that no portfolio suits him in government and fully aware that he has nothing to offer to the people of the state, the Governor adopted the name of the group and appointed his godson Ukashatu Suleiman as the "Special Assistant Modern Singers".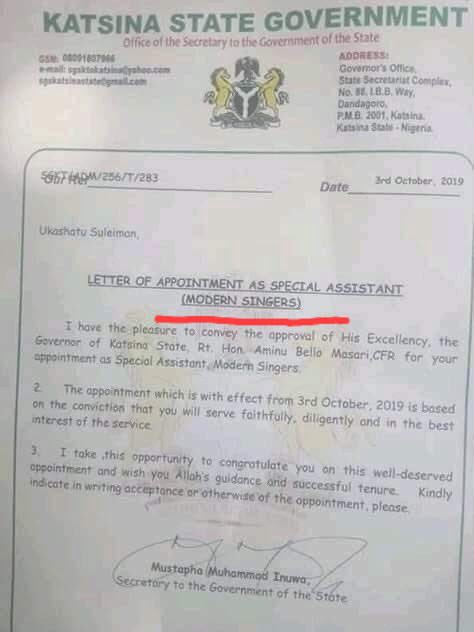 A source who spoke to our reporter on the condition of anonymity stated that "This action by the Governor shows that he has no insight; we are waiting for the governor or Ayuba to tell us what his responsibilities will be in this government, and to think that he will be paid with taxpayers money".
Critics in the state are yet to recover from what some describe as a 21st-century blunder while others are in a state of a quagmire as to the responsibilities of a Special Assistant on Modern singers in a government that intends to take its people out of economic instability.