Secret Reporters
The corruption in Kaduna state seems to know no boundary as a recent investigation by Secret Reporters confirmed that the El-Rufia led administration in Kaduna has now resorted to collecting money from State residents through its agent the Kaduna State Water Board, a body that has been in comatose, under the guise of a mischievous resolution which was enacted into law on the 25 May 2016.
The "Borehole Royalties" as the State Government termed it, is collected monthly from every property or individual that taps or drills water from the abundance of earth's crust either for personal or public use, as the powers to drill water within Kaduna metropolis presumable belongs only to the state owned water board.
According to the SBU manager Aminu Usman, the controversial law empowers the Kaduna State Water Board to collect N10,000 (Ten Thousand Naira) monthly as royalties per borehole. This taxation is taking place when Gov. El Rufai is unable to sink a single borehole for those he's collecting the royalties from.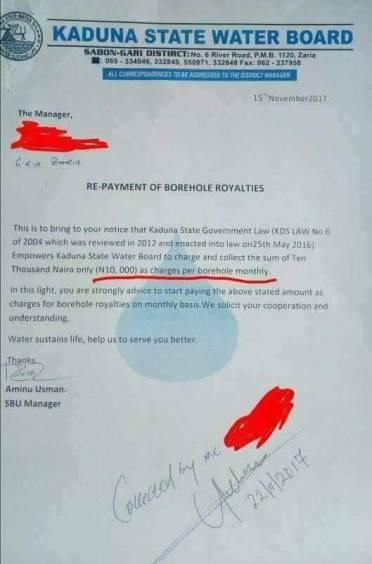 A resident of GRA in Kaduna Mr. Mustapha Singi in a telephone conversation with our reporter lamented.
"It's absurd, we elected them into office to serve but alas, this is not what we expected. They won't provide the water, and when you provide the water for yourself you pay royalties to them, as what? Kings? They should change that stupid law"
No doubt, one of the dividends of democracy is the provision of basic amenities like road, light, housing, and most especially water, one of the natural resources which sustains life. With this recent development in Kaduna State, one can only wonder the fate of the populace when their elected government who constitutionally are to provide such amenities but don't, now turn to collect royalties from them.