By Elfredah Kevin-Alerecchi
The community in Southern Nigeria has been existing for over 10 decades, however, since its inception, there has never been electricity, and residents had long settled for local kerosene lamps that are now affecting their health.
Sixty-five years old, Sarah Andrew is currently suffering from an eye problem, following years of using local kerosene lamps that emit carbon at home and at her shop where she sells dried fish in the local market of Kaani community in Rivers State. Like her six children, she was born and raised in the community in Southern Nigeria and has been using the local kerosene lamps since was born.
Findings revealed that kerosene lamps are hazardous and poisonous to human health as they may reduce lung function and increase the risks of asthma and cancer.
Ms. Andrew is just one of the numerous residents suffering from the impact of kerosene lamps due to a lack of electricity supply in Nigeria's oil-rich producing state, the state with the second highest GDP in Nigeria.
Following the lack of electric power supply, health care services have been distorted as most times, vaccines for children's immunization get spoiled, according to several healthcare workers who spoke to the reporter at the community health center.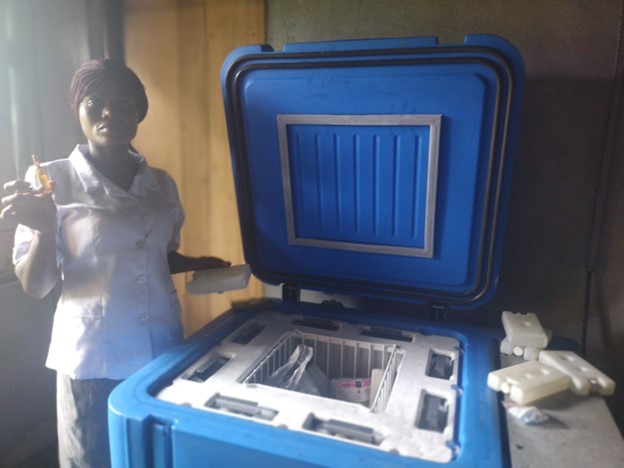 Doris Letam, a health worker, was only transferred from the community headquarters in 2018. Surprisingly, unlike her previous primary place of assignment, there is no power to preserve vaccines, especially the BCG and the Penta.
Sometimes nursing mothers that bring their babies for immunization are asked to go home and return the following day when the first vaccines brought from the headquarters have finished. The fear to reopen a new vaccine which will eventually get spoilt if not finished makes health workers send babies due for immunization home, Letam said.
Mrs. Letam said, "Sometimes the BCG vaccine, once opened, and not used within 24 hours gets spoiled, and we decide to pick like one or two bottles from our head office and ensure we finish it before the expiration period or return them.
Continuous Suffering of Residents
Due to the lack of electricity supply which has also crumbled business growth in the community as hair stylists are most affected as many who could not afford external electricity supply (generator) are forced to shut down their businesses at night or used the local kerosene lamps that emit carbon, of which experts have identified as poisonous to human health.
The World Bank estimated that Nigerian businesses have lost $29 billion yearly because of unreliable electricity. The country has the largest population among African countries with an estimate of over 200 million people across the 36 States with Lagos being the most populated among all states. But Nigeria has the largest number of people without electricity in the world, according to the statement contained in the World Bank 2021 Power Sector Recovery Programme fact sheet.
The bank said only 22 percent of the poorest people in Nigeria have access to grid power, and most poor households are not connected to the country's electricity supply network.
"For every N10 worth of electricity received by Discos (distribution companies), about N2.60 is lost in poor distribution infrastructure and through power theft and another N3.40 is not being paid for by customers, " said Ashish Khanna, the bank's Practice Manager, West and Central Africa Energy.
"Six in 10 of registered customers are not metered, and their electricity bills are not transparent and clear. This contributes to resistance to pay electricity bills," as quoted by Punch.
Community leaders in Kaani have written several letters to the government and its intervention agency, the Niger Delta Development Agency (NDDC), the agency whose duties include facilitating the rapid and sustainable development of the Niger Delta region but to no avail.
A Relief of Suffering
On December 6, 2021, sixty health workers and forty women traders were given a Solar system that has a radio attached, and two bulbs to lighten up their shops and homes at night.
A local organization, Lekeh Development Foundation, (LEDEF) with support from a foreign organization, Shine Campaign, provided solar energy lighting products to the only functioning healthcare center that is uncompleted to help preserve vaccines for children. A 24KVA of the solar system and 800amh batteries were provided for the health center, serving dozens of people in the community.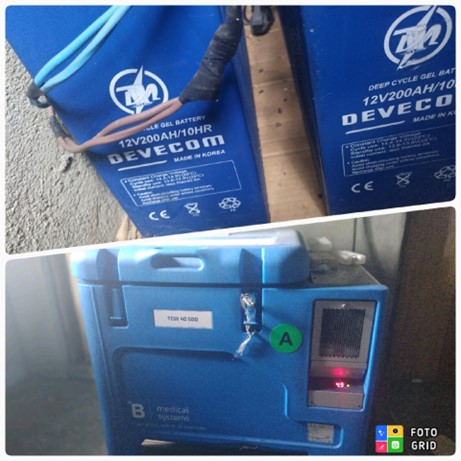 Health worker Ms Letam recalls that after the installation of the solar energy, provided by LEDEF, " we collect enough vaccines, and preserve the vaccines, and since last year, none of the vaccines has ever spoiled," she said.
She noted the solar system has been helping the health care center as they now preserve vaccines for more than 2months without getting spoiled.
The community health care center received its solar system in December 2021 from the Non-profit LEDEF, and since then, vaccines have been preserved for months, and health workers now connect to the world by listening to the radio and charging their phones with the solar system. Three years ago, the reverse was the case, said Letam.
Importance Of Solar Energy
Unlike fossil fuels that are expensive, and most times hardly available for residents to purchase, solar energy is free and clean. Solar energy is derived from the sun, and the total amount of sunlight is more than the total global usage of energy. The US Department of Energy says, 173,000 terawatts of solar energy strike the earth continuously, which is more than 10,000 times the world's total energy use.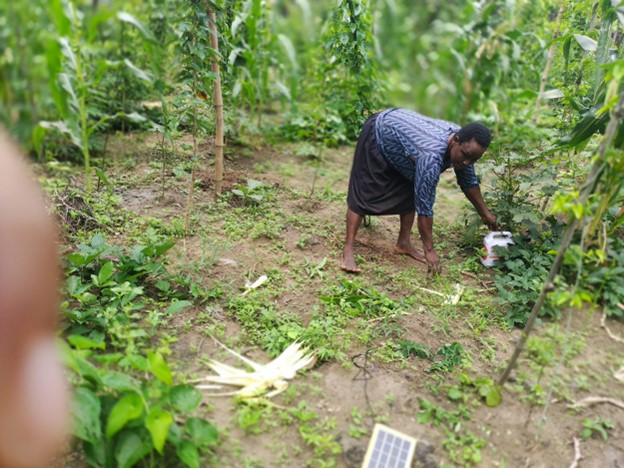 How does the solar lantern and bulbs work?
The solar lantern has been described as a major help to women traders in the community, following decades of lack of electricity. The traders usually use the sun to charge the lantern. They place the solar panel in the sun, and plug the lantern to the panel, which has an embedded radio to charge.
"When it's fully charged, I remove it from the sun and use it at home, and my shop," said Ms. Andrew while describing how she charges the lantern to enable her to have enough energy for use.
While the solar panels at the health care centre are permanently placed on the roof of the health centre, which directly get charged on a daily basis. Power is distributed to the entire health care centre with the help of the solar energy; a small, dilapidated building, with a separate room where the batteries of the solar power are kept, an open reception, two separate rooms where the cooler used for vaccine preservation is kept and the other room for health workers to relax and carry out their daily primary assignment.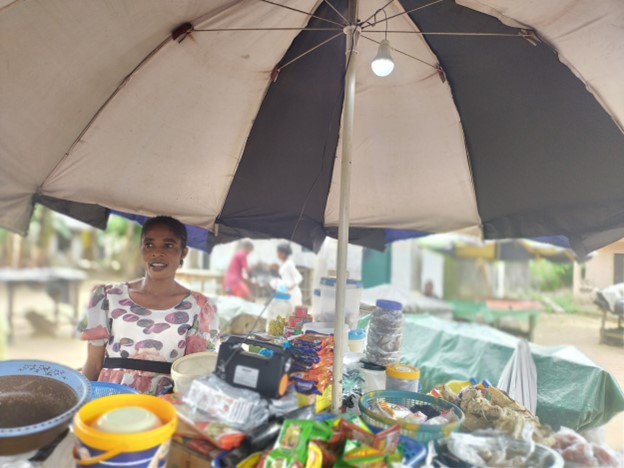 Happy Lubanee, 32, a trader at the community also uses local kerosene lamps to sell her goods at the community market for over 5 years until she was given a solar lantern by the LEDEF. She expresses joy that since she got the solar energy system, she is free from the impact of carbon emission from the kerosene lamps she often used.
Ms. Lubanee noted that at night, she switches on the solar bulb, which helped her to stay longer at night and sell her goods in the community.
Nbani Friday Barilule, LEDEF Executive Director said several research took place before the decision to apply for a COVID-19 grant to help the community and finding reveals that the community has never received power from inception.
Barilue explained that his driving force to donate solar systems was based on the research that recorded 3 rape cases, and hoodlums hanging around uncompleted buildings, kidnapping people at night.
"Shine Campaign supported us and raised thousands of dollars to provide solar in the health care center, provide radio and lantern for health care workers and women traders in the community," Barilue added.
He urged the Nigerian government to remember residents in the community as failure to supply electricity has hindered youth development and local economy activities.
Impeding factor of Solar Energy
Though solar energy has been helpful to health workers and women traders in the Kaani community, however, there has been a backlash about solar energy, globally. Many users have continued to complain of lack of solar power at night, which makes it difficult for users to store enough energy at night.
The case was no different from some beneficiaries of solar energy in the Kaani community. Mene Barikpoa G. Apere, King of the community was also given a solar panel which was installed on the roof of his house to bring power to his palace. His case was no different from the issue complained about globally. He lamented that the challenge has been "limited sun, which sometimes affects the lighting of solar energy and charging of his laptops and phones."
Therefore, to ensure the effective and enjoyable use of solar energy, a large battery is needed to store enough energy that will be used at night until day breaks in communities like Kaani that have never had electricity and are trying to transition from local kerosene lamps to solar and renewable energy.