Secret Reporters
In spite of the numerous promises made by the former governor of Ogun State Ibikunle Amosun while he was in office which sounded very alluring with his favourite slogan "Mission to rebuild", it is now clear that he was actually speaking from both sides of his mouth which have resulted in uncompleted projects visibly seen in Ogun State.
The grand masterpiece of this whole charade was the commissioning of an uncompleted 250 bed MTR Multi-Specialist Hospital at Oke Mosan in Abeokuta, on May 25, 2019, by President Muhammadu Buhari which was tagged as a "Legacy Project" for his administration.
SecretReporters gathered that Senator Ibikunle Oyelaja Oluwatoyin Amosun who had been in office for the past 8 years claimed to have spent a whopping sum of N1,560,000,000,000 (One Billion Five Hundred and Sixty Million Naira) between January and March 2019 on the project in the guise that it should be ready before the inauguration/swearing which was held yesterday the 29th of May 2019.
However, it was revealed that the structure on the ground which was commissioned was not in any way commensurate with the horrendous amount purported to have been expended on the mushroom project which was meant to provide first-class medical services for the people of Ogun State.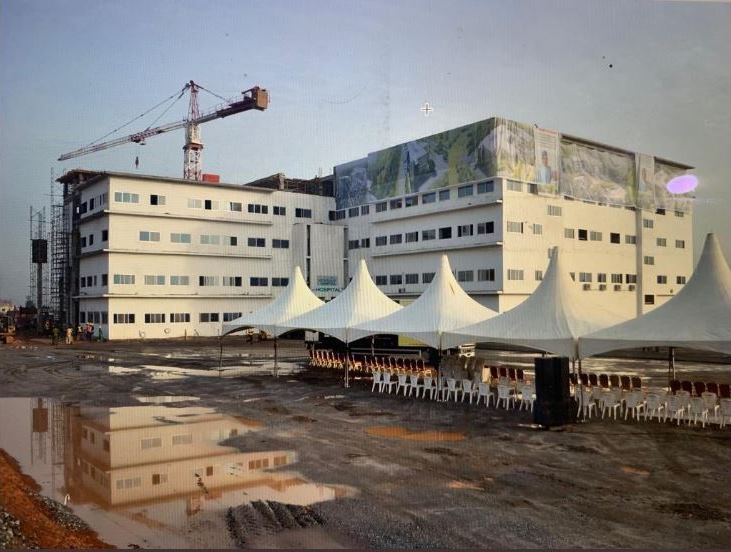 The building which sources described as a cosmetic charade, appeared to be completed and already in use when viewed from the front as it was beautifully painted with air conditioners attached to certain offices as though they were functional, while moving to the side and the rear of the hospital it was very clear that little or no work has been done as only a skeletal structure  with zero facilities could be seen in it.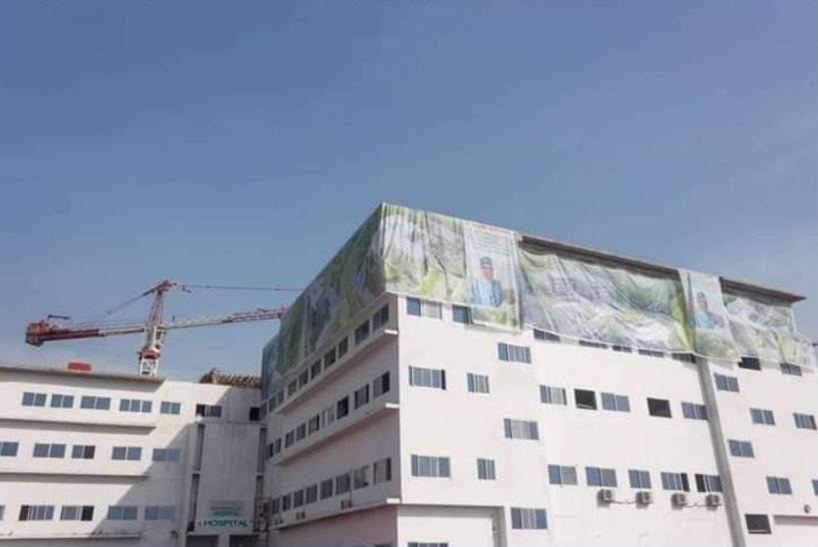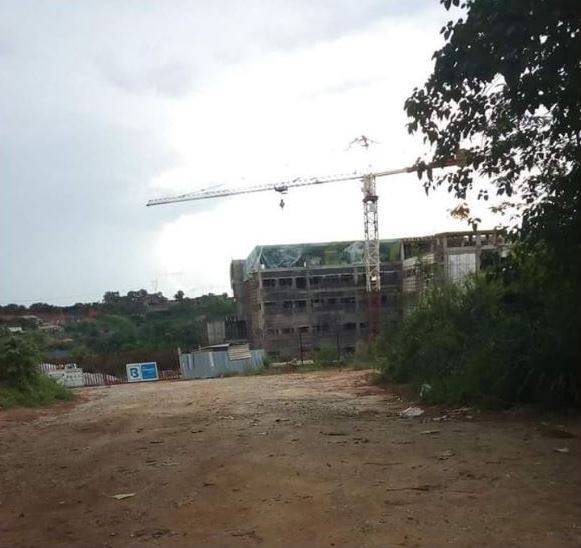 President Buhari perhaps ignorant of the fact that the hospital was uncompleted described the completion of the project as a job well done stating that the deceitful prowess of the former governor and senator-elect of Ogun Central Senatorial district was commendable and worthy of emulation.
Also, in a similar event a years ago, Senator Amosun in a bid to show that his administration has invested millions of Naira in rice production built a deceitful pyramid structure using wood and subsequently covered it with rice and commissioned same as a huge project towards food sufficiency by his administration in the Gateway State.
It is pertinent to note that during the defense of the Ministry's 2019 budget performance before the Finance and Appropriation Committee of the State House of Assembly, the State Commissioner of Health Dr. Babatunde Ipaye, disclosed that the amount expended on the project so far represents about 52.9 percent of the N2,950,000,000,000 (Two Billion Nine Hundred and Fifty Billion Naira) approved for the project.