Secret Reporters
There has been a major rot in contract awarding in Ekiti State dating back to the administration of the Fayemi Kayode with the Honor and Integrity synonymous with the state over the years thrown into the mud.

Data on the Ekiti State open procurement portal show that Permanent Secretaries, Executive Secretaries, Director Generals, Managing Directors of different ministries and agencies have been complicit in painting the state black with contract racketeering.

According to the Bureau of Public Procurement, some of the key requirements for a company to be qualified for a contract include a CAC registration, the Industrial Training Fund (ITF) Compliance Certificate, and the National Social Insurance Trust Fund certificate among others.

However, contrary to the BPP outlined requirements, data have shown that key government officials in Ekiti State have been using their influence to award contracts to themselves despite a Treasury Circular with Reference No. TRY/A2&A3/2013 OAGF/CAD/026/V.1/188 OF 9th April, 2013 emphasizing that cash advance in excess of N200,000.00 should not be granted to any officer for procurement of goods and services but the procurement should be outsources as a contract.
YOU MAY ALSO LIKE: Organized Fraud: How Fintech Company PAYDAY Defrauded Customer in The Name of Technical Glitch

Investigation by SecretReporters revealed that this growing rot in the state cuts across different ministries and agencies in the State.

Some of the ministries and agencies complicit in this rot include the Ministry of Women Affairs and Social Development, Ministry of Regional Development and Special Duties, Ministry of Agriculture and Food Security, and the Ministry of Budget and Economic Planning.

Others include, the Ministry of Finance and Economic Development, Primary Health Care Development Agency, Ministry of Housing and Urban Development, Bureau of Special Project, Political and Economic Matters, and the Ekiti State Water Corporation.

Some of the contracts these government officials awarded to themselves obtained from the open procurement portal reveal mind buggling amounts as state funds meant for public development have been pilfered with officials in the Ekiti State public service including Permanent Secretaries, Executive Secretaries, Director Generals, Managing Directors having a fun day with tax payers funds.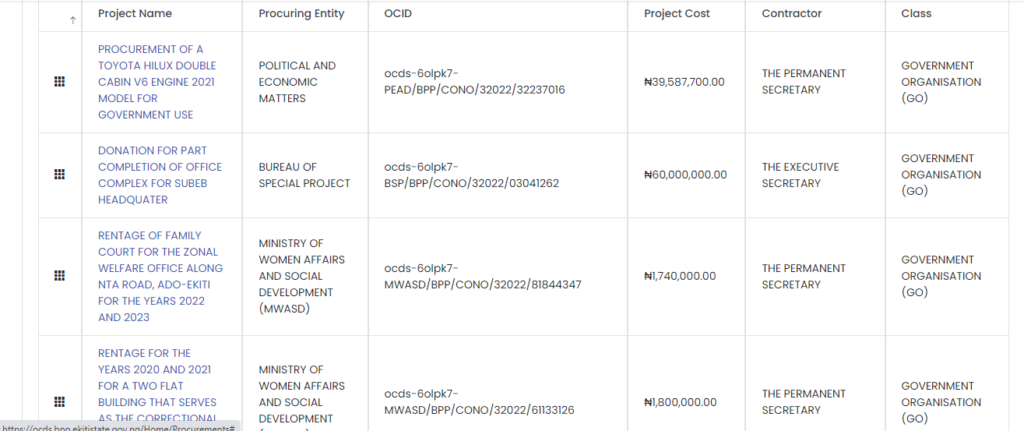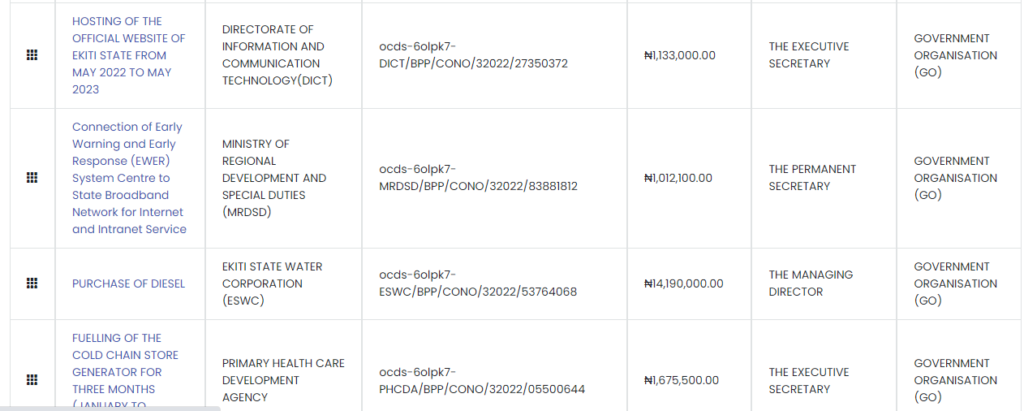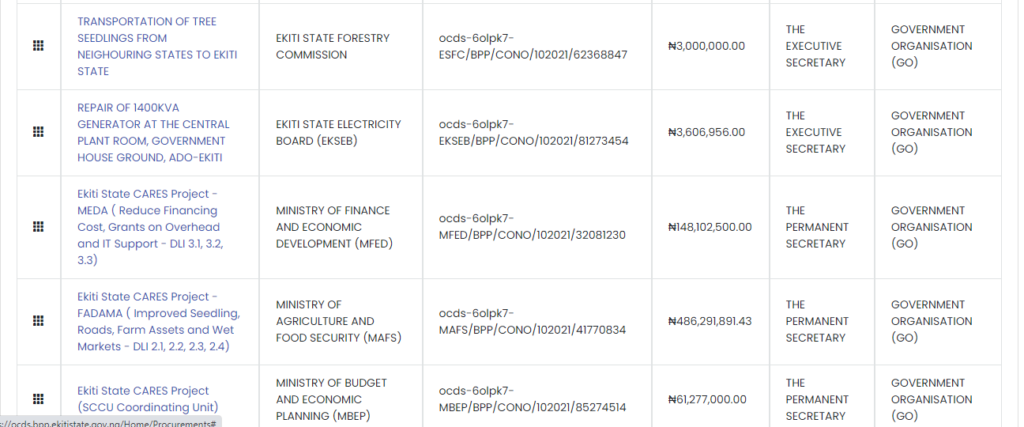 Despite the Nigerian law forbidding individuals from procuring goods or services worth more than N200,000.00, the APC lead government of the day in Ekiti state have turned a blind eye to these allegations of wanton corruption as the state, dubbed the land of honor and integrity gradually fades into a land of corruption where public officers involved with procurement confer undue advantage on themselves in a contract grabbing saga against extant laws on procurement in Nigeria.