Secret Reporters
Health they say is wealth and undoubtedly the greatest gift to mankind; little wonder why food manufacturing companies as a general practice place a high premium on their products so as to be in tandem with meeting their customers' needs.
This mantra appears to have been thrown to the wind by several food processing companies with a typical example being 7-Up Nigeria Limited Kaduna known for the production of various brands of soft drinks including Pepsi, Mountain Dew, Mirinda amongst others as it is alleged that recently most of their products distributed within and outside Kaduna metropolis do not actually pass through routine inspection and a thorough quality control check.
In a recent complaint by one of their consumers, Kasham (surname withheld) a student of Kaduna State University (KASU) who bought a Pepsi brand earlier this year to quench her thirst from the uncontrollable heat of Nigeria's Center of Learning, on getting home, while reaching out to get a cork opener, she discovered to her surprise a foreign object which appears to be a wrapped candy inside the bottle of Pepsi which was still corked.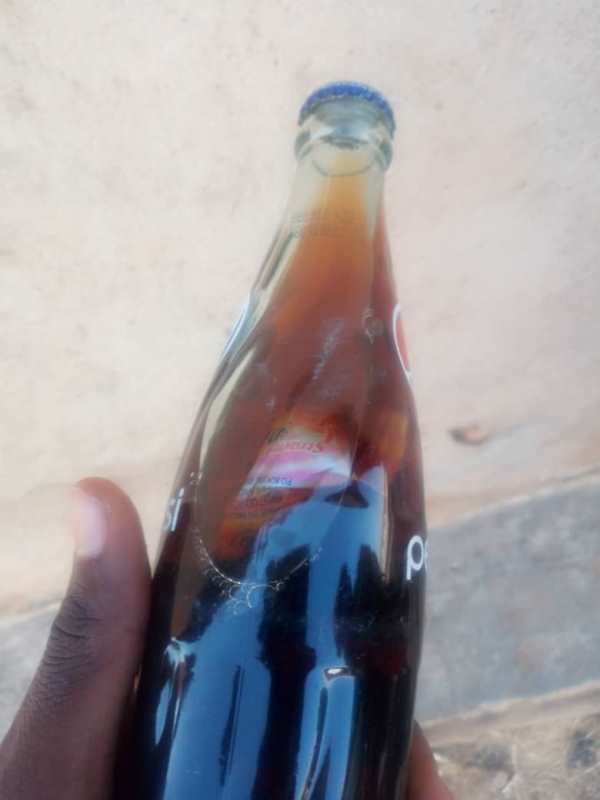 Kasham further disclosed to SecretReporters that despite the heat from the scorching sun without hesitation she walked back to the shop where she purchased the bottle of drink and demanded an explanation. In reaction to this, the seller disclosed that such incidents were a normal occurrence as she has over time experienced a lot of shortages rising from several bottles returned with bitter complaints of unhealthy particles in the product.
Alarmingly in a similar incident, another consumer who resides at Sabon Tasha also lamented about a crate of Pepsi which he bought and had to return more than five bottles out of it after discovering particles and debris inside.
A health practitioner who frowned at the incessant reports of the carelessness of the company revealed that the health risk of consuming such contaminated soft drink with particles when swallowed mistakenly can lead to intestinal obstruction or constipation especially when they enter the bloodstream of the consumer and can also have an adverse effect on human health.
There are fears over these unchecked products in Kaduna with both consumers and retailers calling on the relevant authorities to immediately swing into action by sanctioning a thorough check on 7-up manufacturing plant located at Inuwa Abdukadir Road, Kakuri Industrial Estate Kaduna, to ensure they meet the required standard in the production and distribution of their products to end-consumers.