Secret Reporters
Alleged unknown Gunmen have issued stern warnings to residents in Imo state following the continued unrest in the region.
In the letter, as seen pasted at different locations in the Imo state capital Owerri, the unknown Gunmen warned that there will be no further recitation of the National anthem and pledge in any school or gathering in Biafra land with a vow to shut down such institutions.
The letter signed by One-man squared, one of its commanders, and riddled with grammatical errors also reiterated the groups' stance on the mandatory Monday sit-at-home order in respect of the trial of Nnamdi Kanu.
Residents, commercial drivers, taskforce touts, and the Nigerian Police were warned to respect the order on Mondays and other days when Nnamdi Kanu appears in court. The group also warned companies and business owners who choose to operate on the said days that they will be shut down and made to face their full wrath.
The unnamed group further warned, that no Nigerian Force should bear arms in the region as they, the unknown Gunmen, are the only ones allowed to handle weapons in the region.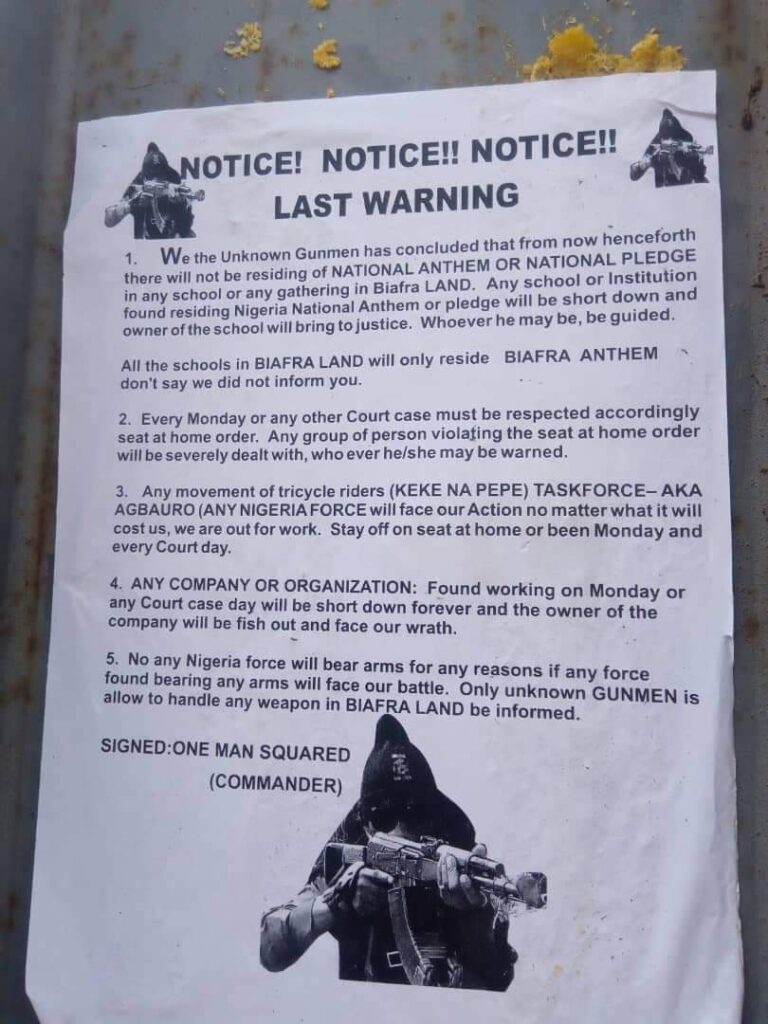 Following the continuous detention of the leader of the indigenous people of Biafra, Mazi Nnamdi Kanu, over alleged terrorism offenses, many states in the eastern region of Nigeria have since been turned into a ghost town with the mandatory sit-at-home in protest of his detention.
Justice Binta Nyako of the Federal High Court sitting in Abuja has, however, fixed April 8, 2022, for ruling on a preliminary objection filed by Nnamdi Kanu's legal team.