Secret Reporters
In addition to having your certificate of incorporation with the Corporate Affairs Commission as evidence that you are a legal entity under section 25 of the law establishing the Lagos State public procurement agency and for related purposes, a company must also provide CAC Form 7/7A (Particulars of first Director/Notice of change of Directors), For Business Name, (Particulars of Proprietors), and Evidence of Filing Annual Returns and Notice of Assessment of Tax, to be eligible for a contract with the Lagos state government. These are obligatory requirements, particularly in light of the seriousness of tax evasion in Nigeria.
However, it was discovered that the Lagos State Ministry of Education, headed by Commissioner Folasade Adefisayo, ignored the requirements in addition to violating Section 9 of the Code of Conduct for Public Officers involved in procurement by awarding several contracts to DE FLOURISHING GREENPALMS NIGERIA LIMITED, which is owned by Olaniyi David Adeboye, a councillor in the Ifako Ijaiye local government in Lagos State.
Section 9 of the code of conduct for public officers involved with procurement states that "A Public Officer shall decline in serving in a procurement process if any of the Bidders or Service Providers engaged in the procurement proceedings is related to him by blood, marriage or grant relationship or where the success of a particular Bidder or Service Provider in the proceedings will confer a pecuniary or other advantages on him".
The All Progressives Congress is in charge of the local government of Ifako Ijaiye, and Prince Usman Akanbi Hamzat serves as the Executive Chairman. This ties in with the idea that the commissioner might be working with party members to give favors to friends in questionable money-diversion schemes.
The ministry of education gave contracts to De Flourishing Green Palms Nigeria three times between 2021 and 2022, even as the company was dodging taxes, per the documents on the CAC portal. On Monday, May 24th, 2021, it received two contracts, and Tuesday, June 21st, 2022, it received another contract.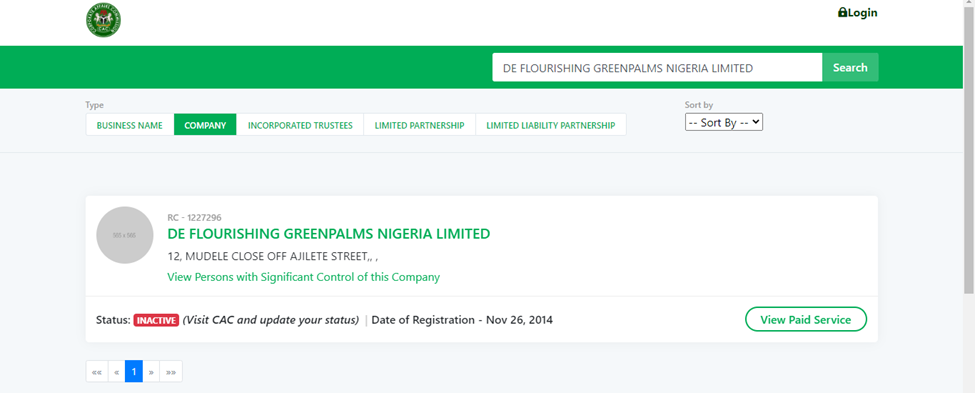 One of the contracts is the Renovation of the roof, painting of offices and replacement of the old iron window of the Ministry with contract code ocds-5q8fsw-6202248775542 worth ₦29,035,323.37. Another is the contract of the renovation for the honorable Commissioner's Ante Room and Lobby with code ocds-5q8fsw-6202172722708 worth ₦4,796,421.56,. While the last one was a contract for the renovation of the honorable Commissioner's Office and rest room with code ocds-5q8fsw-6202160704786 worth ₦4,800,004.00.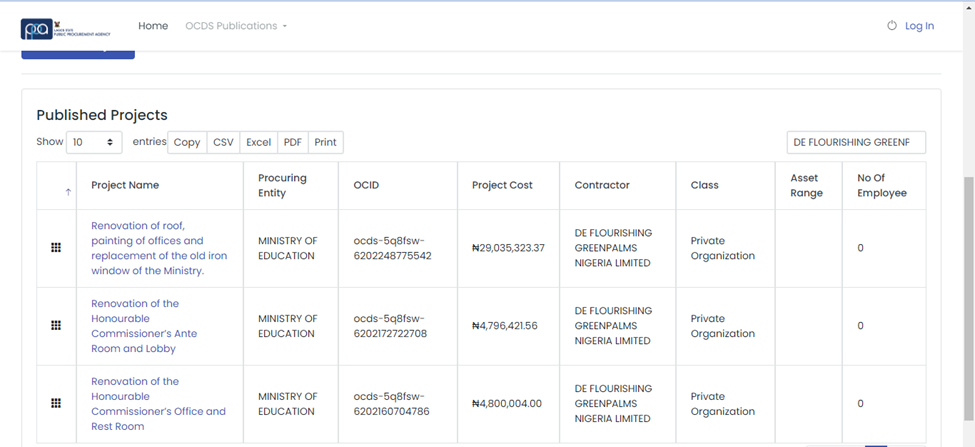 Findings by SecretReporters revealed that De Flourishing Green Palms Nigeria Limited was incorporated in Ifako Ijaiya area of Lagos with registration Number 1227296 on 26 Nov 2014. The company's office address is 12, MUDELE CLOSE OFF AJILETE STREET, Lagos.
The councilor, David Adeboye Olaniyi, and Temilola Victoria Olaniyi serve as the directors of the company.