The lead-up to Nigeria's 2023 general elections could have been less dramatic if the All Progressive Congress (APC) presidential candidate, Senator Bola Ahmed Tinubu, simply insisted that he could not remember the religion of his running mate, Senator Kashim Shettima, just as he insisted he could not recollect the primary and secondary schools he attended when he filled his 2003 INEC governorship form and 2023 INEC presidential form.
Unfortunately, many people all over the country are persecuting Mr Tinubu for opting for a "Muslim-Muslim ticket" just because he fessed up once the remembered his classmates, no, his running mates and their religion, and stands by his recollections.
Yet, there is something about Mr Tinubu's choice of a VP that shifts the people's attention from an unarguable injustice among all the major political parties – the exclusion of females as presidents or vice presidents in 2023.
According to the World Economic Forum's Global Gender Gap Index, "The subindex where Nigeria has the widest gap to close is Political Empowerment, which has been widening since 2012 and currently stands at 96%."
This means Nigeria maintains a 96% disparity or 4% equality between women and men in political positions at the beginning of 2022. This means the female: male ratio is 4:100 or 1:25.
Up till now, no one has asked why Tinubu did not choose a Muslim female from the North as his Vice President, why Abubakar Atiku did not choose a female Christian from the south, or why Peter Obi did not choose a female Muslim from the North for the same role, or why a female Muslim-Christian presidential candidate did not emerge in any of the three prominent parties, APC, PDP and LP.
Besides the elected Executive positions, Nigeria had 29 female House of Assembly members to 440 Males – less than 7 women representing the female population which is about half of the population, while 100 men represent the other half population which is male.
In discussions on inclusion as a developmental goal towards 2023 (together with other forms of inclusion), is anyone talking about the inclusion of females, who are approximate half (49.3%) of the 206.14 million population as of 2020, for elective and appointive positions, especially when Muslim-Christian males have shown incremental cluelessness in the past decade and an incorrigible calling to ground the country in deaths and debts, and when science is providing new evidence that females are more suited to solve a problem like Nigeria?
Male-Male Ticket: The Price of Male Dominance
The audacity of a male-male ticket, in Tinubu-Shettima, Atiku-Okowa, Obi-Datti, and many other 2023 presidential teams, against the people's loud silence at such a costly exclusion of women from leadership in the next dispensation, reveal that Nigeria is not ready to tap into the salvific strengths of conscientous female leadership.
A recent study cited in the Harvard Business Review showed that women leaders in government and corporate organisations outperformed their male counterparts on most leadership competencies during the Coronavirus pandemic:
"According to an analysis of 360-degree assessments conducted between March and June of this year, women were rated by those who work with them as more effective. The gap between men and women in the pandemic is even larger than previously measured, possibly indicating that women tend to perform better in a crisis. In fact, women were rated more positively on 13 of the 19 competencies that comprise overall leadership effectiveness in the authors' assessment."
Source: The Havard Business Review
An earlier study cited by the American Psychological Association (APA) also showed that when women are given gender-neutral roles, they performed better than men:
"After participants in one experiment were told that they would not be identified as male or female, … none conformed to stereotypes about their sex when given the chance to be aggressive. In fact, they did the opposite of what would be expected – women were more aggressive, and men were more passive."
However, Diane Halpern, a professor of psychology and a past president of the American Psychological Association, cautions that, "even where there are patterns of cognitive differences between males and females, differences are not deficiencies."
Source: The Havard Business Review
Thus, while males are not cancelled as absolutely deficient in leadership, where they are evidently lacking in remedial, reconstructive and progressive leadership as is the case in Nigeria, the nation only does itself more disservice to ignore the edge of dexterity that Nigerian women can bring to its governance.
To perpetuate males and preclude females from private and public sector governance comes at a huge cost to companies and the country. The 2023 policy thrust of national and subnational governments needs to veer off this male chauvnistic trajectory.
Leader-Manager Template: The Promise of Gender Diversity
If several test results return women as better leaders than men, is it safe to say men should step aside for women in most governance roles?
Definitely not. Neither a male dominated or female dominated leadership suffices.
Despite case studies that highlight the leadership dexterity of women over men, such as the conclusion of Zenger Folkman that "Employees reporting to women had higher levels of engagement with their female bosses than their male bosses", the consensus is for gender diversity in business and politics rather than female dominated or male dominated governance.
Stefanie K. Johnson, a Bloomberg analyst, believes the "think manager, think male" stereotype no longer stands alone. She concludes that we can add a new one: "Think leader, think lady", going by the leadership edge of women globally in 2020.
In other words, gender diversity balances stereotyped masculine managerial expressions with stereotyped feminine leadership expressions. Furthermore, the gender-inclusive manager-leader construct accommodates female managers who deploy the masculine managerial tact as well as male leaders who exhibit the feminine leadership instinct too.
Emma Charlton, a Senior Writer with the World Economic Forum maintained that the Global Gender Gap Report consistently highlights the strong correlation between a country's gender gap and its economic performance.
He adds that "Such themes are also echoed in McKinsey's "Delivering through diversity" report – that research showed companies in the top quartile for gender diversity on their executive teams were 21% more likely to experience above-average profitability than companies in the fourth quartile."
However, Nigeria still discounts the gains of gender diversity. The country ranks 27th in gender equality among 36 Sub-Saharan countries and 123rd among 146 countries in the world on the World Economic Forum Global Gender Gap Index table as of 2022. These rankings position the country among the 10 countries with the poorest records of gender equality in Sub-Saharan Africa.
Besides, the level of economic participation and political empowerment of women are on the decline when the 2022 sub-indices are compared with the 2017 figures.
These limiting scenarios rob the country of the managerial reforms of women like Dora Akunyili who deployed effective restraints on Nigeria's fake drug cartel, or the leadership instincts of Dr Stella Adadevoh who detected, wrestled, and subdued the index case of Ebola in Nigeria, preventing him from infecting others, saving her country from the deadly Ebola outbreak in Nigeria.
The 2023 Presiential and Gubernatorial candidates need to be discussing now how they intend to reverse the low, and yet, declining emancipation of women in Nigeria, and its negative effect on good governance and other socioeconomic outcomes.
Muslim-Christian Thicket: The Pursuit of Same Difference
Just as gender diversity correlates with profitability and value creation in business, Top-team ethnic and cultural diversity correlates with profitability too, the Mckinsey research, "Delivering through Diversity", revealed.
It follows then that if ethnic diversity and cultural (religious) diversity could be harnessed like gender diversity in the larger country context, it could yield the promise of economic growth and political cohesion.
However, Nigeria handles its ethnic and religious diversity just as poorly as it handles its gender diversity. The result has been losses, problems and pain of every imaginable kind. As of 2010, 58% of the sampled population view religious conflict as "a very big problem" in Nigeria.
Considering the incremental numbers of those who have perished between 2010 and 2022 in the hands of Boko Haram, Islamic State of West Africa Province (ISWAP) and other religion-motivated terrorist groups in Nigeria, the proportion of those who 'view religious conflict as a very big problem' in Nigeria may situate in the 90th percentile.
Views of Religious Conflict in Sub-Saharan Africa
"Since the end of military rule in 1999, Nigeria has followed an unwritten rule where power is shared between the largely Muslim north and mainly Christian south", Reuters observed in a report that highlighted the religious identity of Senator Bola Tinubu's running mate before giving his name.
While the other two presidential contestants in the two major parties, the Peoples Democratic Party and Labour Party, kept this rule in their VP pick, Bola Ahmed Tinubu broke the unwritten commandment.
Religious affiliations and the relative size of the Muslim and Christian populations remain a tangled thicket harmful for touchy sensibilities to wriggle through. It is so tangled that the government chose not to ask about religion in the national census conducted in 2006, the first in 15 years, a Pew research document noted.
The same goes for the census scheduled for 2022/2023. The National Population Commission also plans to help people not to recollect their religions due to the religious dualism between Christians and Muslims, the two major religious identities in Nigeria.
However, Andrew Mckinnon, who obtained 11 nationally representative social surveys from 3 different sources, for his research "Christians, Muslims and Traditional Worshippers in Nigeria: Estimating the Relative Proportions from Eleven Nationally Representative Social Surveys" published on Springer, made these submission, among others:
"Looking over the two other categories, the first thing to notice is that Muslims form a majority in only one of the ten samples: in the 2008 Pew Research Center study the absolute majority identify as Muslim (52%) and 43% identify as Christian, and this stands out from all the rest of the samples in this respect. One would have to say that on the evidence of the ten other surveys, coming from three different research groups, it seems highly unlikely that those who identify as Muslims constituted the largest religious group of adult Nigerians between 1990 and 2018."
He concluded that, "If a census of the population could ask the question about religious identification without being drawn into the politics of representation (and the funding implications that follow), this would be a much better source of knowledge on this question. That seems unlikely to happen any time soon, however."
Yet, ascertaining the number of Muslims and Christiansin various parts of the country is only the first stage in resolving the religious identity crisis. The other part is humanising divergent Muslim-Christian narratives.
For example, one story goes that the Muslim-Christian problem in Nigeria, as mostly elsewhere, started with a ram entangled in a thicket, caught by its horns on some remote mountain in Arabia. The two sides agree that a gentleman named Abraham saw the distressed ram, removed it from the thicket and offered it up for a sacrifice to his God instead of offering his son as he earlier intended.
There and then, the family vendetta between Muslims and Christians began – not a dispute about the cruelty of Abraham towards an innocent, helpless animal in distress – which he murdered in cold blood, but a disagreement about the identity of the ransomed son.
While animal and child rights activists argue that, if this was indeed the case, Mr Abraham should be tried for animal cruelty and attempted murder of a minor, Muslims argue that in the event of a trial, Ishmael, Abraham's first son, would be the plaintiff in the case for it was him that Mr Abraham attempted to kill that day. Christians insist that Isaac, the younger brother was the first plaintiff, together with the murdered ram, joined in the suit by the state of Arabia.
Highlighting common moral and humane concerns as this in the different religious narratives may help further peace and tolerance rather than insisting on one absolute rendering of these extraordinary narratives.
A Modest Male Trinket: The Push for Official Discretion
On their part, young people in some sections of the country, who are desperate to disengage the country from the reverse socioeconomic gear, look toward a forward-looking driver in Peter Obi, a "Christian-Muslim Male-Male" presidential candidate whose bragging rights remain his fiscal thriftiness and personal modesty.
Thanks for reading Data Dives from Dataphyte! Subscribe for free to receive new posts and support my work.
Not everyone takes the young 61-year-old former governor of Anambra State seriously on his ability to transform the country.
Yet his antecedents suggest he may not go all out to "borrow from here till eternity" as the APC Chairman, Abdullahi Adamu, insists is the way Nigeria should go.
Mr Adamu says this when the government struggles to repay debts, and the Central Bank owes foreign airlines over $600 million, a debt which keeps rising due to the scarcity of dollars.
Still, everyone trusts that Mr Obi would not wear a costly wristwatch or any such extraordinary trinket as the governor of Imo State, Hope Uzodinma, even when he (Peter Obi) can afford it.
Peter Obi's track record of circumspect spending of public funds might appeal to an electorate that is tired of government officials borrowing funds for profligate spendings.
Incidentally, the few notable persons who have endorsed Mr Peter Obi on account of his character in private life and of his competence for public service were women from his home state – Senator Bianca Ojukwu, and the Orange Prize winner, Chimamanda Ngozi Adichie, and the Director General of the World Trade Organisation, Ngozi Okonjo Iweala.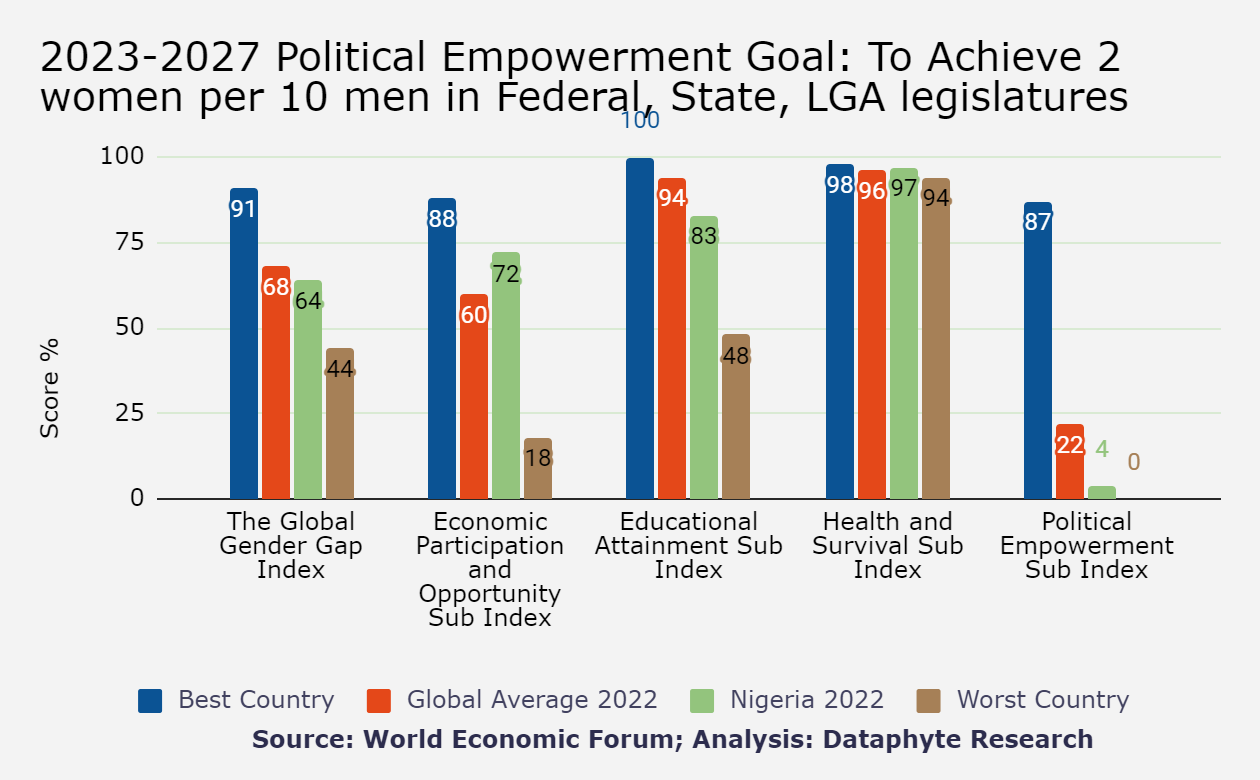 However, Peter Obi and his colleagues on the 2023 Presidential and governorship races need to commit to up the terribly low political empowerment index of these women. Can they commit to pursuing an Agenda to achieve at least the current world average score of 22% for Political Empowerment?
This is a token of 22 female legislators to 100 male legislators by 2027, or simply 2 female legislators to 10 male legislators in the Local government councils, State legislatures, and the National Assembly by 2027.
Source: Dataphyte.