Secret Reporters
Following his allegation, disagreement and refusal to be a part of the team of fraudulent supervisors, Mr. Willam Amuga who was earlier removed as the Chief Registrar, Trademarks, Patents and Design (FMITI) for exposing the fraud cartel has been reinstated on the orders of The Head of Civil Service of the Federation, Mrs. Oyo Ita, following series of media reports by Secret Reporters.
This online newspaper can authoritatively confirm that its report some weeks ago on the involvement and collaboration between the Minister of Industry and Trade Mr. Okechukwu Enelamah and key members of staff of the office of the Head of Civil Service of the Federation, to conceal their dubious acts of supervising fraudulent contracts through their crony EINAO Solutions by removing Mr. Amuga whom they termed a stumbling block to pave way for the wonted business of milking our nation dry by awarding and supervising fraudulent and non-existing contracts in the Ministry of Industry, Trade and Investment is factual.
In a document obtained by Secret Reporters, Mr. Amuga in a letter dated 13th April, 2018 was given stringent posting instructions on his reinstatement  as the Chief Registrar of Trademarks, Patents and Design in the Federal Ministry of Industry, Trade and Investment with the "Effect date" backdated to 6th April 2018.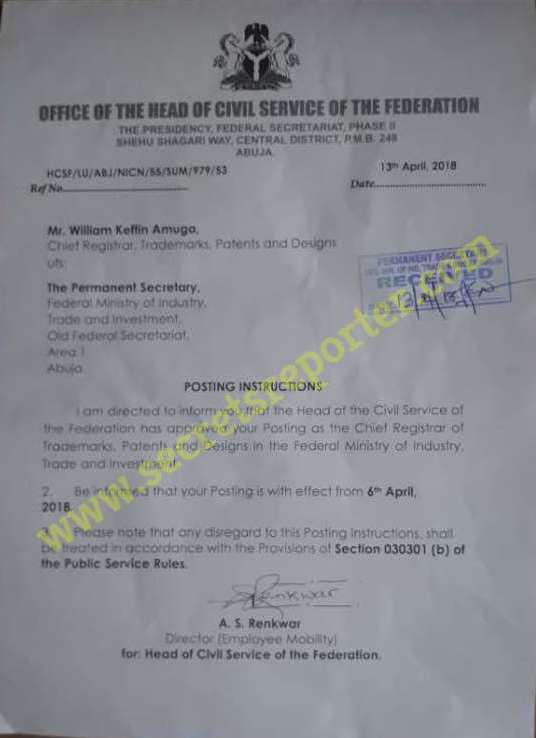 But however, the Permanent Secretary to the ministry Mr. Sunday Edet Akpan has refused to release the original copy of the letter which reinstates Mr. Amuga to his rightful position, stating that he awaits the Minister's approval, who's allegedly a member of the fraud cartel to issue the directive, before he will do such. This is despite the fact the Mr. Amuga as an employee of the Nigerian Civil Service is answerable to the Head of Civil Service, who approves posting, not ministers.
This comes as no surprise after he vehemently refused to be part of a longstanding tradition of awarding and supervising of fraudulent and ghost contracts, and the illegal sharing of the revenue generated by the Commercial Law Department in the Ministry headed by Mr. Okechukwu Enelamah thus leading to his earlier removal and posting to another office.
One of the many allegations against the minister, Mr. Okechukwu Enelamah includes the award of contract and the inclusion of EINAO Solutions Limited as a recipient of revenue generated by the ministry irrespective of the fact that the country runs on a Single Treasury Account (TSA). This is the same company that diverted and defrauded Nigerian revenue to an alleged sum of N6 Billion Naira. The minister has since refused to release the record of the procurement proceedings due to his personal involvement with the company.