Secret Reporters
Stories of abandoned constituency projects may forever remain the hallmark of most political office holders who yearly allocate funds meant for grassroots development into their coffers despite their constitutional duty of representing and serving their communities. One of such allocations is the award of millions for the renovation of a town hall in a small village located in Imo state, the Eastern heartland of Nigeria.
According to reports on the Zonal Intervention Projects by the Federal Government for the year 2019 and 2020, N17.5 million and N13 million respectively was allocated for the renovation of Orie Ogwuama civic hall, in Ahiazu- Mbaise, Local Government Area Imo State.
The project, sponsored by Rt. Hon. Raphael Nnanna Igbokwe, the member representing Ezinihitte/Ahiazu Federal Constituency surprisingly has the supervising ministry boldly written on a signpost at the location of the hall as "Presidency" with the Border Community Development Agency BDCA as its consultant.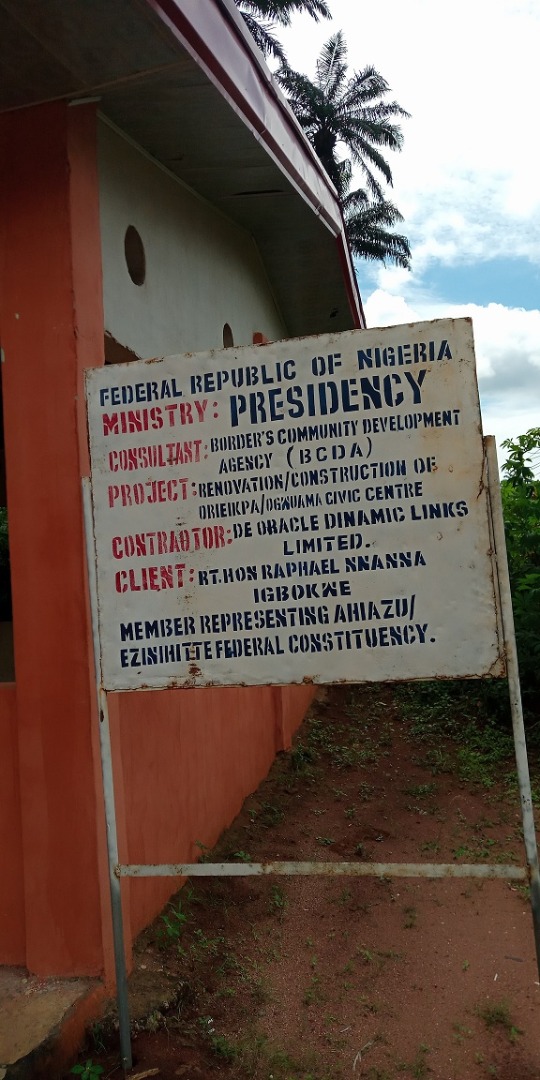 A search on the Corporate Affairs Commission website for the contractors handling the project De Oracle Dinamic Links limited however returned a null result indicating that the company might have been a conduit used in pillaging funds meant for the renovation of the civic centre.
Described by many as a typically over-bloated project, the allocation of millions in Naira for this white elephant projects by Hon. Igbokwe reeks of fraud as the centre remains abandoned with no visible renovation implemented since last year.