Secret Reporters
Nigerians will be facing another round of health workers strike from the first of June, if the National Association of Resident Doctors (NARD) carries out their threat to go on industrial strike.
Medical and Health workers under the umbrella of Joint Health Sector Union (JOHESU) have been on strike since April 16th, with the Federal Government calling off their bluff and even sacking them.
Nigerian Medical Doctors will be embarking on their own strike on June 1st 2018 if their demands from the government are not met. SecretReporters could not get what they demand for but sources within the Ministry of Health revealed that they will obliged them their needs, as they cannot afford another round of strike.
In a circular obtained by this medium, the NARD National President called for a meeting on 2nd June at the venue of the National Trauma Centre, National Hospital Abuja, by 4pm, where they intend to give orders for the commencement of the strike.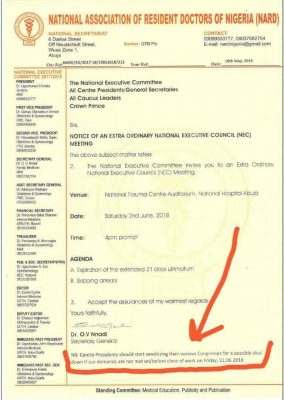 JOHESU leadership have called off the nationwide strike, following fear of losing their jobs, which the government intends to advertise on same June 1st ,without the government attending to any single demands made by them. They cited ridiculous reasons for calling off the strike action, which has seen over hundred Nigerians to their early graves.