Secret Reporters
Months after the Central Bank of Nigeria (CBN) and Federal Inland Revenue Service (FIRS) secretly employed children of prominent Nigerians with the active connivance of President Muhammadu Buhari; Secret Reporters can report authoritatively that another secret recruitment has taken place in another Federal agency.
Documents seen by this newspaper revealed that the Public Complaints Commission (PCC) without advertisement calling for employment has currently engaged new staff against the public service rules.
Secret Reporters gathered that the commission secured the mandate to secretly employ children of politicians who supported the All Progressive Congress (APC) during the 2015 elections, as compensation for not securing employment for their wards in CBN and FIRS. This mandate we can report factually was gotten from Mr Buhari through the office of the Secretary to the Government of the Federation, as compensation.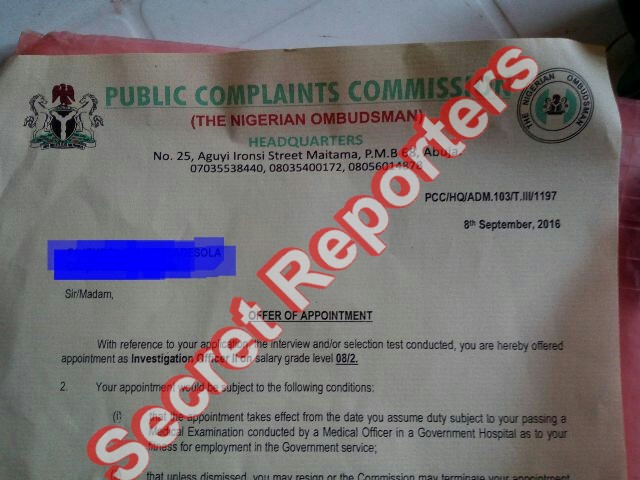 Lying their way to justify the employment, the agency clearly expressed falsehood by telling the new employees that they were selected after interview and/or selection test was conducted, which was never done. All the secret recruits sources told Secret Reporters were in their houses when their parents and guardians brought the employment letters to them, and were even shocked to learn that they are now staff of Public Complaints Commission when they never went for any interview or wrote any test.
As it's customary with all secret employment carried out under the Buhari's administration where the Northern part of the country is favored, this current one has One hundred and twenty four Northerners while the south has twenty five out of the total One hundred and forty nine persons recruited.
The letter of employment was dated 8th September, 2016 with lowest rank starting as Investigative Officer II on salary grade level 08/2, which attracts over One Hundred and Twenty Thousand Naira monthly, exclusive of other perks associated with it.
A source familiar with the commission noted that it is one of the cash cows of government which no one really looks into, whereas those working there become millionaires overnight through shady deals carried out.