Rilwan Adetayo Balogun
There are lots of people living with various degrees of disabilities in the world- male or female, young or old who live with genetically acquired or accident-induced disabilities.
One thing they deserve is a shot at life. A chance to live like normal humans, with privileges not being cut short over their state or the stigmatization that beclouds the opportunities that should come to such people, taken off such societies.
Disability, by our belief, is not inability. Stevie Wonder was a wonderful musician despite being blind. Nick Vujicic has no legs nor hands but has been one of the most inspiring and best-selling authors for some years now. Disability is by no means a pointer to inability.
It is in this light that the "Empathy For Disabled Women Initiative In Nigeria," EDWIIN are joining the rest of the world to celebrate the International Day of Persons with Disability on the 3rd of December as brought on by the United Nations. This day has been celebrated on the 3rd of December since 1992 with Nigeria, hardly participating.
The theme for this year's edition of the day has been set to be: " Transformation Towards Sustainable and Resilient Society For All"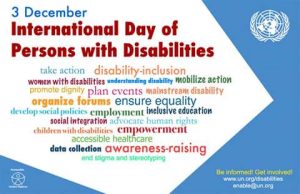 The annual observance of the International Day of Disabled Persons was proclaimed in 1992, by the United Nations General Assembly resolution 47/3. The observance of the Day aims to promote an understanding of disability issues and mobilize support for the dignity, rights and well-being of persons with disabilities. It also seeks to increase awareness of gains to be derived from the integration of persons with disabilities in every aspect of political, social, economic and cultural life.
The main programme of the observance of the International Day of Persons with Disabilities at the UN Headquarters in New York will include the Opening, Panel Discussions and Cultural events. The Member States, civil society organizations and the private sector are welcome to organize their own events to celebrate the International Day to raise awareness and promote the rights and perspectives of persons with disabilities around the world.
On December 3, 2017 EDWIIN will join the world in celebrating the United Nations International Day of Persons with Disabilities by hosting an awareness walk and a media tour with the objectives including: raising awareness to the plight of people living with disability with special focus on women; assessing the current status of the Convention on the Rights of Persons with Disability (CRPD) and SDGs and laying the foundation for a future of greater inclusion for persons with disabilities Nigeria.
There will be an announcement of the recipients of EDWIIN's Celebration of Charities with a searchlight placed on groups, individuals or organisations whose Corporate Social Responsibilities are extended in a large percentage to people with disabilities.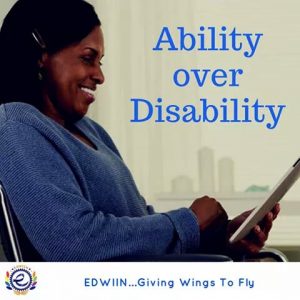 Website: edwiin.org
Facebook. Edwiin
Twitter/ Instagram @EDWIIN_Nigeria.
# EDWIIN #DrivenWomen #AbilityOverDisability #JoinTheConversation #Support #Impact #ChangeTheWorld
Uri Ngozichukwuka
Florence Atunwa-Olumodimu
Lauretta Irukwu
Nnenna Nwaokobia
Funke Ose Brown