Eneh John

The last may not have been heard of the stupendous wealth being amassed by Mike Adenuga, self acclaimed owner of glo mobile network, when he acts a front for the real owner, Atiku Abubakar, Nigeria's former Vice President.
Details available to us proves that, in a bid to siphon cash from Nigerians, Mike Adenuga and his fellow criminals in glo have perfected means at which monies can be deducted from customers accounts on their network.
Facts, proves that, on the 25th of may, 2016, between the hours of 1am and 3:51am Nigerian time, a glo customer who had just used the ATM to do a recharge on his glo line, was debited immediately and charged for receiving an international call on his line.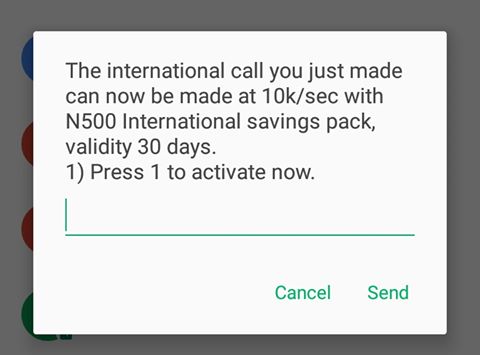 Glo network had to send a flash message, informing the customer, which reads, "The call you just made can now be made at 10k/sec with N500 international savings pack, validity 30 days.1) press 1 to activate now."
Not done with this, the criminals in agbada, from that day, have embarked on a looting spree on the same line, as airtime disappears at will from the glo number.
Sources within the glo mobile network who confided in us, said, "that is one of the ways our oga can get his own share of the money, and also, staff on night duty also get money to keep life going for them through the unwholesome practice."
Most Nigerians have also expressed their dissatisfaction, on the poor services offered, yet with indiscriminate charges and deductions.
Findings reveal that, glo network, which is an indigenous telecommunication network in Nigeria, has done more disservice to Nigerians, than any other network, through illegal deductions, and yet the Nigerian Communications Commission (NCC) has paid a deaf ear to their nefarious activities, a source said.
Still battling with poor services, strong sources in glo said, they were undergoing facility upgrade, yet no one could use their data services, and no form of communication to her customers.
A customer also said, despite his blackberry subscription ending in July, without streaming any video or making calls, the fraudulent network wiped all the money in his account.
The get rich at all cost syndrome of Mike Adenuga and his staffers have left customers abandoning the network.