Secret Reporters
The Akwa Ibom State House of Assembly is currently in disarray, with sporadic shooting going on, sources have told SecretsReporters.
One of our very reliable sources confirmed that some members of the Assembly convened today, bearing the mace which is the stamp of authority to commence the sitting for the day when they began to hear gunshots from nowhere. According to the source, Nse Ntuen who's one of the five lawmakers earlier removed by the Speaker Onofiok Luke had earlier been elected speaker by a faction of the House.
Led by the sergeant at arm who carried the mace, they proceeded to suspend some of their colleagues while impeaching Onofiok Luke on the floor of the House.
Sensing political danger, we gathered that Gov. Udom Emmanuel sent his man Friday, Mr Ephraim Inyang to the complex but was denied entry. The governor according to sources within the assembly had to personally mobilize thugs to the venue where guns were shot sporadically, prompting everyone to scamper for safety. He was in company of the Speaker, Onofiok.
The five members who sat today are Nse Ntuen, Idongesit Ituen, Otobong Ndem, Victor Udofia, and Gabriel Toby and were about to impeach the governor when the thugs stormed in, noted a source.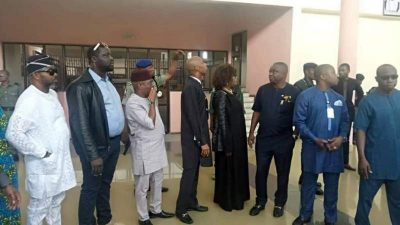 SecretReporters also learnt that as soon as the governor came and chased away the Nse Ntuen faction, Onofiok Luke took over the sitting. Proceedings is currently going on as we report.
Calls placed to both Onofiok Luke and Nse Ntuen's were not picked as at press time, while the duo of Governor's Chief Press Secretary and Commissioner for Information did not also pick their calls.