Fejiro Oliver
The moment we begin to fear the opinions of others and hesitate to tell the truth that is in us, and from motives of policy are silent when we should speak, the divine floods of light and life no longer flow into our souls.

Elizabeth Cady Stanton
I cannot be found defending a government based on pictures I see on social media or the ones sent to me. I cannot be quoted as saying good of a government simply because I'm told they are performing, when I have not experienced it firsthand.
My life as a journalist has taught me that personal experience is always the best form of defense and documents and pictorial evidences always the best way to keep your critics forever silent.
Worried by my inability to use the Asaba International Airport for flight, due to its downgrade, I decided to leave the comfort of my abode to Asaba on fact finding mission, as well as the 'many roads project', Governor Ifeanyi Okowa has constructed and still constructing. After all, he dished out a whooping sum of N5 billion to his kinsman, Uche Okpunor of ULO Construction Company for some works in the airport. It is not his money he gave, but ours and I deserve to know the true state of the airport and what the money has been used for. Beside a global protest against Fmr Gov. Emmanuel Eweta Uduaghan was in the offing and I needed to meet with the coordinators across the state.
Tragedy struck just two days to my arrival, as the Mother In-law and Police Orderly of my dear friend, Hilary Ibegbulem were assassinated in cold blood while the driver and Sister In-law were kidnapped with ransom demanded. My limbs were cold and actions stalled. I could imagine the pain he was going through, even though he refused to show it, but still smiling and exchanging pleasantries when I went to see him in Agbor.
Set for work and armed with documents already obtained from my sources within the government, I drove to the airport to see the Special Project Director, Hon. Austin Ayemidejor. Ayemidejor is not your everyday politician. He is a man I have known right from my days as a broadcaster in NTA and was also my patron when I was the Chairman of the Sapele Chapter of the Radio and Television Arts Theatre Arts Workers Union (RATTAWU) and Nigerian Union of Journalists (NUJ). We also share a stronger bond beyond that, but one thing is certain, he is not God, but will NEVER lie to defend his job.
As usual, I cursed the airport for having the exterior of a car park, looking like an abandoned place for refugees. Inside of me, I cursed the thief who came to rule Delta, Mr Emmanuel Eweta Uduaghan, who used the airport to siphon our commonwealth. I looked around the car park and saw less than thirty cars parked inside the near abandoned project. No single sound of an aircraft.
My last experience using the Asaba airport was nasty, as Okowa had booked all the flight for his daughter's wedding, even though I booked before he did. I had to go to Benin only for the flight to get cancelled, causing me to waste money lodging in the hotel. Since then, everything about Asaba Airport turned me off, as only one Arik flight operates there.
Armed with my information, I met Ayemidejor who explained things I need to know, especially about ULO involvement and the N7 billion used to pull down a common anthill. Reports by newspaper pen the airport building at N40 billion, which Uduaghan never cleared the air till he left office. The initial contract was N6.7 Billion which was later jacked to N21 Billion when Uduaghan claimed that its now an International/cargo Airport.
The contract includes a 3.4 km Runaway and a four storey terminal building and concourse with 3 passengers. It also stated that a Navigational equipment and ILS (International Landing Systems), tank farm of 4 million litres capacity, control tower, fire service station, watch tower, car park for 1,300 cars capacity, airfield lighting/centre line, power house/ three 1000KVA generators, toll gate, access road, fence of entire Airport spanning 20km, five fire trucks, 6 furniture for lounges, 2 escalators and 3 lifts. Three companies namely ULO Consultants Ltd, Levante and CCC were awarded the contract to pull down the obstacle zone hill which we call anthill for N7 billion.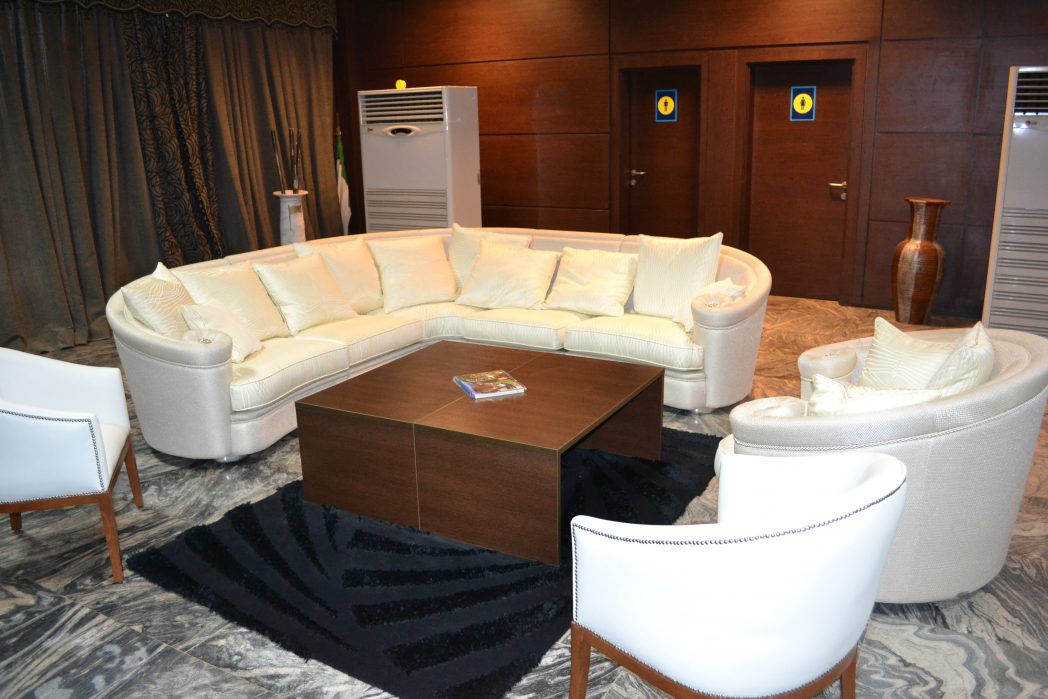 Ayemidejor took me round the entire place to pass my judgment. My mind was fixated on Abuja, Lagos, Uyo and Port Harcourt Airports as yardstick. For the very first time, I looked round the airport, beginning from the departure hall and realized that it is bigger and more beautiful than the four I had in mind, with better aesthetics. I do not like Okpunor for his shady jobs, but for Asaba Airport, he did a different job. Maybe he chose to build it to standard as a showoff to international friends as his 'work, in order to deceive them to get other jobs.
I won't leave without seeing the infamous N7 billion anthill, and Ayemidejor graciously took me to see it. It's the height of almost three storey building spanning 300 meters. While there, ULO was still pulling down his own portion whereas the other two has finished theirs. The control tower and every other thing were on ground, just as the Instrument Landing System, that was one of the reasons for the downgrade already installed. With the ILS, planes can now land even during harmattan and harsh weather conditions.
In comparism to Ibom International Airport, Murtala Muhammed local wing and Nnamdi Azikiwe local wing, the Asaba International Airport beats them all design and construction. The VIP and Presidential lounge which I visited and inspected dwarfs them all, but how Uduaghan allowed the airport to rot away remains a mystery that only he can unravel.
For an Airport that cost less than N35 billion to now gulp over N40 Billion, despite Okpunor delivering on agreed terms is what Uduaghan should visit the Economic and Financial Crimes Commission (EFCC) to explain. Yes, we agree that the airport meets interior standard and beauty, but ugly environment, due to non usage, the former governor deserve accolades but must explain to Delta why it gulped more money than originally planned for.
Okpunor did a shoddy job constructing the State Government House, Asaba Ughelli Road and Mariam Babangida Way, but for Asaba International Airport, he has an excellent mark. With the recent vigour by Gov. Okowa to see the airport come to life and bubble, it will soon be the destination zone of the South South and South East for travel. The N5 billion released to Okpunor by Okowa is fairly justified, even though there are still works to be done.
This is no PR work for Uduaghan, as the demand to get him prosecuted and jail is in progress. Deltans, the first protest to demand for immediate arrest will take place on February 28th 2017. No one must take us for a ride again. No one must be allowed to loot our commonwealth any longer, as we will jail them once they leave office and make them refund the money stolen.
Join us at Cenotaph, Asaba which is the kickoff point for the first protest rally to jail Uduaghan.
These little things matter…
Fejiro Oliver is Editor In Chief of Secrets Reporters News, Investigative Journalist, Media Consultant and Human Rights Activist can be reached on +2348022050733 (SMS ONLY) or secretsreporters@gmail.com. Engage him on twitter on @fejirooliver86.