Secret Reporters
In the Beginning
It was a sunny Saturday morning somewhere in Lagos in early December 1990, when the soon to be minted Senator representing Lagos, Bola Ahmed Tinubu received a call from the United States that proved to be career threatening.
The caller simply identifying himself as a friend, recounted how on November 28, 1990 Abiodun Agbele a relative of the Senator sold one ounce of white heroine to a law enforcement agent undercover on November 28, 1990 for $7,000 and was subsequently arrested by US Federal Agents. The caller hinted the Senator that Abiodun Agbele was cooperating and he should be careful.
This call was one in a hundred that US Federal Agents recorded between December 1990 and ultimately September 15, 1993 when the newly rebranded pro-democratic activist, Bola Tinubu threw in the towel and agreed to forfeiture of a tidy sum linked to heroine trade he facilitated with his cousin Adegboyega Mueez Akande, who was the Uncle and godfather of Chicago resident Biodun Agbele.
The triangular relationship between Agbele, Akande and Tinubu who all lived in Chicago in the 80s was so close knit that Agbele disclosed that Akande was his uncle who provided him an apartment in Hammond, Indiana. According to Agbele, Mr. Akande returned to Nigeria in1990; however, before he left, he instructed Agbale to serve as a source of white heroin for Mr. Lee Andrew Edwards.
According to Agbele, Akande controlled the operation of white heroin from Nigeria in conjunction with other individuals in Nigeria and the U.S. One other individual who worked with Akande according to the affidavit was identified as Bola Tinubu who later became the Senator and much later the governor of Lagos.
SecretReporters will later understand that according to the federal agent, in a credit application dated January 6, 1990, Bola Tinubu disclosed that he resided at 7504 South Stewart and that Mueez A. Akande was his cousin.
The investigation also revealed that in December 1989, Akande took Bola Tinubu to First Heritage bank where Bola Tinubu opened an individual money market. In the account opening application, Tinubu, gave his address as 7504 South Stewart, Chicago, the same address used previously by Akande and his company, Globe-Link. This is the same address used as the drop-off point for packages from Nigeria that contained the white heroine.
A Questionable Deposit & Wealth
According to bank records, Bola Tinubu also opened a joint checking account in his name and the name of his wife, Oluremi Tinubu. Mrs. Tinubu had previously opened a joint Bank account also in the same bank with Abdrey Akande, the wife of the heroine kingpin, Adegboyega Mueez Akande.
Upon opening the account, Tinubu deposited the sum of $1,000 in traveler's check. However, five days after opening the account, specifically, on January 4, 1990, Tinubu deposited the sum of $80,000 into the account.
Additionally, Tinubu stated on the application that he had no other sources of income and listed his wife, Oluremi Tinubu as co-applicant for the application for automobile loan. SecretReporters gleaned from documents available to us that the loan was secured with the certificate of deposit in the amount of $10,000 which Tinubu had purchased with a withdrawal from the $80,000 deposit in his checking account.
Tinubu further stated that he was an employee of Mobil Oil Nigeria Limited, Fairfax, Virginia and his take home pay was $2,400 per month.
This development prompted the Federal agents to interview representatives from Mobil Oil regarding Tinubu's employment status and his take-home pay. The Mobil Oil representatives confirmed to the investigators that Tinubu was employed by the Mobil Oil as a treasurer. Mobil Oil further told the federal agents that this position did not involve the transfer of large amounts of money between banking institutions.
Mobil oil representatives also stated that under no circumstance would Tinubu be permitted to retain money belonging to Mobil Oil in accounts bearing Tinubu's name. Finally, Mobil Oil confirmed that the corporation never had any accounts in banks in the southern suburbs of Chicago.
This was not the first time, a wide claim between being a prosperous accountant at Deloitte or Mobil have promoted curious questions by observers. Mr. Tinubu said he stayed back working for several years in the United States after completing his degree in Chicago. He worked in Deloitte and Touch before returning to Nigeria to serve as an accounting executive for Mobil. He was on his Big Four accounting career from 1979 when he earned his only degree in Business Administration until 1983 when he returned to Nigeria.
Indeed in his own self authored interview about his source of wealth, he said "At Deloitte and Touche, I chose to travel more than 80 per cent of my working years there. And that is because if a staff chose to travel, he would make more money because he would get travel allowances," Mr. Tinubu said in a lengthy interview he granted TheNews Magazine on March 29 about his journey through life as he celebrated his 64th birthday.
He went further, "When I returned to the United States, my employers gave me a huge bonus, which instantly turned me into a millionaire. The bonus was $850,000, before taxes. My salaries were also being paid into the bank and I was not touching them. At the time, my salary deposits in the bank had risen to about $1.8 million."
This would have meant that in just four years or less, he earned an average of $450,000 doing accounting work in the big four as an entry level junior associate. As of April 2, 2022 the average salary of an entry level Deloitte associate in the United States was $42,775. This would have meant that he managed to earned ten times that amount at an astounding rate as a rookie, about 40 years before, despite evidence to the contrary.
To further complicate this claim of saving $1.8 million in four years at the beginning of his career, it will mean he agreed to a massive pay cut by agreeing to return to Nigeria as an expatriate staff of Mobil in 1983. If ten years later, he himself claimed under oath (while under investigation), that his earnings was $2,400 (Two Thousand Four Hundred Dollars only) monthly or $28,800 per annum working for Mobil, which was about average in the late eighties. This would have amounted to an unreasonable ninety percent pay cut for the acclaimed self made millionaire.
The Punishment
Concluding his affidavit evidence, Mr. Moss (the lead investigating US Federal Agent) stated that with all these evidence, there was probable cause to believe that the funds in the accounts held by First Heritage Bank and Citibank, N.A in the name of Bola Tinubu represented property that was involved in narcotics transaction in violation of the U.S law. He therefore, urged the Court to issue an order of forfeiture of the funds.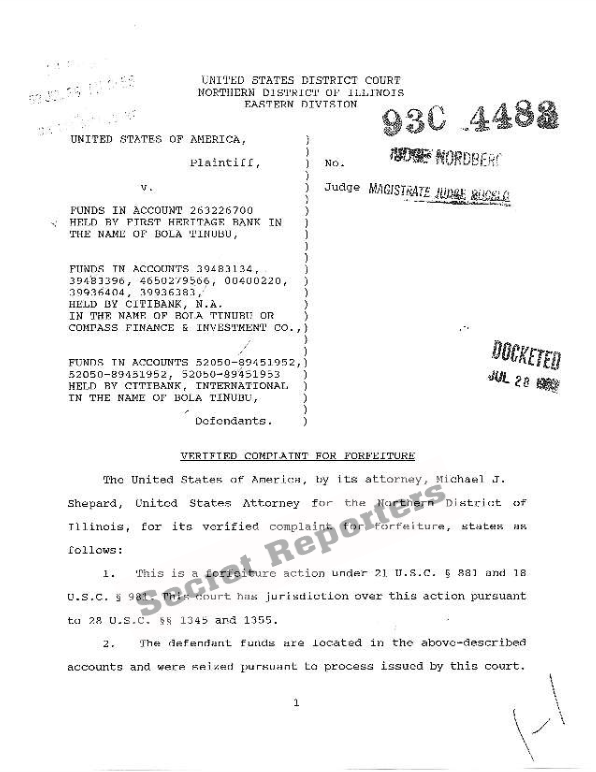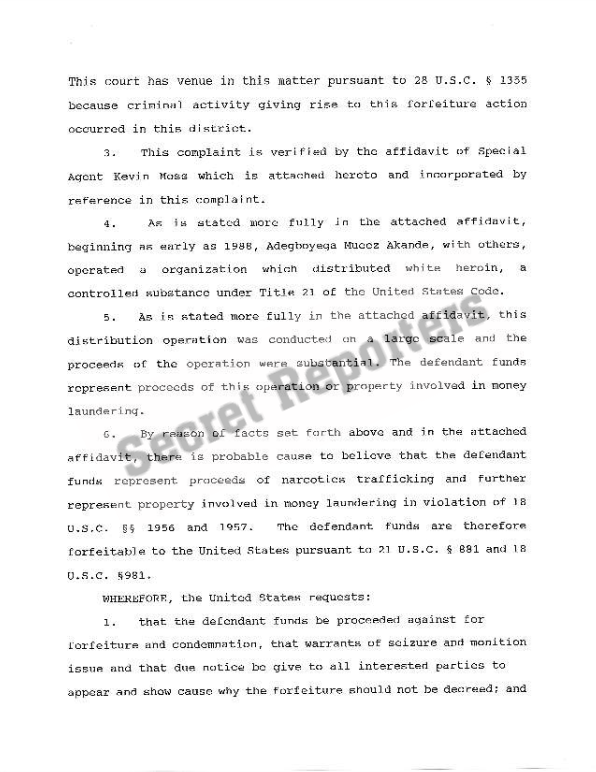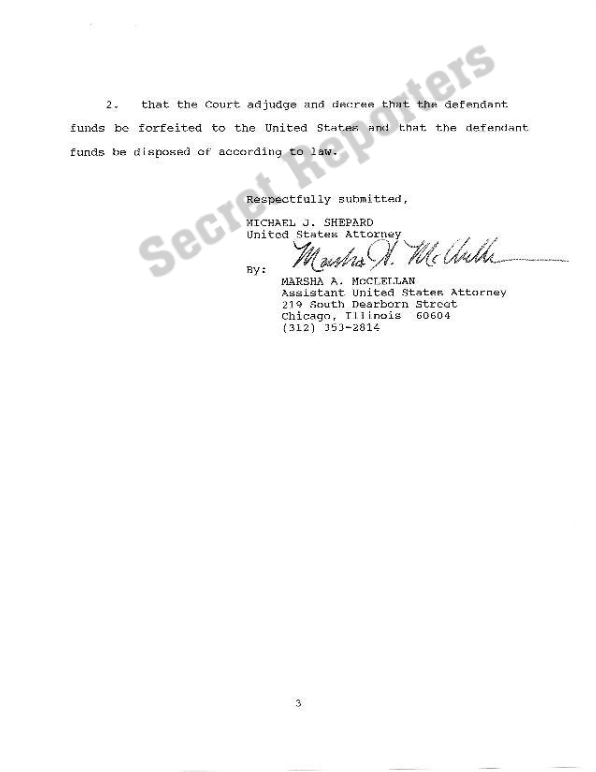 After a protracted litigation in which Bola Tinubu claimed that the monies legitimately belonged to him, his wife, Oluremi Tinubu and his surrogate mother, one Alhaja Mogaji, Bola Tinubu finally opted for a stipulated settlement with the U.S government. According to the settlement Order dated September 15, 1993; Hon. Judge John A Nordberg ordered that the sum of $460,000 held by Bola Tinubu in The First Heritage Bank account be forfeited to the United States Government. The Court also ordered the release of the funds held in the Citibank account and any money held in excess of $460,000 at the First Heritage account to Bola Tinubu in line with the agreement and stipulation reached by Tinubu with the federal agents.
This would have explained us attempt much later in life to explain how he came about such stupendous wealth that was seized despite meager salaries, hence the made up story of being the richest Deloitte associate in modern American history he sought to hoodwink the public with in his now famous interview.
A Pattern of Use
The period of Tinubu'a acquisition of drug money based wealth coincided with a familiar period in Nigerian history when young men with international connections who later led the class of 1999-2003 of Governors allgedly made their monies from drug trafficking.
But Bola Tinubu was unique in his foresight and focus on politics given his political connections having being raised by his politically powerful surrogate mother, the then Iyaloja of Lagos – Alhaja Mogaji, who raised him on the brutal inner streets of Lagos Island.
Unlike many, his decision to return to Nigeria in 1983 was definitely to legitimize his ill gotten wealth and consolidate connections in Lagos (which would have been impossible from Chicago or working internationally), while the drug trade which he plies given his South America connections in his Deloitte career provided him the necessary linkages to serve as a transit coordinator in Lagos to facilitate the illicit trade while building great networks in the rest of the 80s.