Secret Reporters
In a shocking revelation, a senior professional accountant from Isoko North, who pleaded to be anonymous, has come forward with allegations of oppression and favoritism within the Delta State National Union of Local Government Employees (NULGE). The source raised concerns about the union's abandonment of its core responsibility to fight oppression and advocate for its members' rights, seemingly in pursuit of financial gain and interference of the government of Ifeanyi Okowa against due processes.
At the heart of the source grievance is the appointment of a treasurer in Isoko North. According to him, the position of Treasurer Liaison General (TLG) was bestowed upon a significantly junior individual, the wife of the Ozoro king, who holds the sixth position in the seniority list. This appointment bypassed Mr. Udih Solomon, who is the most senior professional accountant in the local government.
The decision to reduce the number of TLG positions from approximately 45 to only 25 has further fueled our source's discontent. He claimed that this directive allegedly came from the state governor, leading to suspect foul play and favoritism in the appointment process.
The source disclosed that Mr. Solomon had said that he sought assistance from the top hierarchy of the NULGE state executive. However, his plea seemingly fell on deaf ears as his situation was not considered an injury to all within the union.
He criticized the lack of solidarity, asserting that if the oppression had affected someone within their inner circle or one of the higher-ups, swift action would have been taken to rectify the injustice.
YOU MAY ALSO LIKE: Ponzi Alert: Australian Company Disassociates Self from GMG, Evidence Shows Scheme Not Legit
The source expressed sadness that those who once benefited from mass solidarity against oppression are now the very oppressors. The source accused the NULGE of silently witnessing the struggle while those in power press others down.
Taking a bold step to expose the alleged injustice, our source acknowledged that his actions may invite backlash but maintained that he is undeterred.
One particular aspect that has drawn attention is the close relationship between the appointed treasurer and Edith Okowa, the wife of the state governor. It is believed that this association influenced the chairman of the local government commission, Joseph Otirhue, to appoint Mrs. Ogbogbo as the treasurer in Isoko North, bypassing the seniority list.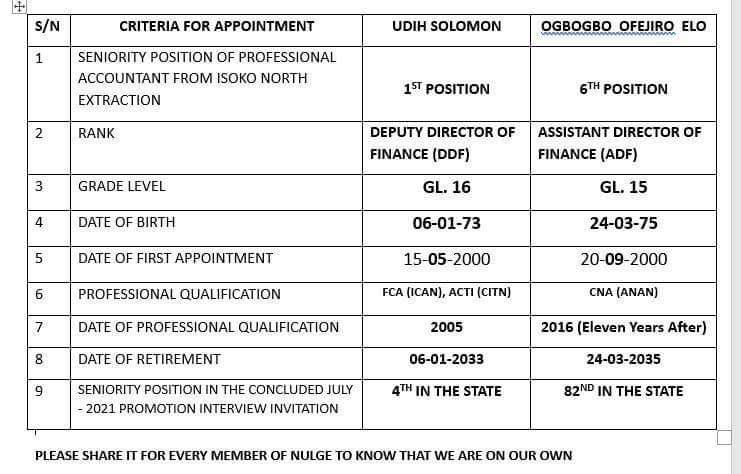 These allegations have cast a shadow of doubt over the integrity and fairness of NULGE's practices. As Mr. Solomon prepares to engage his legal representative, it remains to be seen how NULGE will respond to these accusations and whether they will address the concerns raised by their disillusioned member.