Secrets Reporters
It is possible that the leadership of the Lagos State Special Committee on Rehabilitation of Public Schools (SCRPS), which was established by the state governor Babajide Sanwo-Olu, has begun defrauding the state government as information on contracts awarded by the committee, as published by the state public procurement agency, shows that a company which was awarded two contracts does not exist.
This was revealed by SecretsReporters after mining the data on the portal of the Lagos Public Procurement agency. It was found that a company named More-Concept Integrated Services Ltd which does not exist was awarded two contracts by the SCRPS.
The fictitious company got the contract of the engagement of janitorial services framework agreement with code ocds-5q8fsw-11202222815386 worth ₦3,672,000.00. The contract was awarded on May 4, 2022. The second contract was another engagement of janitorial services framework agreement with code ocds-5q8fsw-5202252148570 worth ₦3,618,000.00. It was awarded on July 23, 2021.
The findings by the SecretReporters showed that More-Concept Integrated Services Ltd has no record of registration with the Corporate Affairs Commission, the agency responsible for registering companies in Nigeria as searches performed on the agency's portal showed that no record was found for the company.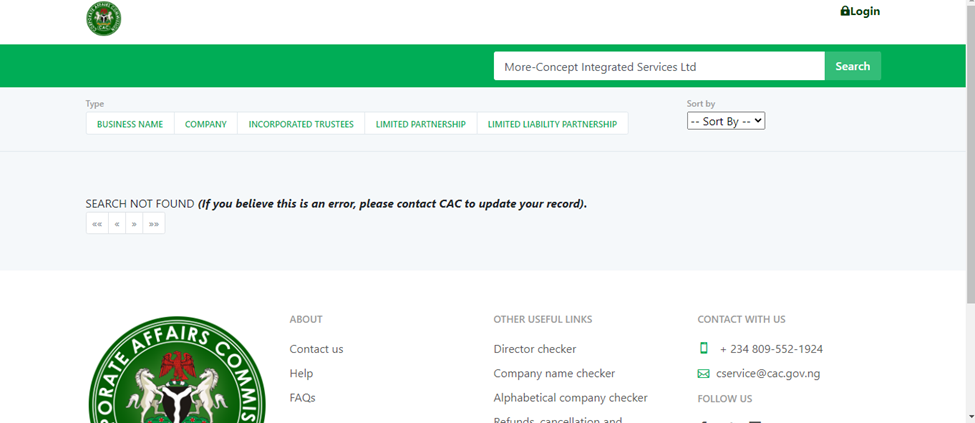 A company must submit its certificate of incorporation with the CAC to apply for a contract with the state government, according to the Lagos Public Procurement Agency. Therefore, it appears that the SCRPS leadership committed fraud by awarding contracts to a business whose name was a forgery.
Sanwo-Olu, inaugurated the committee on November 2019 to accelerate and actualize the core vision of revamping schools' infrastructure across Lagos. The committee is led by Hakeem Smith who is the Board Chairman, Yetunde Holloway, Olusegun Adebanjo, Babatunde Rajh-Label, and Gbemisola Legunsen.
According to the committee, it has carried out 831 new classroom projects so far, with 197 schools rehabilitated. It also claimed to have supplied 151521 furniture to schools across the state.