Secret Reporters
In an era where looters list of corrupt individuals are being released by the Federal Government of Nigeria, criminality is still a trend as recent investigations carried out by SecretReporters reveals that individuals who are seen as forerunners against bribery and corruption are now the ones that promotes criminality in Nigeria.
Sources close to the office of the current Inspector General of Police, Ibrahim Idris, who has always been in the news for negative reasons, revealed to our reporters that he overlooks his major purpose which is to fight corruption and protect citizen's right but rather incites fraudulent acts using his office as the Inspector General of Police.
A source within the force who claimed anonymity for the sake of his job revealed to our reporters that Mr. Idris Ibrahim in a bid to cover his tracks and solidify his grip on the force after his retirement by having his own persons placed in strategic offices within the Nigerian Police is now in the wonted business of promoting officers and kinsmen who are not due for promotion while leaving the more qualified or suitable officers sweating their heads off securing the lives of Nigerian citizens, a move seen by many officers as an act of favouritism.
An investigation by our reporters revealed the attached signal for board selection of Inspectors promoted or confirmed between 2013 and 2017, has been rough handled as the IGPs Chief Security Officer who currently is serving as a Deputy Superintendent of Police was unduly promoted to his present rank while his course mates of cadet inspector course 40/41 2012 are still Inspectors. This according to our source is unfair as they are been denied promotion even when they deserve it and have displayed their bravery by steadily combating crime in the country.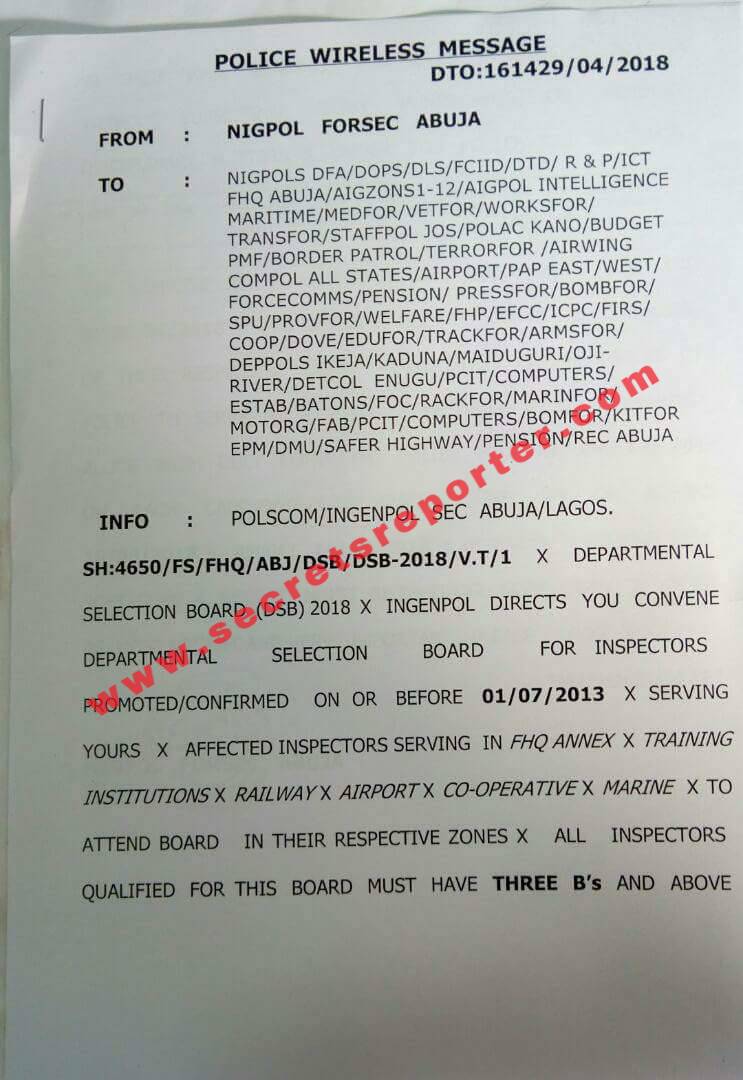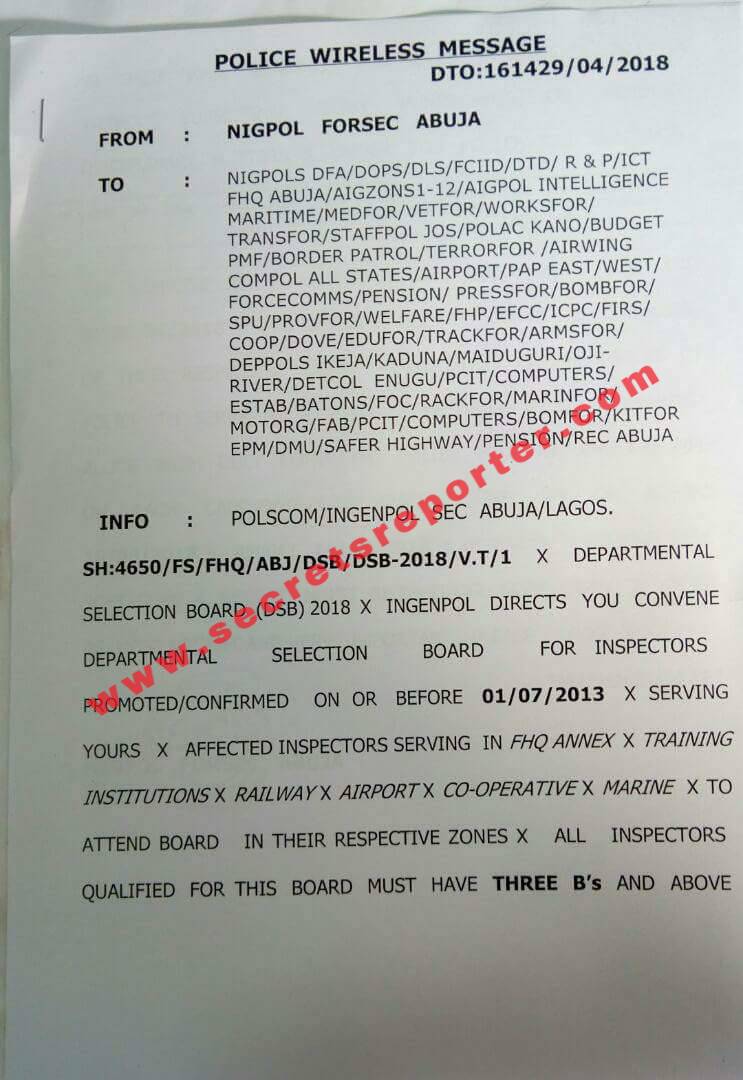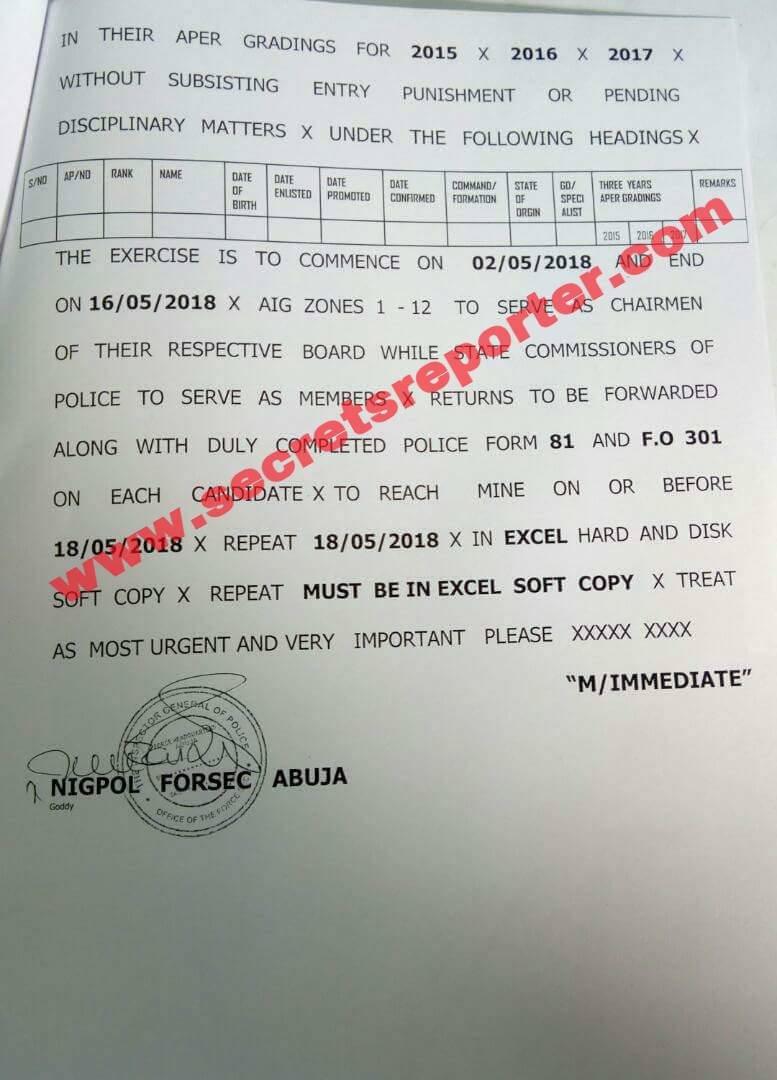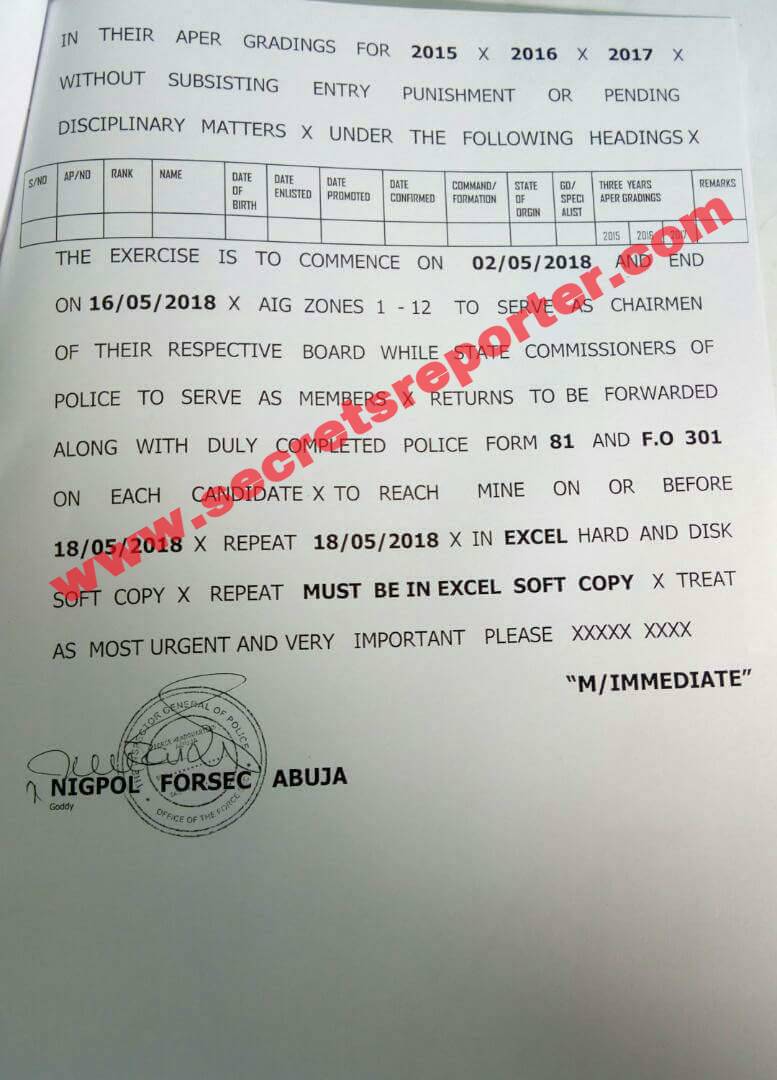 "Just because they have they connection or related to the IGP they get promoted twice more than their mates, then we the mugu are now sent to do the hard job while they sit in their offices doing nothing" lamented the officer.
This is certainly not the first time such allegations are made against the Inspector General of Police who is widely known for his stubbornness, arrogance, and an officer who does not take orders from anyone even the president, as there was a similar case previously, concerning his unethical lifestyle in the force by dating and promoting female officers at will, an allegation which the Federal Government till date has not investigated.