Secrets Reporters
In a shocking development, Secretsreporters has obtained a document from the Office of the Director General of the Ministry of Budget and National Planning, revealing the government's decision to discontinue funding for professional bodies and councils starting from the 2024 budget. The decision, made in accordance with the Presidential Committee on Salaries (PCS), has raised concerns about the implications for the affected organizations and their ability to fulfill their mandates effectively.
The letter, bearing the reference number DG/BDT/GEN.CORR/2016/XII/3067 and dated 26th June 2023, was addressed to the Registrar of the Nigerian Council of Food Science & Technology, a body under the Federal Ministry of Science, Technology & Innovation. Signed by Ben Akabueze, the Director General of the Budget Office of the Federation, the correspondence stated the following:
"I wish to inform you that the Presidential Committee on Salaries (PCS), at its 13th meeting, approved the discontinuation of budgetary allocation to Professional Bodies/Councils effective 31st December 2026.
READ ALSO:https://secretsreporter.com/n109-billion-loot-one-year-after-suspended-accountant-general-ahmed-idris-still-a-free-man-despite-recovering-n30-billion-from-him/
"The purpose of this letter, therefore, is to inform you that, in compliance with PCS's directive, this Office will no longer make budgetary provisions to your Institution with effect from the above-stated date, and you will be regarded as a self-funded organization.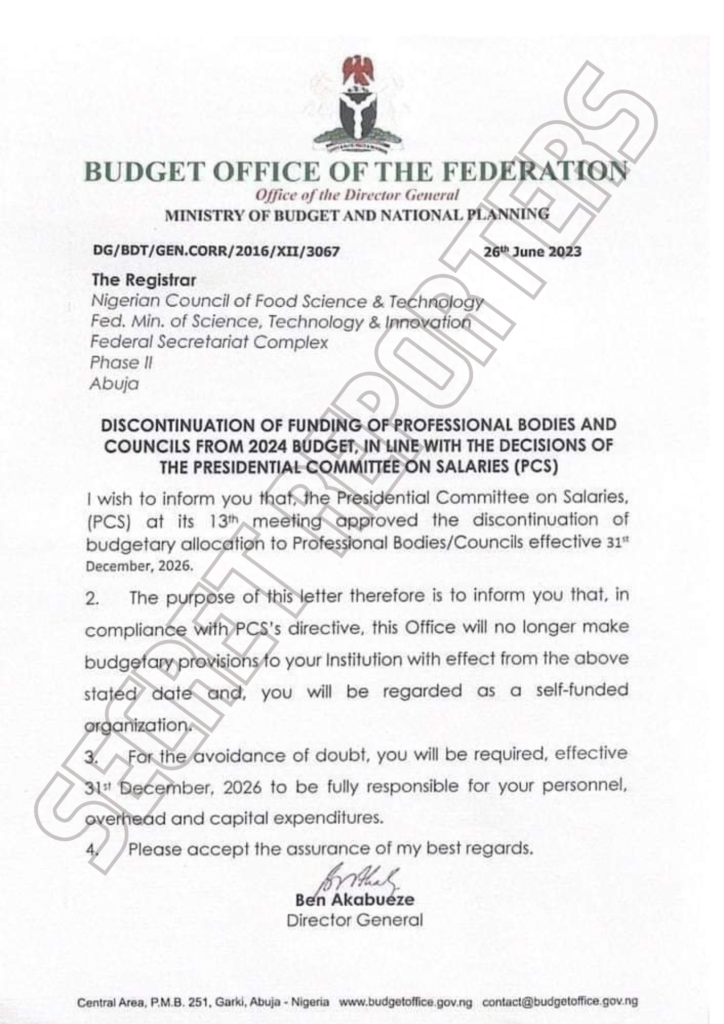 "For the avoidance of doubt, you will be required, effective 31st December 2026, to be fully responsible for your personnel, overhead, and capital expenditures."