Secret Reporters
Barely few weeks ago, the Akwa Ibom state Ministry of Education in their quest to ensure delivery of qualitative education in the state shut down over 1,140 Privately owned schools labeled illegal and sub-standard following their unhygienic condition, deplorable and unfriendly teaching-learning environment.
However, the action which was described by the state Commissioner for Education, Prof. Nse Essien as a revolutionary path to revive the dying state educational sector, may be seen as a sham by Akwaibomites as the loathsome conditions of most government owned schools located in the various communities in the state has become an unending sorry tale.
This is evidently seen in the pitiable state of Community Commercial Secondary school, which is one of the foremost secondary schools in Ikot Osute village in Oruk-Anam Local Government Area where student are seen writing exams under trees.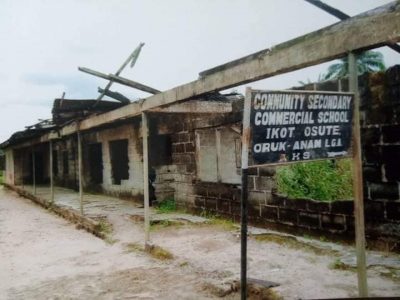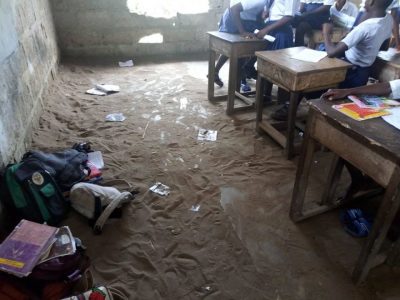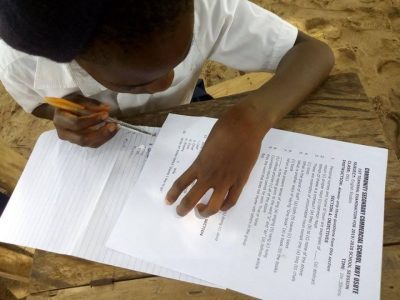 Irrespective of the humongous annual budgetary allocation, the commercial secondary school which is one of the 15 secondary schools in Oruk Anam LGA, where the wife of the State Governor hails from has become a classic example of schools which has been neglected by the state government. A visit to the school showed horrific learning environment where roofs have given way for an open showdown of rain and scorching sun with bushes left uncut, leaving the students at the mercy of reptiles and other dangerous animals.
According to the state approved budget for Ministry of Education, the sum of N14,258,669,350 (Fourteen Billon, Two Hundred and Fifty-Eight Million, Six Hundred and Sixty-Nine Thousand, three Hundred and Fifty Naira) was approved in 2018, while in 2019, N14,333,487,510(Fourteen Billion, Three Hundred and Thirty Million, Four Hundred and Eighty-Seven Thousand, Five Hundred and Ten) was allotted for the ministry.