Secret Reporters
The Peoples Democratic Party (PDP) in Delta State have begun shopping for another candidate that will represent Isoko Constituency in the National Assembly, following the incapacitation of the current holder, Mr Leonard Ogor who has been struck with stroke since September.
Leo who's the House of Representatives member we gathered developed stroke as a result of accelerated hypertension when he got wind of news that the Economic and Financial Crimes Commission (EFCC) were coming to raid his multi million Naira House in Isoko, built with proceeds of corruption, where he allegedly stashed millions of dollars. A source in the know revealed that he told one of his boys to evacuate the money to another location, but the boy bolted away with the cash which prompted the lawmaker to slump and was rushed to a hospital in Abuja where he was diagnosed of Hemorrhagic Stroke.
He was subsequently flown to St Claraspital AG, in Switzerland and later moved to another undisclosed hospital for treatment. A source familiar with the treatment confided in us that he was responding well to treatment when he was brought in newly but fell back to his vegetable stage, prompting insinuation that it may be a spiritual issue.
He was sneaked into the country two weeks before the PDP National Convention and hidden away from the public, to seek spiritual healing, hoping he will get well to participate in the event. This was after an arranged photo shot of him was taken and sent to some few persons to post on Delta facebook groups; even though he was not aware of his immediate environment when the pictures were taken, narrated a source in Isoko.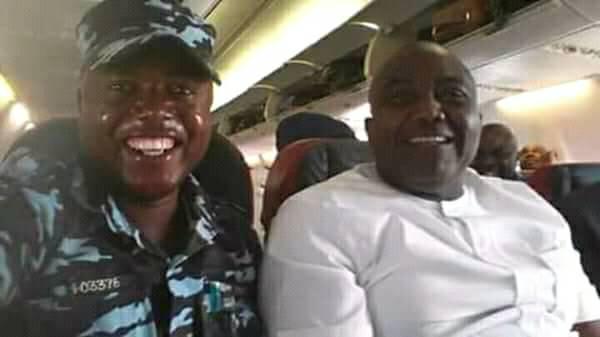 Meanwhile a group under the aegis of Isoko Restoration Order, IRO issued a 21 day ultimatum to the Speaker of House of Representatives, Rt. Hon. Yakubu Dogara to immediately declare vacant the seat of ailing Majority Leader, Hon. Leo Ogor, member representing Isoko Federal Constituency.
The Group handed down the ultimatum in a statement signed by Jim Ebejoko, National Coordinator, Comrade Okeoghene Ewoma, Mr. Darlington Akpovoka, Mr. Emmanuel Omamode respectively.
The group noted that Hon Leo Ogor should be allowed to treat himself properly, hence the Speaker must immediately declare the seat vacant and allow the Independent National Electoral Commission, INEC, to conduct a bye-election without further delay.
Part of the group's statements reads, " Isoko Restoration Order, IRO is made up of Isoko indigenes from different political parties, we stand for the truth, justice and growth of Isoko nation. We have given a 21 day ultimatum to the Speaker of House of Representatives, Hon Yakubu Dogara to declare Leo Ogor's seat vacant to allow Independent National Electoral Commission INEC conduct a bye-election".
" Dogara must do the needful and act now and should not play politics with the unoccupied seat of Hon Leo Ogor in the House of Representatives. The Speaker must declare the seat vacant now after over six months of Leo Ogor' s absence in the House".
"Anybody can be sick. It's human but the situation with our brother, Leo Ogor should not be politicized by the leadership of House of Representatives, since it is now obvious that Leo Ogor cannot talk or walk making it difficult to function, the Isoko nation want a replacement to have a representation in the House of Representatives especially this critical period in the country".
Hon. Ogor is said to have been out of the green chamber for close to six months, a period they said is more than enough to call for his resignation or begin the process of his recall.
The group said," if Leo Ogor truly loves Isoko nation as he claims, then he should resign now. His action for refusing to resign is against the collective interests and growth of Isoko nation and Ogor's continued absence from the House is shortchanging Isoko nation".
The group further disclosed that, " it is interesting to mention that Isoko indigenes in PDP, APC, Labour Party, DPP and others are on same page calling for the seat to be declared vacant. Isoko nation cannot be held hostage and denied representation in the House of Representatives, therefore, the Speaker, Dogara must declare the seat vacant now to save the House from an imminent embarrassment".
Joel Onowakpor is already warming up to take his seat under the banner of All Progressive Congress (APC), our source told us.