Secret Reporters
Since the emergence of Governor Emmanuel Udom as Governor of Akwa-Ibom State, the Eket-Ibeno road has been his major boasting point. Eket-Ibeno community is host to ExxonMobil, one of the major foreign oil companies operating in Nigeria. Governor Udom claimed his government has been constructing the road for 24 Billion Naira. Prior to his boastful claim, the road was in a state of disrepair and due to his constant claims to the construction of the road in questions, Akwa-Ibomites began to believe him.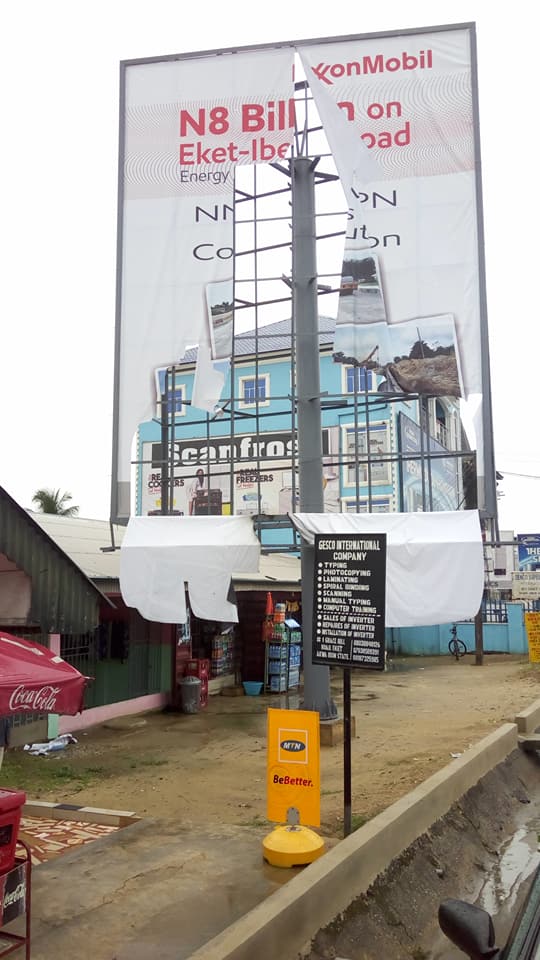 The truth, however, came to light when ExxonMobil erected a Bill Board suggesting that they were in fact, the one who constructed the road. Governor Udom only succeeded in putting a wool over the eyes of the people of Akwa-Ibom. Following his boasting, information reaching us is that the road construction was executed by ExxonMobil as part of their Corporate Social Responsibilities to the community and in order to put a shame to all Udom's lies, the company decided to put up the Bill Board on Grace Bill Road, Eket.
Fearing that Akwa-Ibomites will discover his secret scheme, Governor. Emmanuel Udom mobilized thugs to go and tear down the billboard so that his lies will not be discovered and his 24 Billion Naira scam will not be uncovered.
As customary with him, the 24 Billion Naira road construction was another means of diversion of public funds. Sources alleged that he has succeeded in helping himself to public funds to the tune of 24 Billion Naira under the guise of constructing the Eket-Ibeno road which was not carried out by his administration.