Secret Reporters
Election days come and go, but the struggle of the people to get a government which represents the interests of all; a government based on the principles of economic, social, and environmental justice and equity has never been an all-time high. That is the case of Abia State University Teaching Hospital workers, as the state government has callously refused to pay them their salaries which are long overdue.
SecretReporters gathered that the Governor of Abia State, Okezie Ikpeazu, within three and a half years has made member staff of Abia State University Teaching Hospital (ABSUTH) work miserably like elephants and eat like ants as it is alleged that he has cunningly refused to pay workers' salary for about ten months leaving them with no hope of succour. It was reported that the inconsistency in paying the workers appears as a pastime to the sitting governor as it has been his practice since he took over the mantle of leadership.
The victimized workers we learnt went on a peaceful protest last month to express their displeasure over the inhumane treatment being meted out on them by the governor who appears to be running a government that is hostile to workers welfare as he is always turning a blind eye to their plight in the state. It was also gathered that within these months the ABSUTH workers are being owed, they have embarked on several strike actions as a means to draw the clouded attention of the government to their situation. Howbeit, as a ploy to lure the workers back to work, the governor would always make empty promises of remunerating the workers as soon as they resume official duties but only end up paying a month's salary out of the outstanding.
The surreptitious governor seems to be skillfully playing the ABSUTH workers like a game of chess as it was gathered that he always plead with the workers to soft-pedal whenever they embark on a strike action and then proceed to give them one month's salary, promising to clear the backlog within the next months. "He started with payment of once in two months, it graduated to once in three months, and then once in four months till it accumulated to 10 months backlog" lamented a staff of the only government owned tertiary hospital in the state located at Abayi, in Osisioma LGA.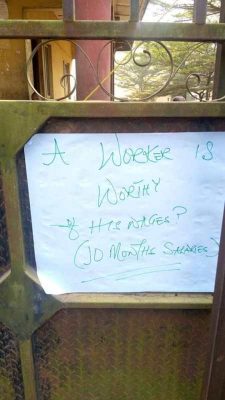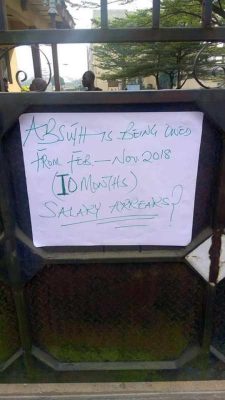 Furthermore, it was revealed that having seen that his treacherous tactics against ABSUTH workers worked perfectly, the heinous, heartless, ungrateful governor also extended this gimmicks to other civil servants in the state including staff of Abia State Polytechnic as well as public school teachers who have so far witnessed their worst days under the administration of Okezie Ikpeazu.
SecretReporters also gathered that the inhumane act by the governor is inexcusable as Abia State receives its fair share of the Federal allocation and has also been a recipient of the Paris Club Refund.
There are questions however as to how the once famous God`s own state has degenerated to a state where there is no visible evidence of infrastructural development and social amenities.
Calls placed to the state commissioner for information proved abortive as at the time of publishing this report.