Secrets Reporters
Following the Federal Ministry of Education's classification as one of the 52 Ministries, Departments, and Agencies of government with 'High Corruption Risk,' by the Independent Corrupt Practices and Other Related Offences Commission (ICPC) SecretsReporters has uncovered a heavy contract fraud in the ministry.
The ICPC announced via its official Twitter account (@icpcnigeria) on 12 January 2023 that several organizations, including the Federal Ministry of Education, Supreme Court, Court of Appeal, National Judicial Institute, Nigerian Christian Pilgrims Commission, National Bureau of Statistics, National Pension Commission, and others, failed to respond to the 2022 Ethics and Integrity Compliance Scorecard (EICS) deployed by ICPC. As a result, these agencies were flagged for public attention and potential further inquiries and actions.
An investigation by SecretsReporters has revealed that a contract with code OCID OCDS-GYL66F-517018002-000002 titled 2015-2018 Tetfund Project Maintenance Intervention was fraudulently awarded through the Federal Polytechnic Bauchi to one Oni Omolara, a lecturer at Abubakar Tafawa Balewa University, Bauchi.
The project, which had an initial budget amount of N36, 000,000.00 was awarded in the sum of N30, 060,117.50 to Wall Tall Integrated Services in 2020, a company owned by the lecturer against public office holders' code of conduct law.
The Nigerian Open Contracting Portal reports that the project awarded to Walltall Integrated Service Ltd has been completed. The company is registered in Bauchi and has been in business since 5th July 2010, with registration number 897308. Its office address is no 4, off Maiduguri Bye Pass, Behind Ramadan Press, Bauchi.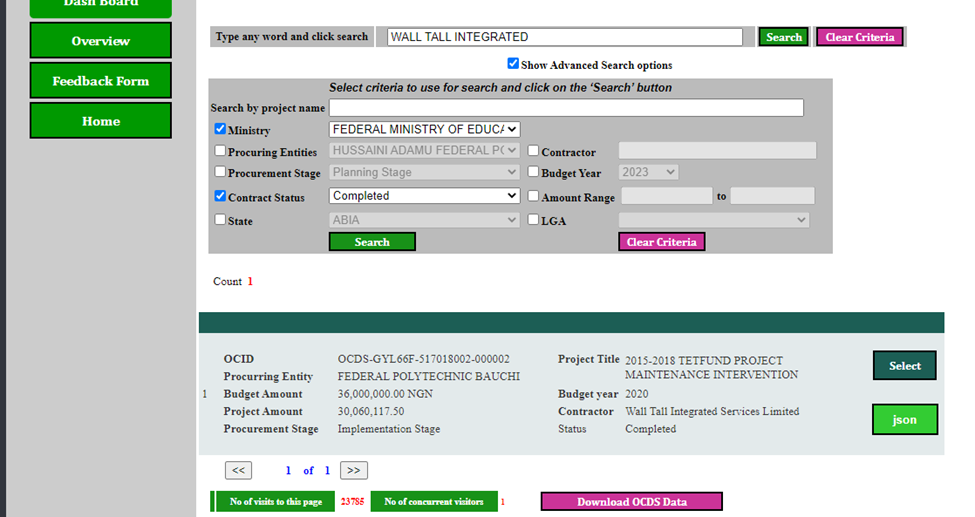 The expository by SecretsReporters revealed the fraudulent activities in the Nigerian education sector and may not be unconnected to the Ministry of Education's refusal to respond to the ICPC's integrity test.
According to the ICPC, "Failure to respond to such simple demands by ICPC for reviews or tools to improve operational practices may be symptomatic of a system deficit, impunity or a cover-up for fraud and administrative felonies.
"This calls for a systems study and review of the MDA, and where necessary, investigation and other law enforcement interventions."